How to choose the right running socks – and say bye to blisters
How to choose the right road running or trail running socks for you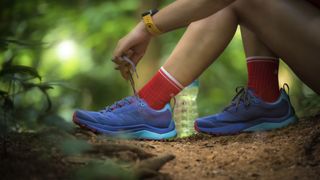 (Image credit: Getty Images)
It used to be that one pair of sports socks served you across a range of activities, including running. Back then, sports socks also came in limited styles, lengths and colours. But like so many sports products, these days there are an almost mesmerising number and range of different runnng socks.
Pop into a local running shop today and you'll see row upon row of different socks, each with their own features and claimed benefits. Follow this guide, if you are wondering which running socks to buy next – and the benefits of different and styles and materials.
Running sock length
Running socks are made in different lengths, from calf length to zero cuff. Socks with a full-length calf are most likely to include some kind of compression for muscles. Calf compression is claimed to offer extra support to the muscles while running and increase the blood flow in the lower legs. Many longer-distance and ultra runners choose compression socks because they are on their feet and using legs muscles for much longer periods.
Socks that do not have a cuff are often called socklets, invisible socks, or 'no-show' socks. The aim of this style of running sock is more for aesthetics than physical benefits. Some runners prefer to have a sock that fits neatly with the line of their footwear because they feel it looks better. If you're trying to avoid a tan line from spending time running outdoors, a no-show sock means you won't end up with a pale band around your ankles (though you'll still want to follow sun protection tips when running).
The lengths in between calf-length socks and no-show socks vary from a few centimeters to 12cm, and your choice will depend on both the look you prefer and trends. For example, there has been a recent fashion among some sportspeople for a longer sock that reaches to the lower calf.
Aside form aesthetics, it's worth thinking about where you will be running. Longer socks will provide greater protection from vegetation, bug bites and debris on the trails, for example. If you will be wearing protective running gaiters, a longer sock will avoid skins rubs and potential blisters.
Level of cushioning
Running socks usually have some type of cushioning, whether it's light, medium and heavy. The weight of cushioning that you choose will depend on a number of factors. For example, running in hotter weather will be more comfortable with a lighter cushioned sock.
It's also recommended that if you are running longer distances, a sock with more cushioning will prove to be more comfortable for longer.
The aim of cushioning is to absorb the impact of each foot stride. For example, you'll see more cushioning under the forefoot, at the heels and around the toes, where the foot takes more impact when running.
Material thickness
Aside from cushioning, running socks are made with thinner materials and others are thicker. Your choice will depend on personal preference, as well as the weather and conditions. A thicker sock is likely to be warmer for cold weather running, while a thinner sock will be a better choice when it's hot.
Natural or synthetic fibers
The aim of a good pair of running socks is to provide protection for the skin of your feet. No one wants to be affected by rubs and blisters when running.
Many running socks are made with a blend of different synthetic materials, including nylon, polyester and elastine. Both polyester and nylon are said to help with sweat-wicking, which means they allow the sweat from skin to escape through the fabric. Socks made with synthetic materials are generally hard wearing and longer lasting, too. The elastane in socks is used to offer stretch to the material so they fit more comfortably on the foot.
Alternatively, you might prefer socks made using natural fibers such as merino wool. Merino has natural antibacterial effects, which means bacteria has limited opportunity to grow, which keeps socks sweeter smelling. Wool is also breathable, which allows sweat to escape and prevents the chances of blisters due to damp feet. Wool is also a soft material so it will be comfortable to wear on the foot.
You can buy socks made with a synthetic-wool mix.
Seam types
Seams at the toes can be annoying at best and cause blisters at worst. Look for socks made with flat seams or seamless socks.
Left and right socks
Many socks are made to fit the anatomical shape of your left and right foot. An anatomically shaped sock is more likely to offer greater comfort for the foot.
If you are choosing socks and you are on the cusp of a larger size or smaller size, it's recommended you choose a smaller sock to avoid excess material. If socks move about on your feet, you'll end up with rubs and blisters. However, a smaller sock will be more likely to wear through at the toes.
Other types of running socks
You'll also see socks that are designed for road running and others that are called trail running socks. These socks might have different details, such as extra cushioning and protection for the feet of trail runners.
If conditions are going to be wet, a pair of waterproof running socks will be a great idea. Waterproof socks usually have a thin waterproof membrane that provides some protection against wet conditions. No waterproof sock will give full waterproofing because then your feet will be likely to sweat inside, but they will keep feet drier than socks that don't have the membrane.
Running socks are also designed with toes. Toe socks have individual pockets for the toes to slip into. It's a sock that is popular with ultra runners because many people claim they reduce the chance for rubs and blisters between the toes when feet get hot, sweaty and damp.
Another style of socks for runner are double skin socks. They have two layers that are also claimed to be a good way to avoid blisters.
All the latest inspiration, tips and guides to help you plan your next Advnture!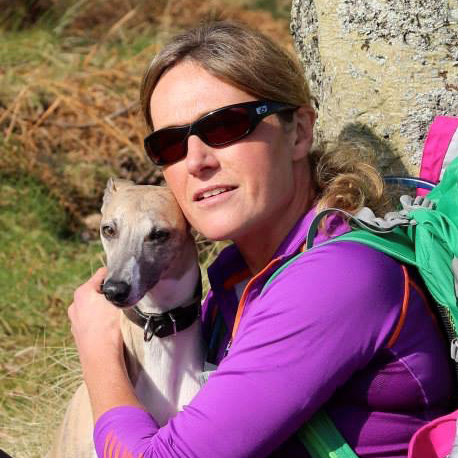 Fiona Russell is a widely published adventure journalist and blogger, better known as Fiona Outdoors. She is based in Scotland and is an all-round outdoors enthusiast with favorite activities including trail running, mountain walking, mountain biking, road cycling, triathlon and skiing (both downhill and backcountry). Aside from her own adventures, Fiona's biggest aim is to inspire others to enjoy getting outside and exploring, especially through her writing. She is also rarely seen without a running skort! Find out more at Fiona Outdoors.