Waterproof running socks: a luxury or an essential piece of gear?
As record-breaking ultra runner Sabrina Verjee can testify, waterproof running socks can be a handy addition to your kit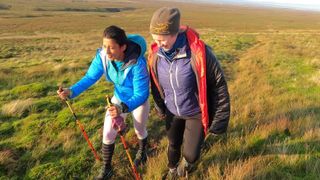 (Image credit: Claire Maxted)
Waterproof socks for running are a fantastic idea for cold, wet and snowy running especially in the winter or on long distance or multi-day events. Sabrina Verjee, who recently held the Pennine Way (268 miles) and Wainwrights (325 miles) records in the UK wore calf length waterproof socks on these multi-day outings to keep her feet in good shape through the bogs, long wet grass and rain and stay warm overnight when it got cold. Photographing her feet at the end of the Pennine Way record in September 2020 (see image below), they were a tad wrinkly, but there were only a couple of blisters even after 268 miles. So Sabrina's waterproof socks did the trick for her, and they may well do for you too.
What about waterproof trail running shoes instead?
You might be wondering why you couldn't just wear waterproof trail running shoes with normal socks. Well, the problem with even the best trail running shoes being waterproof is that – much like the best hiking shoes – they are a lot lower around the ankle, so it's very easy for water to splash inside when you run through puddles and bogs. With a waterproof shoe, that water is then stuck there, making the shoe squelchy, heavy and leading to soft, wrinkly trench foot if you're running for a long time.
Non-waterproof trail running shoes allow the water to drain out, so if you're wearing a quick-drying pair of the best trail running socks, your foot can even become almost dry again if it's warm and you don't step in another wet patch for a while.
However, when it's cold, wet and wintery, runners' feet can get really cold, so a pair of ankle-length or calf-length waterproof socks are ideal for keeping your feet dry and warm whatever bogs you thrust them into.
A very short history of waterproof running socks
When they first came out, waterproof running socks were bulky things that weren't very well shaped, insulated, or stretchy. That meant you sometimes had to wear a thin liner sock inside them to make them warm and comfortable – a bit like you wearing a base layer or T-shirt under your waterproof jacket. Some were more like a waterproof oversock, while others tried valiantly to be more like normal socks, but they weren't as comfy.
However, fast forward to 2022 and waterproof socks are wonderfully shaped, hug the foot nicely, and keep it warm with a very comfortable lining. You can now wear them in place of your normal socks and they even come in funky striped colorful incarnations to make you stand out on the trail, and high vis options to use while cross training on your bike.
How waterproof running socks work?
Waterproof socks for running are made from three layers of fabric – one hardwearing layer on the outside like polyamide, a waterproof membrane in the middle like Porelle or Gore-Tex, and a soft fabric layer like a merino wool and elastane blend next to your skin. This tends to make them thicker than your usual running socks, so if you're planning to use them on a long distance ultra marathon or a multi-day event it's vital that you try them with your shoes to check there's enough room to accommodate all your toes without squishing them, taking into account the inevitable foot swell.
When should I use waterproof running socks?
Some waterproof socks for running are more insulated than others, but we wouldn't recommend using waterproof socks in very warm weather as they can be too hot, causing your feet to sweat and toes to chafe together. Waterproof socks are best used in cold, wet, windy and snowy weather to stop your feet becoming frozen ice blocks, and on multi-day events to stop trench foot type wrinkles and tenderness, leading to blisters, pain and a halted adventure. Waterproof socks are also excellent for cold weather road cycling and mountain biking if you do any cross-training on two wheels.
How to care for waterproof running socks
Waterproof running socks do need a little more TLC than your regular chuck-em-in-the-wash-any-old-way-you-like socks. The waterproof membrane will last a lot longer if you wash them carefully according to the care label, which may recommend to rinse mud off the outside first then turn them inside out. They may stipulate a maximum temperature of 85/105F (30/40C), no bleaching, tumble drying on low, or hanging them on the line or in the airing cupboard to drip dry. You should not iron them or dry them with a direct heat source like hanging them over a radiator as this can cause the waterproof membrane to become unstuck from the other layers and split.
All the latest inspiration, tips and guides to help you plan your next Advnture!
The co-founder and former editor of Trail Running magazine, Claire now runs the YouTube channel Wild Ginger Running, creating films packed with trail- and ultra-running content. An award-winning journalist, writing for outdoor and adventure sports magazines and websites, her first book The Ultimate Guide to Trail Running 5k to 50k is out in January 2021. Claire also speaks and presents at events and races.