How to tell if a jacket is waterproof
Tips for buying a waterproof jacket – and how to be sure your favourite jacket is still waterproof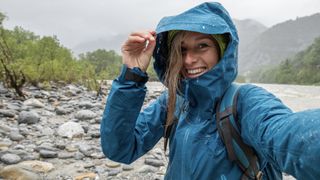 (Image credit: Getty Images)
A waterproof jacket is an essential item of kit for most outdoors enthusiasts. Whether you plan to go running, hiking, cycling or skiing, there will be times when you need to keep out the rain. But how can you tell if a jacket is waterproof?
We take a look at the key features of waterproof jackets and what to look for before making a purchase and throughout the lifespan of the jacket.
Understanding ratings
Waterproof jackets are manufactured in a range of fabrics, such as Gore-Tex, eVent, Dermizax, Polartec Neo Shell, Futurelight, Sympatex, Eco-Shell and Pertex, with different waterproof ratings. Look for labels that state the fabric is waterproof. The ratings will range from water resistant to highly waterproof.
To be clear, there isn't a fabric that is 100% waterproof. That's because with enough pressure, water will pass through all fabrics. There are some basic fabrics, such as synthetics like nylon, that give better water-resistance, than for example, cotton.
However, to be categorized as waterproof, a fabric must be shown to provide a level of sustained water resistance. The way that waterproof fabric manufacturers achieve this is to combine fabrics with waterproof membranes or coatings.
Waterproofness is tested to ensure the product meets the British Standard, which must be more than 1,500mm. Other countries offer a similar system.
Waterproof ratings are measured in millimetres using a hydrostatic head test. The test involves a fabric being pulled tightly under a 1in diameter sealed tube of water. This is then observed over 24 hours to measure how many millimetres of water the fabric can withstand before it soaks through.
The level at which water starts to come through the fabric is the hydrostatic head, measured in millimetres. So, if the HH is 1500mm to 2000mm, the jacket is suitable for shorter outings and days when rain will be light but not sustained. If the HH is 5000mm to 10,000mm, it is suited to most other weather conditions but will also serve you well when there is less rain.
If you see an HH of more than 10,000mm for example 20,000mm or even 25,000mm and 28,000mm, you can be confident they will keep you dry in extreme and heavy rain. You might also waterproofness rated in pounds per square inch (psi), as well as mm.
Another rating to look out for is 'Schmerber'. This is another term for waterproof ratings. 1 Schmerber = 1 mm water column, or 20,000 Schmerber = 20,000 mm water column. Again the higher the number the better the waterproofness. As a guide, many Gore-Tex fabrics have a rating of 28,000mm.
It's a fact that it's not always easy to ascertain the waterproof rating of jackets. It is frustrating that these information is to always listed on a product label. However, you can do a search on-line and this information should be available.
Consider breathability
It's important to consider breathability, as well as waterproofing. To tell if a jacket will be waterproof, you should also ensure the fabric is breathable. If the fabric doesn't allow the vapour of sweat – which is inevitably created when you are running, hiking or cycling – to pass out through the fabric, then you'll end up wet for the inside.
In this way, there is no point in having a nicely waterproof jacket if the sweat collects on the inside and leaves you wet anyway.
Breathability is usually measured in g/m2/24 hours. Higher ratings are better than lower ratings.
Other signs to look for
Durable Water Repellency is a treatment – also known as DWR – that provides an extra waterproof protection. You'll know if a jacket has DWR because rain drops ball and roll off the fabric.
DWR can wear off in time, but it's also possible to re-waterproof clothes with wash-in treatments, such as the different products made by Nikwax.
Look for sealed seams in waterproof jackets. If the seams are not taped or sealed internally, rain will penetrate where the garment has been sewn together.
A well-fitting hood and, preferably with a wired peak, will help to keep the rain off your head and face.
Also make sure the waterproof jacket is long enough in the torso to reach over your butt and that the arm cuffs cover part of your hand and fit over gloves, if you plan to wear gloves.
How to test your own jacket
The most obvious way to tell if a waterproof jacket is still waterproof is to wear it in the rain. Of course, if you find out then that it is not waterproof, you'll end up having a very soggy outing. At worst, this could end up being dangerous if you are heading into the mountains for an extended hike. Being wet and cold for long periods could lead to hypothermia.
So it's important to check your jacket before you leave the house. You could do a water test. Hold the jacket over a basin or the sink, or take it outside, and pour water on the fabric. You could use a watering can with a spray head or a hose to simulate rain.
If the DWR is still working, most of the wet should simply roll off the fabric. You do not want to see the fabric "wetting out". This is when the wet is absorbed by the fabric.
If the jacket looks like it is absorbing the wet, the next step is to clean the jacket with a non detergent cleaner, such as a Tech Wash from Nikwax (available on Amazon for $10.95), and also use a product like TX.Direct (also available from Amazon) to re-waterproof the fabric.
If this doesn't work, it's time to buy a new waterproof jacket that is fit for purpose.
All the latest inspiration, tips and guides to help you plan your next Advnture!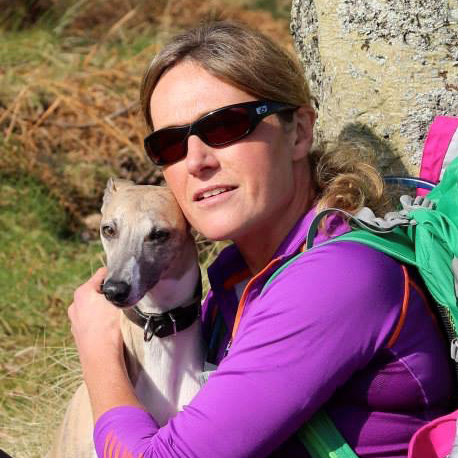 Fiona Russell is a widely published adventure journalist and blogger, better known as Fiona Outdoors. She is based in Scotland and is an all-round outdoors enthusiast with favorite activities including trail running, mountain walking, mountain biking, road cycling, triathlon and skiing (both downhill and backcountry). Aside from her own adventures, Fiona's biggest aim is to inspire others to enjoy getting outside and exploring, especially through her writing. She is also rarely seen without a running skort! Find out more at Fiona Outdoors.