Hut to hut hiking: what is it and what do you need to take?
Hut to hut hiking is one of the best ways to journey through the high mountains on foot. We consider the practicalities and some of the best hut journeys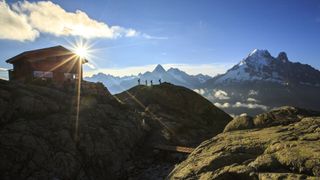 (Image credit: Getty)
Hut to hut hiking is a magical way to experience the high mountains, allowing you to stay high among the peaks and enabling you to get a more intimate sense of your surroundings and of the overall journey. Arriving at a hut – or, depending on where you are, a refuge, rifugio, hütte, dom, koca, cabanne, capanna or chamanna – rivals the glittering prize of a summit as the most satisfying part of a day.
These are special places, nestled ingeniously amidst nature's most savagely beautiful forms and accessible only for those in hiking boots. They represent rest after a strenuous day on the trails; a window into a world that is completely other; fuel for the adventures to come; reinvigoration in the form of showers and sleep; and friendship in the guise of the hut guardians and other visitors to what should be a lonely outpost of humanity but instead feels like a celebration of nature and the human spirit.
Some huts were built to give mountaineers an advanced basecamp from which to ascend to high summits; others were built to capitalise on the passing trade brought about by Europe's great trekking journeys; all have historical interest and are unique in character. The buzz of excitement at dinnertime is palpable, with each individual on their own journey of discovery: whether it's onwards and upwards to a great alpinist's prize or simply onwards to the next hut, where the excitement is recycled to the next day.
Hut to hut hiking: what to expect
It's a shame we use the word 'hut' to describe these glorious oases of comfort that stand aloof amidst dramatic, majestic and sometimes intimidating mountain landscapes. The French and Italians have got it spot on – the Latin word 'refuge' is much more apt. 'Hut' gives an impression of a building not dissimilar from a Scottish bothy: an uninhabited shell of a building, with only the barest essentials.

In truth, most alpine huts provide all manner of home comforts: from a home cooked meal to a hot shower. This is especially true on popular long-distance trails. It's only when you neglect the beaten track, or head out during the off-season, does the likelihood of turning up at an unstaffed building with fewer amenities becomes a real possibility. The vast majority of huts are open to everyone, even those that are owned by alpine clubs and the like. It's worth noting that during the busier months, it is essential to book your stay in advance.
When you arrive, you check in with the hut guardian, who will inform you of the hut rules and other matters, such as dinner and check-out times. Hut wardens and guardians can be absolute fountains of knowledge about the surrounding mountains and trails and it's worth asking them about the weather for the next day too. Dinner and breakfast are also ordered at this point – some huts can even supply you with a packed lunch for the next day. It's likely you'll have to forego your best hiking shoes and trekking poles, swapping them for 'hut shoes', which are often plastic Croc-style numbers.
Dinner time is an undoubted highlight. Food tastes better after a day in the mountains, and even better still when you're gazing out of the window at them at sunset. Most huts put on a large, often multi-course, meal; the wardens know the value of hearty portions after a long day burning calories. Breakfast is usually a simpler affair, but you should be able to get toast, meats and cheese or cereal, as well as tea, coffee and hot chocolate.
Bathroom facilities have come a long way, but they still vary greatly. Generally, the higher the refuge, the more basic things become. A hot shower is usually attainable, often with the help of a coin or token. Toilets resemble those you would find in basic hotels at best. Most huts allow you to charge electronic devices and some modern huts even boast Wi-Fi.
You'll get used to the sound of snoring on a hut to hut trek, as most feature a common sleeping area. The dorm is usually shared by both men and women, so a degree of discretion is required. If you are offered the choice, sleep closer to the door if you intend to rise early and the opposite if you don't so as to not wake / get woken by others.
Hut to hut hiking: what do you need?
One of the advantages of hut to hut hiking over backpacking is that you don't need to carry anywhere near as many provisions. This means that you should be able to fit everything you need into a large day pack. Hiking boots give you the support you need for multiple strenuous days on the trails with a heavy-ish pack; for this reason they are preferable to hiking shoes. A decent waterproof jacket is essential, while a fleece jacket or a down jacket is perfect for the cooler evenings. The trails are generally very well signposted, though a map and compass and the knowledge to use them is very handy. Sun cream, sunglasses, a sun hat, insect repellent, a first aid kit and trekking poles are all highly recommended.
As far as sleeping arrangements go, you will need a sleeping bag liner for hygiene reasons, though blankets and pillows are provided. As well as this, it's very wise to bring your own travel towel, one that packs down small in your pack is ideal. As with camping, a headlamp is essential, as there will be a specified lights out time, which will be earlier than you might imagine (see our guide to the best headlamps for some good options). You should carry cash with you too, as not all huts accept credit and debit cards.
Hut to hut hiking: must-do routes
These days, huts are found all over the world, but the origin of the classic mountain refuge is the European Alps. The hiking season here runs broadly from June to September and can differ depending on how much snowfall the region experiences. Here are four classic hut to hut hikes, listed in order of difficulty, to whet the appetite.
Hut to hut hikes: Tour of the Jungfrau Region
Tour of the Jungfrau Region
Duration: 9-11 days
Distance: 111 km
In Jungfrau, Mönch and the Eiger, the Bernese Oberland region boasts a triumvirate of mountains as famous as anywhere. In particular, the grisly battle between plucky European alpinists and the Eiger's savage North Face captured the world's attention and imagination in the 1930s. The region has become a much sought-after destination for hikers ever since.
Despite the Eiger's intimidating reputation, the Tour of the Jungfrau Region is one of the easier classic treks in the Alps, perfect for a first taste of hut to hut hiking. Views of the iconic trio dominate the early and latter stages of the trek and the mountain refuges you discover en route are beguiling.
Hut to hut hikes: Tour of Mont Blanc
Duration: 10-12 days
Distance: 180 km
The Tour of Mont Blanc is firmly established among the world's greatest treks, so it's not surprise that the refuges and rifugios you stay in are wonderful. From the breathtaking panoramas at Refuge de Bellachat and Refuge du Lac Blanc to the wonderful homecooked food at La Léchère and the magnificent Rifugio Bonatti, you'll come away with treasured memories.
It's a step up in difficulty from the Tour of the Jungfrau, visiting seven valleys and three great nations. Western Europe's loftiest mountain and its family of peaks provide the eye candy, while the wildlife is spectacular. Definitely one where you don't want to forget your binoculars.
Tour of the Matterhorn
Duration: 8-11 days
Distance: 145 km
Ask a child to draw a mountain and you'll get an almost impossible triangle, thrusting towards the heavens. That's no Everest, no Mont Blanc, no Denali. The child will have drawn the Matterhorn. Piercing the sky on the border between Switzerland and Italy, this quintessential mountain has an almost magnetic attraction for climbers and hikers alike.
In terms of challenge, the Tour of the Matterhorn is another step up from the previous entries, entailing seven high passes and a glacier hike on the Theodulpass at 3,301 meters. It's totally worth it, just for the sight of alpenglow on some of Europe's highest peaks. Yes, the Matterhorn takes centre stage, but the region is thronged by charismatic mountains, from the astonishing pyramid of the Weisshorn to the Monte Rosa massif, only second in height to Mont Blanc, but far greater in extent.
Alta Via 2
Duration: 13 days
Distance: 160 km
For those wanting more challenge from their hut to hut hiking, the Dolomites are a no brainer. Legendary the world over for their giants of jagged limestone, immense scenery and nerve-wracking traverses, this superb hiking region is also home to a fantastic network of rifugios. The classic Alta Via trails make full use of these, as well as using via ferratas: cabled sections over technical ground, many of which have wartime origins.
The Alta Via 2 is a more challenging alternative to Alta Via 1, crossing the mighty Dolomites from north to south during an unforgeable fortnight. Trekking poles are recommended, though there are also plenty of instances where you'll need to get your hands on rock. Myriad alpine landscapes are experienced, including dense conifer forests, mountainous plateaus punctuated by incredible peaks and verdant alpine meadows, thronged with wildflowers. Magic.
Hut to hut hiking: a few of the best huts
Refuge de Bellachat
It's the gigantic view of the Mont Blanc massif, topped by the magisterial white dome of Mont Blanc itself, that sets Refuge de Bellachat apart. It doesn't seem right that you can enjoy a home cooked meal in pleasant, warm surroundings and enjoy a vista this grand. The refuge itself is only a small, privately owned, timber-clad building, perched on a narrow shelf some 1,100 meters above Chamonix.
Rifugio Bonatti
Named after Walter Bonatti, one of Italy's greatest alpinists and a hero of the controversial first ascent of K2, Rifugio Bonatti occupies a pleasant hillside directly opposite the muscular ramparts of the Grandes Jorasses in the Mont Blanc massif. As well as the glorious view, excellent food and superb facilities, the building is full of interesting photographs and little snippets of Bonatti's life story.
Dreizinnenhütte
The Dreizinnenhütte owes its status to Tre Cima di Lavaredo, one of the most majestic sights in the Dolomites. Known in German as as Deri Zinnen (the three Merlons), hikers have been drawn here since we first started to explore the mountains of the world. At 2,438 m, the hut offers trekkers lodgings with superb views of the north walls of these limestone behemoths.
Hut to hut hiking: the future
When picturing a mountain hut, an image of a timber-framed, chalet style building, set against aggressive buttresses and roaring waterfalls, springs to mind. However, the popularity of hut use by hikers, climbers, skiers and mountaineers has gained pace alongside advances in technology. New huts are now being designed that are almost totally self-sufficient and carbon neutral, boasting solar-heated showers, waste-disposal technology, triple-glazed windows and luxuries previously unimaginable. Both costing several million dollars, the newly built Monte Rosa Hut and the overhauled Goûter Hut resemble buildings pulled straight out of science fiction.
All the latest inspiration, tips and guides to help you plan your next Advnture!
Alex is a freelance adventure writer and mountain leader with an insatiable passion for the mountains. A Cumbrian born and bred, his native English Lake District has a special place in his heart, though he is at least equally happy in North Wales, the Scottish Highlands or the European Alps. Through his hiking, mountaineering, climbing and trail running adventures, Alex aims to inspire others to get outdoors. He is currently President of the London Mountaineering Club, training to become a winter mountain leader, looking to finally finish bagging all the Wainwright fells of the Lake District and hoping to scale more Alpine 4000ers when circumstances allow. Find out more at www.alexfoxfield.com