What makes Mount Baldy so dangerous?
After two fatalities and the disappearance of a British actor, we ask what makes Mount Baldy so dangerous, and look into why there are so many rescues on the mountain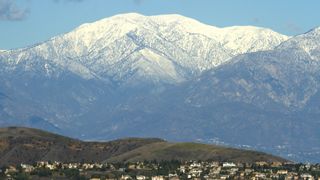 (Image credit: Getty)
Is Mount Baldy really that dangerous? The Californian mountain has witnessed over 230 rescue missions and a tragic toll of eight fatalities in the last six years. Yet it is still a popular peak, a magnet that draws adventurous hikers. Is there a safe way to take on the mountain? Or are the dangers of Mount Baldy unavoidable?
The first month of 2023 alone has seen two fatalities, 15 rescues and the search for missing British actor on the snow-covered peak. One of the fatalities was Crystal Paula Gonzalez, an experienced hiker and mother of four, who was reported to have fallen at least 500 feet down an icy slope. Authorities continuously issued warnings, describing the conditions on the mountain at that time as extremely dangerous.
On Wednesday 24 January, 75-year-old North Hollywood resident Jin Chung was found by rescue teams and helped off to safety. At the time of writing (26 January 2023), Julian Sands, a British actor and keen mountaineer, is still missing two weeks after he set out. These events led to the spotlight turning on to the mountain, one of Los Angeles' most familiar landmarks.
Mount Baldy
The mountain, which is officially known as Mount San Antonio, is a 3,068-meter (10,064 ft) peak on the border of Los Angeles and San Bernardino in California. It's a hugely prominent peak and is a familiar sight, towering above the City of Angel's skyline.
As the highest point in both the county and the San Gabriel Mountains, it makes for an enticing objective for adventurous hikers and trail runners. Its apex can be approached via several trails that make it to the summit by one of its four main ridges. Every Labor Day since 1965, hundreds of runners attempt the summit, underlining its popularity and status in the hearts of the local people.
In summer conditions, Mount Baldy by its normal routes is not a technical hike, though the elevation gain involved and the altitude make it a very strenuous one. Its sandy and rocky terrain is little different from the other popular hikes in the SoCal region. There are some steep drop-offs that are easily avoidable in dry conditions, but the trails are more treacherous when wet.
When does Mt. Baldy become seriously dangerous?
However, winter conditions can turn what is a moderately challenging hike in summer into a difficult mountaineering prospect, requiring the use of an ice axe and crampons. When Julian Sands went missing on 13 January 2023, storms and freezing temperatures brought deep snow, ice and powerful winds to the mountain. On any mountain after fresh snowfall, the threat of avalanche is always greater, particularly on slopes of between 30 to 45 degrees.
January 2023 saw above average snowfall on the mountain, with a series of freeze-thaw cycles creating a cocktail of unstable snow. These kinds of conditions are challenging even for the most experienced mountaineers and are very prone to avalanche.
Even without storms assaulting the peak and above average snowfall, the trails are always more difficult in winter conditions. What might be an easily avoidable slope in summer becomes an icy death trap in winter, particularly if hikers don't have an ice axe to hand and the skills to self-arrest in order to stop a fall. Put plainly, you should not attempt Mt. Baldy in winter unless you are a skilled mountaineer.
Of the trails that reach the summit, the Devil's Backbone Trail, along the mountain's east ridge, is particularly hazardous under snow and ice due to the big drops. Sadly, there have been many fatalities over the years along this section during the colder months.
Any airy ridge becomes even more treacherous in high winds and, being the highest mountain in the range, Mount Baldy is no stranger to ferocious gusts. The Santa Anas, the winds caused by high pressure arriving over the San Gabriels from Nevada, regularly blow across the mountain's ridges. This is why it's always worth checking the forecast carefully when choosing your route to the summit. In high winds, the Devil's Backbone is a big no-no.
The mountain's great height means that it is always going to be significantly colder towards the summit than it is at ground level. In summer, the trails are a great way to escape the stifling LA heat; in winter, the cold can be deadly.
With all that said, the safest time to hike Mount Baldy, particularly if it's your first time, is between June and October.
What do the authorities say about Mount Baldy in winter?
As reported by ABC News in January 2023, the San Bernardino County Sheriff's Department said it 'highly recommends hikers avoid hazardous mountainous areas, such as Mount Baldy, at this time,' regardless of the skills they may have and the precautions they take. This underlines the seriousness of such a high peak during the winter season.
They go on to say that 'many hikers, experienced or novice, underestimate the steep terrain, unpredictable weather, and high winds that present themselves in our mountain areas. Exposure to the elements and falls contribute to Mount Baldy's growing mortality rate and the risk of avalanches prolongs rescue efforts.
Why is Mount Baldy so popular?
Only an hours' drive from Los Angeles, Mount Baldy is easily accessible to the 24 million inhabitants of the SoCal urban conurbation. As an achievable peak and the highest point in the San Gabriel range, it has a lure that's difficult to resist for so many. Indeed, for the vast majority that take to its trails, it is an overwhelmingly positive experience, boasting tremendous views and a great sense of achievement.
What all the of the most dangerous hiking trails in the world have in common are accessibility mixed with notoriety, enough to make them exceedingly popular despite some obvious risks. Mt. Baldy is no different. In fine weather and with the right experience, it's perfectly safe. However, when the weather turns it can snare the unwary and inexperienced and when conditions are truly awful, as they were in January 2023, they can pose a huge risk even to experienced mountaineers.
So, is Mount Baldy really that dangerous?
Mount Baldy's great height, airy ridges and the conditions the mountain can experience mean that it's a peak that can be very dangerous indeed. The fact that it is so accessible to millions of people means that it is also very popular. When these two factors collide, there will always be incidents and, sadly, fatalities.
How to hike Mount Baldy safely
Check the weather: use a dedicated mountain weather service to check the weather before your hike. Remember, parts of the trails are treacherous when wet.
Map and compass: Yes, Mt. Baldy is popular in the summer months but complacency is where things can start to go wrong. Take a topographical map and compass and know how to use them. Hiking apps and GPS units are great too, just don't rely on them completely.
Wear appropriate footwear: either a pair of hiking boots or your best hiking shoes (not sneakers or sandals).
Layers: Mount Baldy is a very high mountain, so even if temperatures are balmy in LA, it'll be much colder on the trails and especially on the summit. Bring mid layers, a down jacket or puffer and a waterproof jacket along, just in case.
Take your time: There's a 3,000-meter (10,000 ft) difference between Santa Monica and the summit, which means those who've just come up from sea level may suffer from altitude sickness. Ascending slowly is a sure-fire way to deal with this, as well as...
Drink plenty of fluids: Staying hydrated is another way to stay ahead of altitude sickness.
Don't bring the kids: this is a very strenuous hike and not one for the kids unless they have a lot of similar hiking experience.
Avoid when icy: unless you have mountaineering experience and plan on using crampons or an ice axe, attempting the route in icy conditions is not wise
Don't forget your parking pass: In order to park at the trailheads, you'll need either a day permit, a National Parks Pass or a Southern California Adventure Pass.
All the latest inspiration, tips and guides to help you plan your next Advnture!
Alex is a freelance adventure writer and mountain leader with an insatiable passion for the mountains. A Cumbrian born and bred, his native English Lake District has a special place in his heart, though he is at least equally happy in North Wales, the Scottish Highlands or the European Alps. Through his hiking, mountaineering, climbing and trail running adventures, Alex aims to inspire others to get outdoors. He is currently President of the London Mountaineering Club, training to become a winter mountain leader, looking to finally finish bagging all the Wainwright fells of the Lake District and hoping to scale more Alpine 4000ers when circumstances allow. Find out more at www.alexfoxfield.com