The most dangerous hiking trail in the world: knife-edge ridges and vertigo-inducing walkways
What is the most dangerous hiking trail in the world? From razor sharp ridges to chain ladders and rickety walkways we detail the most notorious and nerve-shredding hikes on Earth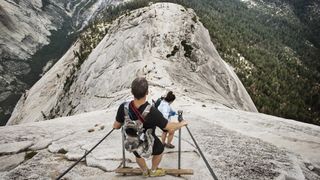 (Image credit: Getty)
Upon hearing that something is the most dangerous hiking trail in the world, there's an allure. For some, it's just a tiny flicker of intrigue; for others, it's an irresistible pull. There's something deep within us that wants to introduce just a little bit of risk into the cosseted existence we lead these days. We seek to measure ourselves against others, to push our limits, and to be able to come home and say: "Yeah, I've done that. No biggie."
There's undoubtedly a vicious cycle at play when it comes to this, fuelled partly by the internet and social media. When you Google 'the most dangerous hiking trail in the world', searches reveal lists of broadly the same dozen daring days out on the trails. These are notorious hikes that have transcended beyond the guidebooks to occupy a place on the edge of popular culture's consciousness. This special status propels yet more hiking boots along these trails, making them potentially more dangerous. Add in the influence of social media, where derring-do becomes normalized, and the cycle only becomes more vicious.
What makes a trail dangerous?
In terms of deadly statistics, the most dangerous hiking trail in the world ends up being the one that has gained the notoriety to become a sought-after objective but is not so intimidating that it puts people off. It needs to be accessible enough to lure hikers in but wild and challenging enough to still feel like an adventure. When these factors collide, you get a lot of hikers – many of them inexperienced – heading into a potentially dangerous environment.
Add unexpected objective dangers into the mix and you've got a lethal cocktail. Factors like extreme weather, rockfall and swollen rivers can add additional hazards to what was already a challenging hike. What is a perfectly safe route in summer for a seasoned hiker can become a nightmare for a novice in November. This is especially if they neglect to bring a waterproof jacket, which is the kind of mistake mountain rescue teams regularly see from beginner hikers testing themselves against infamous routes.
We're aware that by publishing this very feature, we add more fuel to the fire, increasing the status of the routes we've chosen. Our selection includes many of the routes that have transcended to notoriety beyond the outdoor community, as well as alternatives that are no less thrilling. All of the trails on our list are actually safe if approached properly, which is why we've included a guide after our selection to help you do just that.
The most dangerous trails in the US
Angels Landing in Utah's Zion National Park is a classic example of a route that attracts thrill seeking hikers like moths to a flame. In fact, the trail has become so popular that hikers now need to apply for a permit to access it. This was due to concerns about crowding and congestion.
The crux (the most difficult part of a hike or climb) is a narrow ridge that leads from Scout Lookout to the summit. Although the route is protected by fixed chains that act as a handrail, it's no more than a few feet wide in places, with huge drops on either side – an unnerving prospect.
Accidents here probably come down to human error and lapses in judgement. When it's busy, bottlenecks can form on the ridge, leading to impatient people trying to bustle through – not a good idea on a knife edge ridge. The precarious situation attracts daring photo opportunities – another bad idea. The heat undoubtedly plays its part too; dehydration can lead to dizziness and poor decision making.
In the last 20 years, 13 people have died at Angels Landing. However, when you consider an estimated 150,000 people make it to the summit every year, it's clear that the trail is safer than the hype would have you believe. Learn more about this hike's notoriety in our Why do so many people die at Angels Landing feature.
The Mist Trail on Yosemite's Half Dome, one of the world's most iconic peaks, is another infamous hiking trail. Again, it's the technical difficulty married with the trail's popularity that produces the kind of deadly statistics that give a route notoriety. The ascent to the summit is assisted by steel cables but still requires a good level of fitness. It's one to be absolutely avoided in wet conditions. In winter, certain sections of the trail are closed. See the National Park Service wesbite for more information.
There are a few other trails in the US that regularly vie for the title of 'most dangerous'. The Bright Angel Trail on Arizona's Grand Canyon is renowned for its stifling heat and has a dedicated scouting crew employed to assist stricken hikers. The opposite is true for Mount Washington in New Hampshire, where walkers are often caught out by the cold. Colorado's Longs Peak blends exposure, narrow ledges and challenging weather, making it one of the most difficult 14ers to ascend by its normal route. Finally, back in Utah, but this time in the Canyonlands National Park, is the Maze: a remote and untamed region that lives up to its name with a veritable labyrinth of challenging trails.
The most dangerous hiking trails in the UK
There are a number of notoriously narrow and treacherous ridge traverses in Britain that thrill seeking hikers just can't get enough of. These include Crib Goch in Snowdonia National Park, the Aonach Eagach in the Scottish Highlands and Sharp Edge in the Lake District National Park. In terms of altitude, Britain's mountains are not that high, which makes ridges like these gloriously accessible.
Helvellyn is England's third highest mountain and an incredibly popular objective. Its most famous route is Striding Edge, a sinuous, rocky arête that makes for a thrilling, yet technically straightforward approach to the mountain. Striding Edge is actually the easiest of the routes named here, which makes it less intimidating and more attractive to the novice hiker. Every year, thousands of hillwalkers are lured by the challenge.
However, the British weather often changes in an instant and conditions can get extremely gnarly, especially in winter. Often, inexperienced hikers don't realise the huge shift in difficulty that snow and ice bring to what would be a straightforward hike in the summer months. This is what often catches people out, especially on extremely popular routes like Striding Edge. For example, in the first six months of 2015 alone, there were five deaths on Helvellyn, illustrating just how dangerous the mountain can be.
Honourable mentions to other routes that are just as adrenaline inducing include Jack's Rake in the Lake District, Bristly Ridge in Snowdonia and Liathach, An Teallach, the Forcan Ridge and the CMD Arête in the Scottish Highlands.
The most dangerous hiking trails in Europe
A key difference between mainland Europe's hiking trails and those found in the mountains of the UK is that the trails are usually clearly waymarked, so the risk of getting lost is much lower. Even the famously difficult GR20 in Corsica is waymarked. The challenge instead comes from the relentlessly technical terrain and the warm climate. Like on Angels Landing and Yosemite's Mist Trail, chains aid you on some of the more dangerous sections, while trekking poles are essential to take the strain off your knees.
The theme of manmade assistance continues on what is probably Europe's most recognisable extreme hiking trail: El Caminito del Rey (the Little King's Path) in Malaga's El Chorro Gorge, Spain. It's a 3 km long path built from concrete, wood and steel along the gorge's sheer cliffs, with a drop of around 100 meters.
Constructed over 100 years ago for those working on a local hydroelectric project, it has since become a legendary objective for adventure seekers. Some sections had since crumbled away, meaning that hikers had to edge precariously over gut-wrenching drops. Five people fell to their death in 2001 and the path was closed, reopening in 2015 after substantial renovation.
Access is ticketed, though once you have a ticket you can explore at your own leisure. There are also guided group tours.
The most dangerous hiking trails in the rest of the world
The Drakensberg Grand Traverse, beginning in South Africa's Natal National Park, is a trek of over 200 km, comprising exciting rock scrambles, unspoilt natural beauty and incredible views. A huge physical and mental challenge, most of the route is unmarked and a large part of the appeal is the way you can completely immerse yourself in the wilderness. It's reported that around 55 people had died on the Traverse prior to 1985. How many have perished since is unclear as there has been no official count.
One of the trail's most iconic sections comes right at the start: the Chain Ladders. Two rickety parallel ladders enable you to climb straight up the cliff. Just pray that it isn't too windy on the day you ascend.
In New Zealand's Mount Aspiring National Park, the Cascade Saddle trail is renowned for being a great challenge even for seasoned hikers. It has seen many fatalities down the years due to the navigational difficulties; objective dangers, such as rockfall and avalanches; its exposure to the elements; and its technical terrain, including narrow ridges and tricky scrambling. In wet conditions, the trail is liable to be very slippery and a fall can be fatal.
Finally, considered by many to be the most dangerous hiking trail in the world is China's Mount Hua Shan. This 'plank walk in the sky' was originally built to aid pilgrims on their journey to the five tops of this sacred mountain, one of the Five Great Mountains of China. The narrow pathways built from planks of wood and bolted to the side of the mountain give it a formidable reputation and hikers have to hook themselves into the iron chains that run in alongside the plank walk.
However, the hype may be unjustified today. The rise of tourism forced the authorities to act and deeper and wider pathways with newly installed railings have mitigated much of the danger. The plank walk that leads along a cliff face from the North Peak to the South Peak is no longer accessible. There are no official statistics to suggest just how dangerous the original trail was, but it is rumoured that up to 100 people perished every year here.
How to safely approach technically challenging trails
Is hiking dangerous? Not if you prepare properly:
Do your research: Before you commit to attempting a challenging trail, find out if it is graded for difficulty. If you've not done anything in its difficulty bracket before, build up to it. For example, the Aonach Eagach in Scotland is a grade two scramble. If you've never done an (easier) grade one scramble before (What is scrambling?), do a couple of them first before taking things up a notch. A bit of research about the route also prepares you for what to expect from the crux and when to expect it.
Study the weather: This should be a no-brainer. There are plenty of great weather apps and websites out there to help with this. Don't go anywhere near challenging terrain when the conditions are awful. As a rule, stay off exposed ridges in anything above 50km/h (30 mph) and keep an eye on the forecast for 'gusts', as you don't want those either. Wet conditions can make polished rock extremely treacherous on popular routes like Angels Landing in Zion and Sharp Edge in the Lake District. If in doubt, choose another route. Finally, avoid all these routes in snowy or icy conditions unless you're an experienced and equipped mountaineer.
Wear appropriate footwear: Either a pair of hiking boots or the best hiking shoes (not sneakers or sandals).
Pack waterproofs and spare layers: Regardless of the season, it's colder the higher you go and it's also likely to be wetter and windier. Cold is a bigger killer than falls in the mountains. If you get wet, your chances of catching hypothermia increase substantially. Wear a decent base layer and pack a couple of midlayers, such as fleece jackets and down jackets.
Avoid the crowds: Some of these routes are very popular and get very crowded at peak times, which adds to the accident potential. Try to go in the shoulder season and, if this isn't possible, get up extra early to beat the hoards. Using the same logic, you might think that going later in the day is a good idea too. However, you don't want to be caught at the most technical section in the dark, especially without a headlamp (see our guide to the best headlamps for some good options).
Educate your followers: If you do post about your experience, be honest and provide people with plenty of information about how difficult you found it, what other routes it was comparable to and any recommendations you'd make.
The mountains will be there another day: If you're feeling tired, if the weather is due to change for the worse, if you're mate starts have doubts, if the trail is ridiculously busy, if you're running short on time... turn back. The mountains will be there another day.
All the latest inspiration, tips and guides to help you plan your next Advnture!
Alex is a freelance adventure writer and mountain leader with an insatiable passion for the mountains. A Cumbrian born and bred, his native English Lake District has a special place in his heart, though he is at least equally happy in North Wales, the Scottish Highlands or the European Alps. Through his hiking, mountaineering, climbing and trail running adventures, Alex aims to inspire others to get outdoors. He is currently President of the London Mountaineering Club, training to become a winter mountain leader, looking to finally finish bagging all the Wainwright fells of the Lake District and hoping to scale more Alpine 4000ers when circumstances allow. Find out more at www.alexfoxfield.com