Cheap dispersed camping gear – the best set-up for under $300
Heading out for your first night under the stars? Make it both comfortable and affordable with this cheap dispersed camping gear list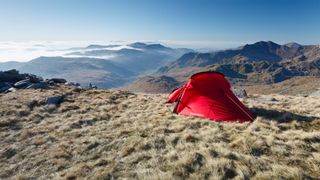 (Image credit: Getty)
If you're heading out dispersed camping for the first time, it's important you have the right gear. It has to be stuff you can trust, light enough to carry, and affordable enough that you can actually purchase it in the first place. But with so much cheap dispersed camping gear on the market, it's tricky to know what to get. To get you started with confidence, we take a deep dive into all the cheap dispersed camping gear on the market right now to find what we think is the best big 4 set-up (ie the best sleeping bag, best backpack, best camping tent and best sleeping pad) you can get for a combined spend under $300.
Where might this cheap dispersed camping gear take you?
Now, before you go buying this cheap dispersed camping gear for a wintery wild camp in Alaska, this gear list has been put together with beginners in mind. That means that it's only suitable for milder conditions. In many places in the USA, it isn't warm or robust enough to be used in a mid-winter blizzard, nor might it be the best choice for completing the Pacific Crest Trail (PCT). It's been compiled to be light enough to carry out into the backcountry, robust enough to survive many nights outside, and warm enough to give you a comfortable night's sleep down to at least 40°F (4°C).
Let's start with the most expensive item on this list. The sleeping bag is a crucial bit of gear that will keep you warm on a cold night and ensure that you're able to get a good night's sleep outside. And when it comes to cheap dispersed camping gear, we think there's no better trade-off between price, weight and pack size than the REI Co-op Trailbreak 30. Promising to keep you warm in temperatures down to 30°F (-1°C) and weighing only 2lbs 8oz (1.13 kgs), the Trailbreak 30 is a comfortable and durable bit of kit that comes in at a very reasonable $99.99.
Now, before you head out into the Rockies on a chilly fall evening with your Trailbreak rolled up under your arm, do some testing first: sleeping bag comfort ratings are notoriously fluid. A bag that keeps one person warm down to 30°F may only keep you comfortable down to the low 40s. For that reason, we'd rate the REI Co-op Trailbreak 30 as a solid 2-season sleeping bag, and we wouldn't recommend trying it for the first time in temperatures below 40°F. If this makes you nervous and you'd prefer to get something that offers a little more warmth, consider spending ten dollars more and go for the Trailbreak 20 – it'll take you slightly over the $300 limit).
RRP: $99.99
Your backpack is the item that you'll probably use the most out of all the cheap dispersed camping gear suggestions in this list. After all, on a long hike, you might have it strapped to your back for a full day, so it's important it's comfortable, fits properly and can put up with all the inevitable abuse you'll throw at it on the trail. With that in mind, we think there's no better choice than the Teton Sports Scout 55 liter in your sub $300 gear set up.
Now, at 4.5 lbs (2 kgs), this bag is not particularly lightweight. Being fully adjustable, durable and water-resistant, however, we think the weight is a fair trade-off for a piece of cheap dispersed camping gear at this price point. In fact, it only weighs 3.5 ozs (100 grams) more than the beloved Deuter AirLite, which costs more than twice as much as the Teton Sports Scout 55. What's more, all of the straps are adjustable, it comes with a huge array of pockets, it's durable enough to survive multiple seasons outdoors, and it comes with a rain cover included. It's also available in 45- and 65-liter versions if you're looking for a different size. The Teton Sports Scout 55 is available to purchase directly from Teton Sports or Amazon (where it's also frequently on offer).
RRP: $84.99
When it comes to your tent, this is a pivotal piece of gear. Having a shelter that you can have faith in – something that you know isn't going to fall apart in the first gust of wind – is critical for getting a good night's sleep. That's why we opted for something that's both sturdy and reliable while not being too heavy (though this tent is by no means lightweight). Coming in at a super reasonable $84.99, we think the Kelty Tanglewood 2 is the best bang for your buck when it comes to cheap dispersed camping gear.
Suitable for 3-season use, the Kelty Tanglewood 2 weighs in at around 5 lbs 6 oz (2.45 kgs) and offers ample room for one person and gear – check out our guide to the best one-person tents on the market to see the competition. It's also very easy to erect and holds up well to wind and rain. Now, at this price point, there are always going to be drawbacks, which in the case of the Kelty are its weight and pack size. If you're not planning on covering crazy distances, climbing mountains or moving superfast, neither of these things should prove to be a big deal, however, and we don't think you'll find anything better at this price point.
RRP: $84.99
When it comes to a sleeping pad for a budget set-up, this is where you can save the most money. Simple hard foam pads are cheap, lightweight and easy to carry. They offer reliable comfort and a good level of warmth, and they won't be rendered completely useless if they rip. For that reason, hard foam pads are a good choice for more than just the potential cost savings – as long as you're ready to give up some of the comfort premium pads from the likes of Therm-a-Rest or Sea to Summit might offer.
In regards to the best bang for your buck in this area, we recommend the Forclaz Trek 100 Folding Hiking Mattress from Decathlon. Available online for less than $30, this pad packs down to a reasonable size suitable for strapping to the outside of your backpack and comes with an R-value of 2.5. This should keep you warm down to temperatures of around 34°F (or 1°C) and only weighs an impressive 13.01oz (371 g).
RRP: $29.99
Total cost: $299.96
Based on RRPs, you can purchase all this kit and still have change from $300 – and if you shop around, you may be able to save even more.
All the latest inspiration, tips and guides to help you plan your next Advnture!
Growing up just south of the glorious Brecon Beacons National Park, Craig spent his childhood walking uphill. As he got older, the hills got bigger, and his passion for spending quality time in the great outdoors only grew - falling in love with wild camping, long-distance hiking, bikepacking and fastpacking. Having recently returned to the UK after almost a decade in Germany, he now focuses on regular micro-adventures in nearby Snowdonia and the Brecon Beacons, as well as frequent trips to the Alps and beyond. You can follow his adventures over on komoot, or visit www.craigtaylor.co for more info.