Sinking in sucks – how to avoid postholing on a hike
We walk you through avoiding the dreaded drop on a snowy hike so you don't have to spend your spring indoors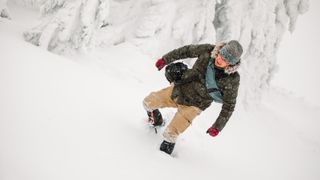 (Image credit: bojanstory)
With longer, brighter days and plenty of snow remaining up high, it's no surprise that you're keen to get out on the trail. For those of us living in high altitude zones, there's an insufferably long gap between the ski hill closing and the dry trails of summer, so unless you can afford to head to Mexico for two whole months, of course you're going to want to get outdoors in your hiking boots and crunch along a snowy trail. But after a couple of miles, thawing conditions can mean that one wrong step and you're suddenly up to your thigh and struggling to free yourself from the snow. You've postholed.
Postholing is an inevitable – and extremely frustrating – part of winter and spring hiking, and something I've spent plenty of time subjected to, and subsequently learning how to avoid. Postholing in hiking refers to taking a step in snow and suddenly sinking all the way up to your knee, hip, or if you're really unlucky, your chest. It's so-named because you basically mimic the way a fencepost is hammered into the ground and it can happen anywhere there's deep snow that hasn't been compacted.
Postholing is more common in the late stages of winter and early spring, when milder temperatures soften up the snow and an area that seems crunchy on top can give way under your weight revealing many feet of soft snow beneath. Sometimes it can happen on a short stretch of trail, perhaps an area that received more sun exposure or where few other hikers have walked, and other times, a section of postholing territory seems to stretch on for miles.
If you've never postholed, it may not seem like such a big deal. After all, can't you just step back out? Well, sometimes yes, but even then, it's annoying, tiring and can turn a two-hour hike into a four-hour hike if you try to persevere in a long swath of postholing terrain. But the consequences can be more severe than mere irritation. Getting exhausted and sweaty on a hike can be deadly if you're five miles from the trailhead and the sun starts to set. If you're deeply submerged, you may not easily be able to free yourself or your foot from the snow; in fact, already this spring, three hikers have required mountain rescue services after losing a shoe in separate postholing incidents while trying to climb Quandary Peak, a 14er in Colorado.
Postholing is treacherous stuff, but it doesn't mean that you have to wait until late June to hike – you just have to learn how to avoid it.
How to avoid postholing on a snowy hike
Like you, I'm not about to let a bit of the white stuff prevent me from getting out on the trail, especially once the days get longer and the birds return from down south. Yes, there's always the option of waiting until spring or hiking on south-facing trails if you want to hike in the mud, but assuming you want to get out there in the crunchy stuff, it's better to try to avoid postholing as best you can rather than find yourself up to your neck. Follow these simple tips to keep your postholing to a minimum on your next snowy hike.
1. Bring snowshoes
Your best defence against postholing is to use snowshoes, which spread your weight out over a larger area than your foot print, and allow you to "float" on the surface of the snow, rather than sinking in. Of course, backcountry skis work in this regard too. Snowshoeing isn't as fun when you're not walking through deep snow, and you may be more inclined to just bring some Yaktrax or Microspikes at this time of year, but if there's even a chance that you might encounter more than a few steps of sinky snow, strap a pair of snowshoes on your hiking backpack in case you need them.
2. Hike early (or late)
In early and mid-winter, I always recommend hiking a bit later to allow the temperatures to warm up a bit, but in late winter and early spring, it's actually often better to get out on the trail first thing, before the snow has a chance to get too soft. With lighter evenings, you can also go later in the day, once the sun is a bit lower and things start to freeze over again, but for this it's imperative that you bring a headlamp and everything you might need for an unplanned night on the trail.
3. Stick to familiar trails
It's helpful to know the terrain you're hiking on during postholing season – that way you'll be able to recognize if an area is likely to be a snowdrift (avoid these!) and whether or not a postholing section is likely to be prolonged. Save exploring new trails for summer when the snow has disappeared and stick to areas you know well right now.
4. Follow the tracks of other hikers and skiers
If you're venturing out without snowshoes and you start to sink, look around for snow that's already been compacted by other hikers and skiers and try walking on that instead. Cross country skiers and backcountry snowboarders in particular are great for packing down the snow, making it firm enough to walk.
5. Avoid untouched snow
On the flip side of the previous coin, steer clear of those lovely-looking stretches of untouched snow if you don't want to end up with a wet, cold foot or two. Unless you really know the terrain, you've no idea how deep you could sink in these areas.
6. Seek shade
If available, a shaded (or north-facing) trail may actually be a wiser choice than a sunny slopes, since these areas will remain nice and cold.
7. Turn back
If all else fails and you find yourself postholing every other step with no end in sight, don't be a hero. If the quickest way back to safety is to turn back, do that and live to see another hike.
All the latest inspiration, tips and guides to help you plan your next Advnture!
Julia Clarke is a staff writer for Advnture.com and the author of the book Restorative Yoga for Beginners. She loves to explore mountains on foot, bike, skis and belay and then recover on the the yoga mat. Julia graduated with a degree in journalism in 2004 and spent eight years working as a radio presenter in Kansas City, Vermont, Boston and New York City before discovering the joys of the Rocky Mountains. She then detoured west to Colorado and enjoyed 11 years teaching yoga in Vail before returning to her hometown of Glasgow, Scotland in 2020 to focus on family and writing.