The best snowshoes 2023: for cold-play adventures all winter long
Tackle winter walking on all kinds of trails with the best snowshoes on your feet, or stashed in your pack for when they're needed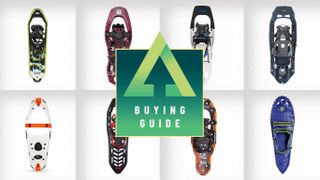 (Image credit: Future)
When snow blankets the landscape, the best snowshoes let you walk and hike through the winter landscape without sinking. Snowshoeing, as it's called, means you can negotiate powder, ice and frozen terrain efficiently because they keep you floating on top of the snow and prevent you from sinking in. Most snowshoes have moderate to aggressive traction, which can also prevent you from slipping. Basically, they help make winter excursions on foot safe and fun. If you're new to the activity, there's more useful advice in our snowshoeing for beginners article.
Historians believe that snowshoes originated somewhere in Central Asia 4,000-6,000 years ago. Traditional snowshoes still made by Native Americans are fashioned from a bent piece of ash laced with rawhide with a leather binding. Modern snowshoes are plastic, metal or foam, and most have an adjustable, ergonomic binding. Instead of relying on rawhide laces to provide traction, modern snowshoes use knife-like aluminum or carbon steel claws for bite, as well as cutouts in the decking.
While all snowshoes provide float, the more you weigh, the more surface area you'll need to keep you from sinking into the snow. Calculate the size of snowshoe you'll need based on the manufacturer's weight ratings, and your total weight including the gear you'll carry while snowshoeing. Women may want to consider gender-specific snowshoes, which are typically narrower to correspond to the average female stride. Some people even like running in snowshoes, but you'll need specialist running snowshoes if you want to take that seriously. There's more advice on how to choose snowshoes at the bottom of this article.
If you're walking on a trail and you're sinking in at all, do everyone a favor by putting on your snowshoes. Postholing (when your feet and legs sink into the snow) is not only exhausting for you, it also ruins the trails for other users. The beauty of snowshoes is that they're easy to carry when you don't need them on your feet. Most snowshoes nest together and can easily strap onto the best hiking backpacks.
The best snowshoes
The best snowshoes all-round
Aggressive gripping power and impressive flex make this shoe a solid performer on any terrain
Specifications
Dimensions (lengths offered):
25in, 29in / 63.5cm, 73.6cm
Frame material:
Torsion Deck plastic
Deck material:
Torsion Deck plastic
Reasons to buy
+
Single-pull release
+
Very light for the size
+
Good grip
Tubbs combine all of their best snowshoe technology in the Flex Alp. Aggressive traction – which in this shoe comes from an underfoot claw with imposing carbon steel tangs – steel side rails, ice spikes in the tail and cutouts in the plastic decking gave it grip in the most contoured terrain.
The intuitive binding is pull-to-release and made from Voile-style straps with excellent adjustability regardless of what footwear you choose for your excursion. The tails flex to reduce impact on your joints as you walk, reducing fatigue. A rotating toe cord lets the tail of the Flex Alp drop when you're walking, shedding snow and, according to Tubbs, reducing cardio-respiratory strain by 7%.
Read our full Tubbs Flex ALP review
A do-it-all snowshoe with adjustable floatation
Specifications
Dimensions:
20cm x 56cm / 8in x 22in
Weight:
1.64kg / 3lb 10oz
Frame material:
Martensitic steel
Deck material:
Polypropylene
Traction:
Steel crampons and traction rails
Reasons to buy
+
Ultra-comfortable binding
+
Optional tails for extra float
One snowshoe that can do most things, MSR's Evo Trail has a steel body hidden under polypropylene decking, with in-molded traction bars, steel rails and a steel claw for excellent grip on a variety of surfaces.
The shoes use a pull-to-tighten/pull-to-release binding with a stretch mesh toe to keep your feet free of pressure points. The free-pivoting binding has a stiff underfoot plate that was supportive and efficient. Slide your boot into the binding and low-profile plastic spikes to grip the sole to hold it firmly in place.
One of the MSR Evo Trail's most distinguishing features is the shoes can be made larger for better float by adding modular tails that increase their surface area. Use the tail extenders when you're carrying a heavy pack, then take the tails off again for quick day trips when your load is light.
Read our full MSR Evo Trail review
The best performance snowshoes
A mostly metal snowshoe with aggressive traction
Specifications
Dimensions (lengths offered):
26in, 30in, 35in / 66cm, 76cm, 89cm
Weight:
1.9kg-2.6kg / 4lb 2.7oz-5lb 11oz
Deck material:
Nytex nylon
Traction:
Carbon steel and aluminum
Reasons to buy
+
Durable
+
Good traction in all conditions
+
Sleek looking
+
Women's specific shoe offered
Reasons to avoid
-
Expensive
-
Less flex than other shoesHeavy
Built for grip in extreme snow and ice, this "go anywhere, do anything" snowshoe has a full-aluminum frame with serrated edges and an aggressive jaw-like carbon steel crampon under the toe for tenacious hold in dicey conditions.
The binding, which is mounted on the shoe's snow-shedding, ultra-durable Nytex decking, is one of the most secure, pressure-point-free, foot-wrapping retainers on any snowshoe. It uses a twist-to-tighten BOA lacing system to perfectly form the snowshoe binding to your foot. The lacing and the binding's flexible material make this one of the most secure-fitting and comfortable snowshoes available.
Read our full Atlas Range-MTN Snowshoes review
An innovative snowshoe with superb downhill traction
Specifications
Dimensions:
59cm x 21cm / 23.5in x 8in
Traction:
Stainless steel crampons along the full length of the snowshoe
Reasons to buy
+
Shoes flex to contour to the terrain
+
There's a binding-mounted heel lifter
+
They come with a storage bag
Reasons to avoid
-
Expensive
-
On firm snow plastic deck is loud
Technical snowshoes made in France for mixed, moderate, and advanced terrain, TSL's Simbioz Hyperflex Instinct has creative and effective design innovations that give it confidence-inspiring grip on descents as well as on climbs.
These hourglass-shaped shoes use a plastic frame with springy carbon reinforcements. They've been serrated along the edges into packed powder-gripping tabs that are also individually flexible. TSL back up this edge traction with a stainless steel underfoot claw plus eight individual shark-fin tangs that function like crampons underfoot along the bottom of the snowshoe. The claws are reinforced with soft-snow-grabbing crossbars and other cutouts in the base of the snowshoe for traction from any angle in all conditions.
Read our full TSL Symbioz Hyperflex Instinct review
Best snowshoes for racing and running
A great snowshoe for moving fast across snow and ice
Specifications
Dimensions:
7.2in x 20.7in/18.3cm x 52.6cm
Weight (frame only):
1 lb 9.0 oz/709 g (frame only)
Frame material:
Aircraft grade aluminum
Deck material:
Plastic, PVC-coated polyester
Traction:
Stainless steel (front cleat); Teflon-coated aluminum (rear cleat)
Reasons to buy
+
Fully customizable
+
Small
+
Light and agile
Reasons to avoid
-
Good on hard-packed terrain, less so on soft stuff
Made for racing and fast-and-light strolling, these fully-customizable, made-in-the-USA snowshoes are light and efficient. You choose your binding and cleat, or buy them with no binding if you plan to bolt running shoes directly to the decks.
If you're a snowshoer who wants to be able to swap bindings, Dion's Model 121 is designed for easy changes. Bindings attach with a flathead bolt.
Handcrafted in Vermont, Dion's snowshoes are for the discerning snowshoer. The aircraft-grade aluminum frames are powder-coated for durability with sleeve-joined tubing, which makes them strong and streamlined. Heel cleats are Teflon hard-coated to keep ice and snow from sticking. Interlocking decking at the top and tail is reinforced with polyurethane scrape plates and double riveted for durability.
Read our full Dion Model 121 review
Best snowshoes for big trips and expeditions
A simple snowshoe great for big boots and moderate loads
Specifications
Dimensions:
58.4cm-91.4cm x 20.3cm x 20.3cm / 23in-26in x 8in x 8in
Traction:
Tempered steel crampon, aluminum traction bars
Reasons to buy
+
Large and light
+
Oversized deck cutout for toe pivot
Reasons to avoid
-
Straps are fiddly at first
When Atlas built its Helium series, the goal was lightweight traction and serious grip for big terrain and extreme conditions. The Helium-BC is the lightest snowshoe of the Helium series, and it achieves traction in innovative ways, including through louvers shaped into its flexible, durable plastic decking.
The cutouts grip in soft snow, while toothy aluminum rails along the underside of the deck and a tempered steel claw with side tangs bite into ice and hardpack. Some snowshoe bindings and crampons are hard to pack because they don't nest well. Because these snowshoes have bindings that lay flat when not in use, they were the easiest to strap to a pack when they're not needed, making them a great choice for snowboarders.
Because the binding toe cutout has an exaggerated opening, the Helium-BC is also ideal for expeditions requiring mountaineering boots. The Voile-style urethane strap bindings are infinitely adjustable and field-replaceable. And, because Atlas designed these for big adventures, they have a 19° heel lift to reduce the toll on your calves on steep ups.
Read our full Atlas Helium-BC review
Best budget snowshoes
Best value snowshoe kit
Specifications
Dimensions:
Available in six sizes from 15.2cm x 35.6cm / 6in x 14in (for kids) to 25.4cm x 91.4cm / 10in x 36in
Weight:
960g-1,100g / 2.13-2.43lb
Frame material:
Anodized aluminum
Traction:
Aluminum teeth underfoot
Reasons to buy
+
Affordable
+
Comes in various sizes, including for kids
+
Includes poles and mesh carry bag
Reasons to avoid
-
Heavier than some snowshoes
-
Throws snow when you're walking
-
Best with more robust boots
-
No heel lifter
There are few snowshoes more competitively priced than Cascade Mountain Tech's Explorer Plus kit. Buy the kit, and not only do you get a great pair of snowshoes, but you also get poles and a carry bag for a fraction of the cost of most other snowshoes.
The Explorer Plus has an anodized tubular aluminum frame with tapered tails that make walking easier. The frame is strong with a durable no-frills binding that attaches your boot to the snowshoe with two ratcheting straps. Snow-shedding plastic decking riveted around the Explorer Plus's frame provides float. When walking, an articulated toe band snaps the binding and your foot back to neutral with every step while an aggressive claw underfoot grips 360° and a heel cleat provides extra traction.
Read our full Cascade Mountain Tech Explorer Plus Series Kit review
Best snowshoes for beginners
Light foam snowshoes for recreational walking
Specifications
Dimensions:
50.8cm x 17.8cm x 5cm / 20in x 7in x 2in
Weight:
1,400g / 2lb 10oz
Traction:
Rubber / carbon steel cleats
Reasons to buy
+
Quiet
+
Flexible
+
Optional cleats
Reasons to avoid
-
1-year limited warranty
-
Cleats work themselves out during use
If you're new to snowshoeing and don't plan to venture far, this shoe is a great choice. Made from EVA foam with in-molded cleats, the bottom of Crescent Moon's Luna looks like an exaggerated hiking boot sole with spots to screw in metal traction bolts.
The foam compresses as you stride, which Crescent Moon says adds spring to your step. The foam also creates a thermal barrier between your boot and the cold ground. The shoe has pre-shaped rocker to roll your foot into its next step without getting bogged down by snow. The tail also has some rocker to keep it from getting caught.
The Luna uses a simple hook and loop binding to attach foot to snowshoe. It has enough adjustability to fit most size feet with low-profile to moderate-profile boots. The Luna is recyclable through athletic shoe recycling programs, which typically gather sneakers and other EVA foam footwear for recycling.
Screw in optional cleats if you'll be walking on ice with these snowshoes; while they have good grip in soft snow, in hardpack and ice, they need cleats for grip.
Read our full Crescent Moon Luna review
Comparison table
Swipe to scroll horizontally
Best snowshoes comparison table

| | | | | | |
| --- | --- | --- | --- | --- | --- |
| Jacket | List price | Weight | Frame | Deck | Traction |
| Atlas Range-MTN | $320 (US) / £260 (UK) | 1.9kg-2.6kg / 4lb 2.7oz-5lb 11oz | Aluminum | Nytex nylon | Carbon steel and aluminum |
| TSL Symbioz Hyperflex Instinct | $330 (US) / £280 (UK) / €330 (EU) | 845g / 1.85lb | Plastic | Plastic | Stainless steel crampons along the full length of the snowshoe |
| Tubbs Flex ALP | $260 (US) / £235 (UK) | 2kg / 4lb 6oz | Torsion Deck plastic | Torsion Deck plastic | Carbon steel |
| MSR Evo Trail | $150 (US) / £200 (UK) | 1.64kg / 3lb 10oz | Martensitic steel | Polypropylene | Steel crampons and traction rails |
| Dion Model 121 | $265 (US) | 700g / 1lb 9oz | Aircraft grade aluminum with powdercoated finish | Lightweight, abrasion-resistant decking | Ice, standard or deep cleat |
| Atlas Helium-BC | $210 (US) / £195 (UK) | 1.4kg / 3lb 2oz | Aluminum | Nytex | Tempered steel crampon, aluminum traction bars |
| Cascade Mountain Tech Explorer Plus Series Kit | $90 (US) | 960g-1,100g / 2.13-2.43lb | Anodized aluminum | Plastic | Aluminum teeth underfoot |
| Crescent Moon Luna | $135 (US) | 1,400g / 2lb 10oz | EVA Foam | EVA Foam | Rubber / carbon steel cleats |
How we tested the best snowshoes
All of the snowshoes featured in this guide have been trail tested on the icy tracks and hills of North America by our expert reviewer. Their performance has been assessed against a range of criteria, including comfort, functionality, traction, ease of use, weight and price.
For more details, see how Advnture tests products.
What to look for when buying snowshoes
The best snowshoe for you is the one that suits the terrain you do the most winter walking on. If snowy, rolling meadows beckon, you'll be happier with a shoe with less traction and more float. If you're scrambling around snowy woods off-trail and topping out on wind-blown summits, you'll want a snowshoe with robust crampons underfoot. Just like with trail running shoes, too much traction can feel uncomfortable underfoot when you're in smoother terrain. There are, however, several other factors to consider.
Size
Choose your snowshoe size based on your trail weight. If you'll mostly be snowshoeing with a light pack or without gear, buying based on your bodyweight is close enough. If you're going to be wearing snowshoes for winter camping, for hunting or to backpack into a backcountry cabin carrying sleeping gear and provisions, purchase a snowshoe sized to carry that weight too. If you're traveling fast and light or you're snowshoe racing, a smaller pair of snowshoes made for packed powder will better mate with sneakers or other minimalist winter footwear.
Comfort
If possible, try before you buy, which will help you feel the differences between bindings. Try snowshoes on with the footwear you plan to use when snowshoeing, and you'll know which pair of snowshoes feels best on your feet. Feel the flex each pair offers.
Materials
If your snowshoeing involves a lot of walking on wind-blown, rocky summits, consider steel crampons, which stay sharp longer. Aluminum crampons are lighter than steel but will get worn down by non-snow surfaces.
Practicalities
If you'll be doing a lot of backcountry miles on your snowshoes, and you'll often be far from home, think about whether the shoes you're considering are repairable in the field.
Heel lifters
A heel lifter is a must for peak baggers and any snowshoers planning to climb steep, extended pitches.
Extras
Trekking poles can also be helpful when snowshoeing. If you don't already own them, consider a kit that includes polls.
All the latest inspiration, tips and guides to help you plan your next Advnture!
Vermont-based writer, photographer and adventurer, Berne reports on hiking, biking, skiing, overlanding, travel, climbing and kayaking for category-leading publications in the U.S., Europe and beyond. In the field, she's been asked to deliver a herd of llamas to a Bolivian mountaintop corral, had first fat-biking descents in Alaska, helped establish East Greenland's first sport climbing and biked the length of Jordan. She's worked to help brands clean up their materials and manufacturing, and has had guns pulled on her in at least three continents.