Is running a mile a day good?
We look at the science of running a mile a day, explain the benefits and provide practical tips to help you get moving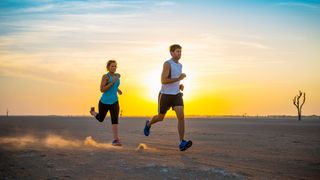 (Image credit: Getty)
If you're looking to hit the road or trail this year, there's no shortage of articles out there helping you to run a 5k, even if you're starting from the couch, master a half marathon or even all 26.2-miles of your first first marathon. But if your new year's intention is to finally try out the trail running shoes that have been sitting at the back of your closet, you might be thinking about a much shorter distance to start. Say, a mile.
Many people would be thrilled to run a whole mile, but with so much pressure around increasing your distance and training plans, you might be wondering, is running a mile a day good? In this article, we look at the science of running a mile, explain the benefits and provide practical tips to help you get moving.
Does running a mile a day do anything?
As a form of cardiovascular fitness, there's plenty of evidence to show that running is good for you, helping to reduce body weight, blood pressure, cholesterol and insulin sensitivity according to the American Heart Association. That said, when it comes to running, the evidence also shows that more isn't always better. In fact, a 2018 study conducted by the Radboud Institute for Health Sciences in the Netherlands found high volume, high intensity and long term running was associated with cardiovascular damage.
So is there any evidence to suggest that doing a shorter distance, such as a mile every day, has enough benefits to be worthwhile? Well, there has actually been a decade-long experiment into just this question, called The Daily Mile, aimed at getting schoolchildren to walk or run a mile every day. As a result, several studies on the programs efficacy have been conducted including a 2020 "quasi-experimental" look at the program by researchers at the University of Torino who concluded that running or walking a mile a day at least three days week delivered "appreciable effects on cardiorespiratory fitness" among the 279 students observed.
So in most healthy people of most ages, running a mile isn't likely to be long enough to cause you any harm, especially if approached correctly (see more on this below) and is enough to improve your fitness. How much it can bolster your fitness no doubt depends on how you do it, at what speed, and where you're starting from fitness-wise, but the good news is that running a mile a day does indeed seem to be, well, good for you!
What are the benefits of running a mile a day?
In addition to the aforementioned health benefits, here are a few other great reasons we can think of as to why running a mile a day is a good thing to do:
1. It fits into any schedule
You might be fit enough to run 5k or further, but find the main challenge is actually fitting such a commitment into your hectic schedule. Whether you're juggling kids, work, volunteering or other hobbies, even a half-hour run takes up a considerable chunk of the day when you factor in getting ready beforehand and showering afterwards. But running a mile won't even fill your entire lunch break, meaning you'd have to perform some pretty impressive mental gymnastics to find an excuse not to do it.
2. You're more likely to do it
If you're aiming for longer distances, chances are you won't run daily, since you'll need time to recover and, again, chances are you don't have hours and hours free every day to hit the trail. But between such a small time commitment, no substantial recovery time and not necessarily getting sweaty enough to need to shower afterwards, the chances of you building up to a consistent, daily running practice are probably higher with a mile than they are if you're aiming for three or more.
3. You can make it harder, easier
This one sounds strange, but if you're consistently running 5k at a medium pace along a flat road or trail three times a week and suddenly you try to do 5k uphill or at a sprint, it's going to be brutal. But picking up the pace or increasing the incline on a shorter distance is a lot more feasible.
4. It doesn't prevent you from doing other exercise
If you're starting from zero, that first mile is going to seem far too long and far too hard, but soon enough, your body will adapt to the demands of running a mile and when it does, you can either go for longer, or do another workout that day. When you're comfortable running a mile, you can quite happily also go for a hike or a swim, hit the gym or ride your bike in the same day without overdoing it. In fact, you might even run another mile, later in the day.
Can you lose weight by running a mile a day?
As we explained in our article on running and calories, there are two ways to lose weight: you can reduce the number of calories you consume, or increase your activity level. So if you're currently not getting any exercise at all, and you start running a mile a day, initially you likely will see some weight loss, so long as you don't also up your calorie intake. However, unless you keep increasing your activity level, that will soon level out.
When it comes to how many calories running will burn, a common guesstimate is 100 calories per mile, and even though there are other variables, such as how much you weigh, and eat, it's fair to say that running a mile won't burn a huge amount of calories. However, lots of research ,such as a 2019 study in the Journal of Exercise, Nutrition and Biochemistry, has found interval training to burn more calories than continuous exercise. So if you're running a brisk mile several times in one day, like interval training, taken in conjunction with a healthy diet and other exercise, you can expect to see some initial gains (or losses, as it were).
Finally, it's important to remember that the different heart rate zones will make a difference when it comes to weight loss, too. Generally speaking, very light effort in heart rate zone 1 is best for weight loss, but that's when it's prolonged over a longer time (and therefore distance). For shorter distances, sprinting might actually be better for weight loss according to LiveStrong.
How long should a one-mile run be?
Answer: how long is a piece of string? The current world record for one mile is 3:43.13, set by Hicham El Guerrouj of Morocco in 1999 according to Healthline, which goes on to report that men aged 35-39 take, on average 10:56 to run a mile, while women in the same age group take 12:03. If you're trying to run a sub-four hour marathon, you'll need to run a nine minute, nine second mile, but if you're not, it takes as long as it takes. At a fast clip, you might be able to get your time down to around six minutes, while at a more leisurely pace, you might take closer to 15 minutes to finish.
Ultimately, if you want to get faster, check out our article with tips on improving your running pace, while if you just want to get moving, focus on finding a pace that you can sustain for a mile.
Running a mile a day training plan
If you're brand new to running, it's an excellent idea to work with a trainer or physical therapist to ease in slowly and avoid injury. In addition, follow these tips to build up slowly and reach your goals sustainably.
1. Walk before you can run
If your goal is to run a mile, it might feel as though the best thing to do is, well, lace up your running shoes and run a mile! However, it's best to ease in by alternating easy running with walking in the beginning. As an example, for a complete beginner, you could start with the following progression, repeating each interval until you reach a mile:
Week 1: Run 30 seconds, walk 1 minute
Week 2: Run 1 minute, walk 45 seconds
Week 3: Run 90 seconds, walk 30 seconds
Week 4: Run 2 minutes, walk 15 seconds
Week 5: Run 3 minutes, walk 15 seconds
Week 6: Run 4 minutes, walk 15 seconds
Basically, each week you increase your running intervals and decrease your walking intervals until you can run close to a mile without taking a walking break.
2. Slow down
Another common mistake with new runners is that we try to do it like we've seen in the movies, meaning far too fast. After about 30 seconds, you end up doubled over with a stitch and the whole thing is extremely discouraging. Slow down to an easy jog and you'll be able to go farther, more easily.
3. Plan it
Consistency really is key when you want to see any significant improvement in your running, and remember the whole point is that running a mile fits into even the busiest of days. Get each day's run into your diary and appoint an accountability buddy to keep you on track.
4. Track your goals
Fancy tech isn't required to be a runner, but unless you're running on a track, it does make it easier to know when you've reached a mile. You can download a running app to your phone, use a fitness tracker or a GPS watch so that you know when to stop and you can watch your pace increase.
5. Learn to breathe
One of the biggest obstacles facing new runners is knowing how to breathe properly. Without these skills, you might feel like you're never going to be able to run a mile. Read our tips on breathing for runners so you don't lose your breath on the trail.
All the latest inspiration, tips and guides to help you plan your next Advnture!
Julia Clarke is a staff writer for Advnture.com and the author of the book Restorative Yoga for Beginners. She loves to explore mountains on foot, bike, skis and belay and then recover on the the yoga mat. Julia graduated with a degree in journalism in 2004 and spent eight years working as a radio presenter in Kansas City, Vermont, Boston and New York City before discovering the joys of the Rocky Mountains. She then detoured west to Colorado and enjoyed 11 years teaching yoga in Vail before returning to her hometown of Glasgow, Scotland in 2020 to focus on family and writing.