Is sea air really good for you?
Victorians prescribed sea air as treatment for a whole host of maladies, but what's the science?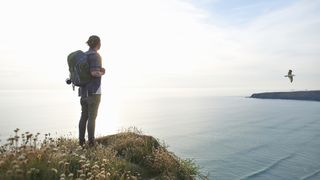 (Image credit: Dougal Waters)
Walking along a sandy coastal path perched perilously on the cliffs above St Abbs, one of Scotland's most picturesque fishing villages, it's hard not to feel healthier just by virtue of being here. It's not just the time spent getting my heart rate up in my hiking shoes – there's something about the bracing wind whipping my hair around, the sound of the waves lapping the shore below me and the salty residue on my skin that just feels like it's cleansing my body and mind of the hectic pace of city living. But is the sea air really good for you?
Certainly, spending time at the seaside has been considered a remedy for all sorts of maladies for centuries. The Atlantic reports that cold water immersion and even drinking salt water was an 18th century solution for everything from scurvy and jaundice to anxiety, and the whole concept of the seaside resort began as a place for tuberculosis patients and other ailing folks to convalesce with fresh air, sunshine and sea views.
Is the sea air really good for you?
It's generally agreed upon and frequently reported that sea air is simply very good for you, but it turns out there is no scientific basis (yet) for these claims. The sea is full of magnesium, salt and iodine and many herald the idea that these minerals make their way into the air, we breathe it in and thus it bestows our physiology with health-giving properties.
It all sounds right, but the BBC's Science Focus reports that there's no evidence that these minerals exist in the sea air in concentrations significant enough to make a difference to your health and in fact, 19th century beliefs have to be weighed against the fact that Victorians coming to the seaside to recuperate hailed from smog-shrouded cities thanks to the burning of soft coal.
Further, a 2008 study by researchers at the University of Calgary found that air pollution in major ports might actually be made worse by sunshine and salty air – so no healing walks in the Port of Shenzhen then.
In 2012, however, a major survey came along conducted by the European Centre for Environment and Human Health which found that people who live closer to the coast do indeed report better health. Could it be that the salty air and soothing sound of the waves were finally seeing their day of reckoning as a tonic for modern life? Perhaps, but the findings don't necessarily prove cause and effect.
People who live closer to the sea report that they feel healthier and happier than those who don't, but this could be down to them simply spending more time away from the city and outdoors in the sunshine, which usually means more vitamin D and less air pollution (if they're not near a major port that is). It could mean that they're more active, what with the abundance of opportunities for walking and running on the beach, wild swimming and paddle boarding, which all studies show improves health and wellbeing. Perhaps they spend more time in cold water, which early studies tentatively suggest relieves stress and increases dopamine.
If we're being really frank, it may also come down to the distinct possibility that those who can afford a holiday or a cottage at the seaside are more economically advantaged than the average city dweller – and after all, what's better for your health than affluence?
So why do we feel better after a day at the coast or a beach holiday then? Is it purely psychological? Well, maybe, but that might not be the worst thing for your health.
Spending time near water has mental health benefits
While we wait for a definitive scientific study on the health benefits of sea air, one area that we're starting to see research performed on is the mental health benefits of spending time near water. Where the evidence of living or spending time in 'green spaces' like forests and woodlands has been well-researched as indicative of better mental health, research into the health benefits of 'blue spaces' – areas near coastal areas, lakes, rivers and canals – has been lagging.
However, in 2022, an 18-country analysis coordinated by the University of Exeter's European Centre for Environment and Human Health found that adults demonstrating better mental health are more likely to have spent more time on or near coastal areas and inland water in their childhood.
In the same year, New Scientist reported that emerging evidence suggests that spending time near water is even more restorative for mental health than near green spaces, a claim that Florence Williams had already written about in her book The Nature Fix.
We might not know whether salty air can help with conditions like tuberculosis, but what research there is does seem to show that those who spend more time near water feel healthier and happier, and if nothing else that should be enough to have you pull on your water shoes and head down to the shore today.
What are you waiting for? Take a dip, dust off your kayak, or try to reel in a mackerel. If you don't want to get in the water, pull on your best trail running shoes and take a coastal walk or run, or even grab your camping blanket and sit down to meditate outdoors. Whatever it is you do, wear sunscreen, watch out for seagulls, and above all else, enjoy yourself. It's good for your health.
All the latest inspiration, tips and guides to help you plan your next Advnture!
Julia Clarke is a staff writer for Advnture.com and the author of the book Restorative Yoga for Beginners. She loves to explore mountains on foot, bike, skis and belay and then recover on the the yoga mat. Julia graduated with a degree in journalism in 2004 and spent eight years working as a radio presenter in Kansas City, Vermont, Boston and New York City before discovering the joys of the Rocky Mountains. She then detoured west to Colorado and enjoyed 11 years teaching yoga in Vail before returning to her hometown of Glasgow, Scotland in 2020 to focus on family and writing.