What's so great about coastal walks?
Coastal walks deliver rugged walking across fossil-strewn beaches, through rugged sea stacks and scrambling up exposed cliffs for world-class hiking adventures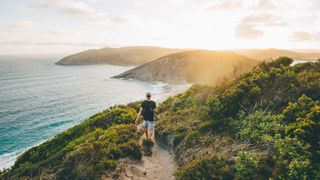 (Image credit: John Crux Photography)
If hiking to you means bagging 14ers and munros, the idea of a coastal walk might seem a bit, well, pedestrian. Strolling along cliff tops and sand dunes? Isn't that something you do with your grandma? But spend a little time in places like coastal Maine, parts of California, the Pacific Northwest and pretty much anywhere in the perimeter of the UK and you'll soon discover that coastal walks can make a worthy contender to those mighty mountains when it comes to hiking.
Whether you're picking your way through glistening rock pools and rugged sea stacks on Rialto Beach in Olympic National Park, scrambling up the exposed cliffs of the The Beehive at Acadia, or sauntering across the fossil-strewn beaches of the Jurassic Coast, you'll find that the best coastal walks deliver world-class adventure, and can be a great way to keep your best hiking boots in use when the mountains are off-limits. Read on to learn what's so great about coastal walks, a few things that aren't so great, and what you'll need to hit that beach or cliff top path.
What's so great about coastal walks?
The wind whipping in your hair, the salty air and the occasional shack selling crab sandwiches all sound great, but what about the actual hiking? Is it challenging enough? Is there wildlife? Read on to find out what makes coastal walking such a great choice for hikers.
1. They're surprisingly diverse
No one is denying the breathtaking magic of arriving at the summit of a Colorado peak and seeing the Rockies stretch out for miles, but let's face it, the mountains stay mostly the same day in and day out. The ocean, on the other hand, is a bit of a drama queen, changing color practically by the second, and can be chucking white horses at you one day and a glass-like mirror the next. Geographically, you might encounter colorful cliffs, white sand beaches, towering dunes and jagged rock stacks as well as rock pools teeming with life.
2. They can kick your butt
Because you're not climbing a mountain you might be fooled into thinking the hiking will be gentle, but coastal paths can deliver some seriously strenuous walking. Walking on sand is slow going and requires muscles that you rarely use. Rocky beaches take careful navigation and tricky boulder hopping, while clifftop paths often take a rollercoaster route, rising up over rocky outcrops before plunging right down to sea level. You'll definitely be ready to put your feet up at the end of the day, but in general, these walks are probably more accessible to more people than mountains, which is a good thing too.
3. The wildlife can be incredible
From majestic elk to elusive bobcats, wildlife viewing in alpine areas can be magnificent, but don't assume that you need scuba gear to enjoy all the wildlife at the coast. From swooping peregrine falcons and sunbathing seals to colorful puffins and breaching whales and dolphins, there's plenty dazzle you at the coast. Bring your binoculars.
4. You can walk year-round
It may be true that there's no bad weather, only the wrong clothing, but not everyone wants to be up a mountain in a blizzard, and that's no bad thing. Though coastal walks can, of course, experience tempestuous weather, they are by nature more or less at sea level, so they won't be subject to the high altitude conditions that can make your favorite mountain trails inaccessible in winter. Bundle up against the bluster and you can be out walking most days of the year, plus if you find yourself out past dark by accident on a winter walk, you don't have to find your way down a steep mountainside to get back to the car.
4. They're spacious
When you get to the top of pretty much any mountain, there's usually not a lot of space. If it's a popular peak, you might find yourself huddling precariously around a rock cairn with a bunch of strangers trying to stay out of each other's photos as you awkwardly clamber around. But on a coastal walk? Sure, the path itself may be narrow at times, but when you want to find somewhere to throw down your backpack and have a spot of lunch, you've usually got your pick of a massive beach, dune or clifftop where you can give other walkers plenty of space.
5. There's usually a beach
Sounds kind of obvious, but it feels worth mentioning that where there's a coastal walk, there's often some kind of beach nearby. It might not entail warm waters and white sands, right enough, but often there are spots where your dog can run around, you may be able to go wild swimming if it's safe, play frisbee or do a spot of fishing. Plus, sunbathers usually flock to the most accessible beaches, which means those hidden coves off the beaten track are all yours.
6. Transportation can be better
This doesn't go for all coastal walks, but compared to a lot of mountain hiking, where you're not likely to find a bus stop at the top, public transportation options can be better. If the coastline is dotted with small towns, there's likely a train line or a road a little inland from where you're walking. This can make it easy to do point-to-point hikes where you can take a bus or train back to your car, or even skip certain sections if you're doing a long coast walk, such as the 34-mile stretch of Rialto Beach or the 630-mile South West Coast Path.
Are there any downsides to coastal walking?
In the interests of balance, we felt it was important to mention some of the less appealing aspects of coastal walking, not to deter you of course but to make sure you go prepared.
1. Seagulls
While we can't actually guarantee you'll see a whale or a seal on your coastal walk, something would be terribly wrong if you didn't encounter a seagull. Seagulls are mostly known for being extremely irritating and picking through trash, but in addition to stealing your ice cream, they have been known to attack children, peck chunks out of pensioners' heads and even take off with the odd beloved family pet. Seagulls primarily become aggressive during their nesting months in the summertime, and like a lot of wildlife, they've become less afraid of humans and more attracted to our food and waste as a source of food. Read our article on how to survive a seagull attack, and carry an umbrella or trekking poles for self-defense.
2. Wind
If you truly love hiking, you love the elements and every day makes a great day for getting outdoors. That said, some of us do find wind to be especially irksome and it's never not windy at the beach thanks to high pressure zones colliding with low pressure areas and the lack of obstacles to block the wind. As a result, it's always breezy, blustery, gusty, stormy or wild, so make sure you always have a windproof, waterproof jacket, tuck away any straps that might slap you in the face and take care to blow your snot rockets in the same direction as the wind. Read more about hiking in the wind for safety tips.
3. Tides
The hiking book The Salt Path begins with author Rae Winn waking up in her tent to discover it's now several inches under water. From a safety point of view, it's important to understand if you're hiking somewhere tidal, since fast moving tides can leave you stranded, cover up beaches you wanted to see and force you to take long diversions you didn't plan on. Learn how to read a tide chart if you're going to be crossing beaches and not just staying up on the cliff tops.
What to wear for coastal walks
You'll need more or less the same gear for coastal walks as you require for any form of hiking, with a few tweaks here and there. Quick drying hiking pants are a good idea in case there's a sea spray, while on top you'll want your usual hiking layers of a base layer, fleece jacket and waterproof jacket over the top to keep the wind off.
For beach walking and well-maintained coastal paths, hiking shoes might suffice, but if you're going long distances or over very rocky terrain, wear boots with good tread.
Remember that the water can reflect even a weak sun, magnifying those UV rays, so carry sunglasses and sunscreen. If you plan on wild swimming or scrambling around in rock pools, bring water shoes for safety and carry a camping towel to dry off afterwards.
All the latest inspiration, tips and guides to help you plan your next Advnture!
Julia Clarke is a staff writer for Advnture.com and the author of the book Restorative Yoga for Beginners. She loves to explore mountains on foot, bike, skis and belay and then recover on the the yoga mat. Julia graduated with a degree in journalism in 2004 and spent eight years working as a radio presenter in Kansas City, Vermont, Boston and New York City before discovering the joys of the Rocky Mountains. She then detoured west to Colorado and enjoyed 11 years teaching yoga in Vail before returning to her hometown of Glasgow, Scotland in 2020 to focus on family and writing.