What states don't have bears – and can I even hike in them?
We do some digging and find out what's out there for the extra bear aware hiker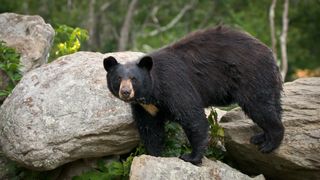 (Image credit: Getty)
What states don't have bears? If you're curious about hiking in the US, it might seem as though bears are hanging out around the bend of every hiking trail. You've got your charismatic bears in Boulder, hungry bears trekking across four states for a snack, carnivorous Texas bears chewing on campers' heads and cheeky bears pinching grub out of camping coolers in Lake Tahoe. Is there anywhere you can go in this country where you don't have to carry bear spray? And is there any actual hiking in those states, or are those states all just Illinois? A few of you have asked this question, so we decided to do some digging and see what's out there for the extra bear aware hiker.
Of course, before we dive in, we should warn you that the chances of you meeting a bear at all on a hike are fairly low, even in states like California which has the biggest bear population in the country. Bears, especially black bears, aren't particularly keen on interacting with humans and will usually steer clear of busy areas, unless you leave lots of food lying around, so rather than seeking out bear-free states, you'd do better to learn how to hang a bear bag when you're camping. Even if you do see a bear, the chances of it coming near you are slim, never mind it attacking you, but you can always learn how to use bear spray and carry a bear horn to act as a deterrent.
What states don't have bears?
As it turns out, not that many states don't have bears. In total, there's thought to be as many as 900,000 bears in North America, according to Britannica. The website Geology.com created a handy map which shows the bear population in North America and it reveals that you're not wrong: they're all over the land of the free. The country is home to three different types of bears: timid black bears, fearsome grizzlies and downright terrifying polar bears. However, most of the US polar bear populations exist only up in northern Alaska, while grizzlies are largely found in Alaska, Montana and Wyoming with a few in northeast Washington. Those are some beautiful states for hiking, but sure, you could skip them.
Black bears, however, are found all over the eastern and western states, which if you refuse to hike where there might be bears, definitely wipes out a lot of great hiking destinations (say goodbye to Acadia, Rocky Mountain, Yellowstone and Yosemite National Parks for starters).
You've also got the fact that bears don't just stay in one place – the home range of a black bear can be anywhere from 15 to 77 square miles, so a bear that lives in Arkansas might easily mosey over to Oklahoma for breakfast, which means a lot of states have at least some bear activity some of the time. But don't give up hope. There are a few states that have zero bears, or only the occasional visit, and some of those states even have some pretty amazing hiking.
East coast states without bears
Starting on the eastern seaboard, there are surprisingly few options that are devoid of bear activity. In fact, you're down to Delaware and Maryland. These tiny states are two of the most densely populated in the country, so it's maybe no surprise that the east coast bears give them a wide swerve and stick to the wilds of New Jersey. Delaware and Maryland might not be the first states you think of when you want to get your hiking boots on, but hold on just a second! Maryland is home to a 40-mile stretch of the Appalachian Trail as well as some impressive State Parks, while Delaware is super flat but has some lovely coastal walks. Yes, there are a lot of people here, but look on the bright side: you won't have to wrestle a grizzly for those delicious crab cakes.
Midwest states without bears
Moving to the middle, the good news is that the midwest is home to the most bear-free states of any region in the country by far, probably because the largely featureless landscape leaves them nowhere to hide. The bad news, however, is due to the largely featureless landscape, not a lot of hiking goes on here. Illinois, Iowa and Nebraska are all home to some nice State Parks and pretty bluffs, but we're not going to lie and tell you that they're hiking destinations.
Indiana? Well, it's home to Indiana Dunes National Park, which boasts more than 50 miles of hiking trails through sand dunes, woodlands, prairies and wetlands, so that's a start. Similarly, over in Ohio, sandwiched between the urban centers of Cleveland and Akron, you might be surprised to discover the natural oasis of Cuyahoga National Park, which has dense forests, rolling hills and scenic waterfalls and 125 miles of hiking trails (all of which you can enjoy free of charge).
Then there's Kansas. It may not be the flattest state in the union, (that honor goes to Florida, which has bears), but it won't come as any great surprise to you that Kansas isn't great for hiking. They do, however, have a pretty great trail running scene up in Kansas City, which is half in Kansas (okay, one third), so you'd be best off grabbing a pair of trail running shoes if you want to get outdoors here. And after a while, you'd be fit enough that you could run away from any errant bear up from Arkansas for the weekend.
Honestly, for the best hiking in the midwest where you can leave the bear bells at home, you'll probably want to head up to the Dakotas. Both north and south are pretty much bear exempted and the two states have three of the best National Parks in the midwest between them, with dramatic rock formations of Badlands and Theodore Roosevelt as well as the underground secrets of Wind Cave. These states are also two of the least populated in the US, with a combined population of less than two million, though we've a feeling once the bears here about this they'll be heading that way for some peace and quiet, so don't delay.
Hawaii
Moving outside of the lower 48, clearly Alaska is overrun with flesh-eating critters, so if you want truly excellent hiking free from bears, you'll need go to Hawaii. There's no way they can swim that far and the hiking here is some of the best in the world, from the Waimea Canyon to Haleakala Volcano and the towering sea cliffs of the Na Pali coast. There also aren't any mountain lions, alligators, crocodiles or even dangerous snakes, although you should watch out for poison ivy. Other than that, you're looking at rainforests, beaches, volcanoes, cliffs and waterfalls. Go to Hawaii. The bears can't get you there.
All the latest inspiration, tips and guides to help you plan your next Advnture!
Julia Clarke is a staff writer for Advnture.com and the author of the book Restorative Yoga for Beginners. She loves to explore mountains on foot, bike, skis and belay and then recover on the the yoga mat. Julia graduated with a degree in journalism in 2004 and spent eight years working as a radio presenter in Kansas City, Vermont, Boston and New York City before discovering the joys of the Rocky Mountains. She then detoured west to Colorado and enjoyed 11 years teaching yoga in Vail before returning to her hometown of Glasgow, Scotland in 2020 to focus on family and writing.