Trail running etiquette: 5 simple rules to live by
We lay down some simple rules for trail running to make sure you're observing common courtesy and not giving other trail runners a bad name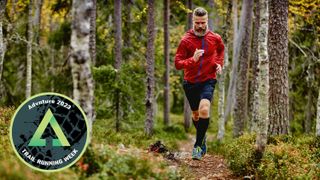 (Image credit: Getty / Future)
We've already covered what's considered good practice for walkers in our article about hiking etiquette, but are there different guidelines if you're a trail runner? Or should everyone just obviously get out of your way because you have the need for speed?
Although there is some overlap between hikers and runners when it comes to social norms on the trail (you know, basic decency like leave no trace and don't be a jerk) moving faster than your comrades in hiking boots does mean that you'll have to adapt some of your behaviors out of respect to other trail users. In this article, we lay out some simple trail running etiquette to make sure you're observing common courtesy and not giving other trail runners a bad name.
1. Yielding
Though signs at the trailhead might indicate the yielding etiquette for people on foot, hooves and wheels, it kind of lumps runners and hikers together and there isn't a clear policy here. If you're running on a single track trail (where there's only room for one at a time) and you encounter a hiker, they'll often yield to you because you're going faster. That said, having a little more speed and a fancy pair of the best trail running shoes doesn't mean you actually have the right of way, so don't just blow by them.
In most places, downhill traffic always yields to uphill traffic unless the uphill traveler signals that they want a break, which they'll do by stepping aside and waving you on. Bicyclists are meant to yield to you, but if they're coming down a single track quickly, it will make more sense (and take less time) for you to leap to the side and let them go by, plus you don't want to play chicken with a mountain biker going 20mph. You should yield to horseback riders, however they might pull off to the side and wave you by. If you see horses up ahead, slow down to a walk and communicate with the riders. Read more in our article on what to do if you encounter a horse on the trail.
Bottom line: the trail doesn't belong to you and losing a little momentum isn't the end of the world. No matter what kind of trail use you encounter, communicate and use common sense to decide who yields.
2. Passing
In the US, you generally want to run on the right and pass on the left, just like in your car. In the UK, you'd think the opposite would hold true but like many other countries, there doesn't seem to be such a clear policy. Regardless, communication is most important here so you don't startle the other person. If you come up behind a hiker or horse, alert them to your presence with a simple "hello" so you don't scare them. They will most likely move aside to give you more room. Similarly, if you're jogging along and you hear a faster runner call out, glance over your shoulder to see how far behind you they are and move to the side so they can pass you comfortably.
3. Stay on the trail
We've previously discussed the environmental impact of bad trail behaviours like cutting switchbacks and scree running, and unfortunately, trail runners are sometimes guiltier of ignoring this advice because we don't want to slow down and may be more interested in pace than a hiker, but please, stay on the trail. This reduces the amount of land that is exposed to erosion due to foot traffic and means you're not crashing through the undergrowth and disturbing the local wildlife.
4. Be nice
Trail runners can have a bit of a bad rap for being unfriendly, and it may not be totally warranted. After all, you might just be in the zone, or really out of breath, but you should still acknowledge other trail users and help foster the vibe that we're all part of the same tribe. Even if you can't pull off a verbal greeting for fear of passing out, you can always make eye contact, smile and wave in acknowledgement.
5. Ditch the headphones
Many of us love the way music enhances our runner's high and makes us move faster, but when out on the trails, you need to keep your ears open so you're ready to jump out of the way of approaching cyclists and also to keep you aware of possible wildlife encounters. If you meet a bear on the trail, for example, you often hear them crashing through the undergrowth before you get your eyes on them, which allows you to slow down and change course, but you won't have this advance warning if you're rocking out. And as we explain in our article on bird watching, listening to the sounds of nature is great for your mood and health.
This article is part of Advnture's Trail Running Week 2023 (running from Monday 27 March to Sunday 2 April), our in-depth look at how to train smarter, choose the right gear, and have fun when things get muddy.
All the latest inspiration, tips and guides to help you plan your next Advnture!
Julia Clarke is a staff writer for Advnture.com and the author of the book Restorative Yoga for Beginners. She loves to explore mountains on foot, bike, skis and belay and then recover on the the yoga mat. Julia graduated with a degree in journalism in 2004 and spent eight years working as a radio presenter in Kansas City, Vermont, Boston and New York City before discovering the joys of the Rocky Mountains. She then detoured west to Colorado and enjoyed 11 years teaching yoga in Vail before returning to her hometown of Glasgow, Scotland in 2020 to focus on family and writing.