Do water purification tablets really work?
We take a look at the hows, pros and cons of using water purification tablets on your next wilderness adventure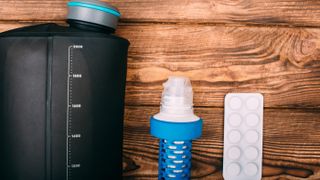 (Image credit: peakSTOCK)
Hiking and camping in the wild provides a fantastic exercise in living off the land, creative thinking and problem solving that isn't available to us when we remain in our convenient concrete cocoons. In the city, many problems have been solved for us already, such as that clear, cold, safe drinking water that pours out of the tap whenever you want it. But despite there often being abundant rivers and streams in the wild, life out there isn't quite so simple.
When you're drinking water in the wild, especially in the US, it's important to purify it first to avoid nasty tummy troubles that can severely cube your backpacking fun in the short term, and even lead to long term health problems. An increasingly popular method of purifying water in the wild among hikers and campers is to simply drop a tablet into the water and let it dissolve, but if you haven't tried this method before, it's understandable that you might be a little hesitant. Do water purification tablets really work? And are they safe?
In this article, we take a look at the hows, pros and cons of using water purification tablets on your next wilderness adventure.
How do water purification tablets work?
Water purification tablets contain an active ingredient such as chlorine, chlorine dioxide or iodine that works to neutralize pathogens such as bacteria, viruses and parasites frequently found in water that can be harmful to human health. When you're backpacking or camping and you run out of water, you fill your water bottle at a stream, river or even a freshwater lake and add a tablet (typically one tablet treats one or two liters of water) which dissolves in the water and makes it safe to drink.
How long does it take for water purification tablets to work?
It's important to note that water purification tablets don't work instantly. They typically take at least 30 minutes to be effective (read the instructions on your tablets before using them), and you must wait that long before drinking. Consequently, it's a good idea to plan ahead, especially in hot weather and have a little water left in your bottle or hydration bladder when you reach a water source. That way you can have a good drink to finish it off and that will tide you over while you wait. We recommend setting an alarm on your phone or watch to signal when 30 minutes are up, or busy yourself pitching your tent and getting a campfire going so you're not just sitting there staring at your water bottle.
What are the benefits of water purification tablets?
The main benefits of water purification tablets are obviously in supporting your health, since they can deactivate microorganisms like Giardia, which is very common in US streams and water and results in nasty gastrointestinal symptoms.
Obviously, there are other ways to purify water in the wild, such as filters, boiling and UV sterilization pens, but many campers and hikers like the tablets for how easy they are to use. There's no operating a filter pump and keeping the filter clean by periodically backwashing it and there's no setting up your camping stove and using precious fuel to boil water. You just drop the tablets in and then relax in your camping chair while they do their thing. In addition, water purification tablets are extremely lightweight and packable, which we backpackers love.
For this reason, water purification tablets are widely used by the military, governments and NGOs operating in regions of the world where there is no safe drinking water available to keep populations safe.
What are the disadvantages of water purification tablets?
One of the reasons we often ask, 'why isn't there a magic pill for this?' is because magic pills don't exist outside of Jack and the Beanstalk. There are always drawbacks and that is true for water purification tablets.
Even though water purification tablets do a good job of curtailing harmful pathogens, they won't do anything about chemicals or sediment in your drinking water. If you're hiking near farmland, you'll want a filter such as the Lifestraw Peak Series Collapsible Squeeze 1L Water Bottle which filters out herbicides, pesticides, silt and sand as well as germs.
And whereas water filters won't cause any harm to your health or wildlife, water purification tablets can cause some side effects, such as eye irritation, gastrointestinal distress and respiratory discomfort in humans, even though they have been approved for human consumption. They are especially harmful if they're misused and are very toxic to aquatic life if dropped into a water source. They also won't work properly if you don't wait the required time, so in that regard they're less convenient than a quick filter.
If you're hiking in the backcountry and reliant on natural water sources, we think carrying a few water purification tablets in your first aid kit is the best solution, and recommend using them in addition to a water filter so you have all bases covered if something goes wrong with your filter.
All the latest inspiration, tips and guides to help you plan your next Advnture!
Julia Clarke is a staff writer for Advnture.com and the author of the book Restorative Yoga for Beginners. She loves to explore mountains on foot, bike, skis and belay and then recover on the the yoga mat. Julia graduated with a degree in journalism in 2004 and spent eight years working as a radio presenter in Kansas City, Vermont, Boston and New York City before discovering the joys of the Rocky Mountains. She then detoured west to Colorado and enjoyed 11 years teaching yoga in Vail before returning to her hometown of Glasgow, Scotland in 2020 to focus on family and writing.