What are sneakerboots – a bona fide new breed of footwear or a solution in search of a problem?
The marketing peeps at the big brands assure us that sneakerboots are the next big thing. Our verdict? A little better than "meh" but a long way from "marvelous"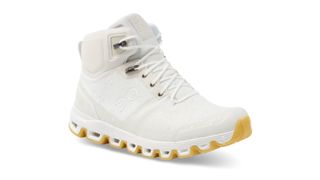 (Image credit: On)
In the first quarter of 2021, as countries around the world emerged from lockdowns and people everywhere took to the trails to dust off the cobwebs and decompress from all those endless hours of Zoom meetings, sales of hiking footwear surged by an unprecedented 60%. While traditional hiking boots and hiking shoes accounted for most of those sales, a sizable share was snagged by an entirely(?) new kid on the block: sneakerboots.
When the term "sneakerboots" first entered our vocabularies, we were a little skeptical, suspecting another ploy cooked up by the marketing people at our beloved brands in a bid to atone for 2020's lockdown-inspired revenue drops and have us part with our hard-earned cash for something that, all told, looked a solution in search of a problem. Nearly a year down the line, we remain on the fence, vacillating between a verdict of "converted" and "unconvinced".
What are sneakerboots: a definition
In a few words, sneakerboots are high-top versions of popular sports and trail shoes. Some of the most notable prototypes to hit the hiking market include the On Cloudrock Edge Raw (opens in new tab) and Salomon Cross Hike Mid GTX, both of which straddle the divide between the best hiking shoes and the best hiking boots by offering oodles of comfort and a lightweight design in combination with trail-specific toughness in all the right areas and that all-important added coverage above the ankle.
Unlike sneakers, sneakerboots place an emphasis on grip and traction, using more aggressive tread patterns and deeper lugs in the outsole that help users remain upright in rugged, loose, and muddy terrain. Most models also use a stiffer shank to reduce foot fatigue and have far more robust waterproofing.
If you're unfamiliar with any of the above terminology, check out our guide to how to choose a pair of hiking boots and explainer on the parts of a hiking boot.
Sneakerboots: the pros and cons
4 reasons why you might want to buy a pair of sneakerboots…
Comfort. For newcomers to the outdoors, making the transition from your everyday sneakers to bulky, burly, often heavy hiking boots can be a long and painful process. In addition to the stiffer materials in hiking boots causing foot cramps, blisters, bunions, and general aches and pains, the added weight on your feet can easily lead to leg fatigue, leaving you toiling over the last few miles of the trail. Sneakerboots go some way to solving this problem, offering a lightweight alternative with short break-in times (see: how to break in hiking boots) and similar from-the-box comfort levels to some of the best trail running shoes and sneakers we've ever had the pleasure of popping our paws in.
A shoo-in for non-technical trails. If the kind of trails you plan on tackling are of the mellow kind, then wearing a pair of out-and-out hiking boots is likely to be overkill, particularly outside of the summer season. However, even on easy-breezy trails, wearing a regular pair of sneakers is always suboptimal due to their lack of grip and waterproofing, flimsiness, and poor thermoregulation (read: the ability to keep your feet warm whilst also wicking away sweat). Like all good hybrids, sneakerboots fill the gap between the two, offering all the support you need for moderate hiking trails without the bulk and heft of a full-on hiking boot.
Versatility. Sneakerboots' crossover styling is likely to prove the most endearing factor for many prospective buyers. While you'd balk at the idea of rocking your badass-looking hiking boots to a dinner with the in-laws, a night in the pub, or a day in the office, sneakerboots' more neutral appearance means they look equally at home around town as they do on the trails. Performance-wise, moreover, they are very nearly a "hiking shoe that can do it all" – while we wouldn't like to take them out on a trail run, their more moderate construction makes them a comfy wear throughout the day, wherever your days happen to take you.
Price point. While a pair of sneakerboots will set you back more than their low-top cousins, many models are also a great deal cheaper than out-and-out hiking boots. While their relative lack of ruggedness and durability does mean they're less likely to last you as long, they're a safe bet for less frequent hikers or newbie hikers looking to try out hiking without breaking the bank (and/or who want something usable even if hiking doesn't turn out to be their cup of tea).
…and 2 reasons why you might want to pass
A half-assed hiking boot? In many instances, wearing a pair of sneakerboots into backcountry terrain will be akin to taking a knife to a gunfight. While touted as toughened and trail-readied versions of their low-rise siblings, many of the sneakerboots geared towards hikers lack the ruggedness, support, and durability of full-blooded hiking boots, mainly as a result of using materials that are less resistant to abrasion, more flexible soles, and forgoing protective features like toe rands and plates capable of buffering underfoot blows in bumpy terrain. The bottom line? If you're hiking on well-maintained, mellow trails, then a sneakerboot will serve your needs more than adequately; on anything more challenging or gnarly, do your feet a favour and invest in a pair of fully-fledged hiking boots.
They make shoddy sneakers… While sneakerboots represent a significant upgrade on standard sneakers as regards performance on the trail, they have very limited functionality compared to your regular low-rise running shoes or everyday wears elsewhere – you'd have to be a masochist to run in them and the added insulation and higher collar mean you'll be far more comfortable in your go-to low-tops in warm weather.
Sneakerboots: the verdict
As with all hiking kit, whether or not sneakerboots will be a worthy addition to your kit depends on how, where, and when you plan on using them. If you're new to hiking, or if comfort and short break-in times are near the top of your pre-purchase list of must-have attributes, then sneakerboots might well be worth a pop; if you're a regular hiker and ruggedness, support, durability, and technical performance are more important, then we'd recommend sticking to tried-and-true hiking boots.
All the latest inspiration, tips and guides to help you plan your next Advnture!
Former Advnture editor Kieran is a climber, mountaineer, and author who divides his time between the Italian Alps, the US, and his native Scotland.
He has climbed a handful of 6000ers in the Himalayas, 4000ers in the Alps, 14ers in the US, and loves nothing more than a good long-distance wander in the wilderness. He climbs when he should be writing, writes when he should be sleeping, has fun always.
Kieran is the author of 'Climbing the Walls (opens in new tab)', an exploration of the mental health benefits of climbing, mountaineering, and the great outdoors.