What is two-layer and three-layer construction in waterproof jackets?
A guide to the differences between two and three-layer waterproof fabrics, as well as 2.5-layer fabrics and DWR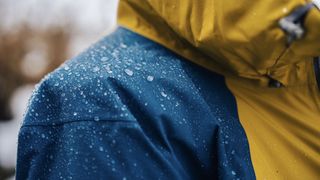 (Image credit: Getty)
Waterproof and windproof fabrics are more than just a single piece of material. Modern waterproof jackets and other outdoor garments are made with a range of different fabrics and they are often referred to as two-layer, three-layer or sometimes a 2.5-layer construction.
It's important to note that whatever the layering construction of the fabric, the aim is to protect the wearer from the wind and rain. So, whether you are enjoying one of the best walks in the Lake District or running your favourite route, a jacket made with a two-layer or three-layer construction should keep out the rain, snow and wind. But what exactly are those layers, and what do they do?
What is a two-layer fabric?
As you might imagine, a two-layer fabric comprises two layers of bonded fabric. It is the most commonly used fabric system in outerwear, such as waterproof and windproof jackets for hikers, and usually the cheaper option, although not in every case.
The layers are usually a durable nylon or polyester face fabric that is bonded to another layer below. The second inner layer is likely to be some sort of polyurethane (PU) or expanded polytetrafluoroethylene (ePTFE), which forms a waterproof membrane. The best membranes are both waterproof and breathable.
If the membrane is waterproof but not breathable, you'll end up damp and wet inside the jacket as moisture builds up from your sweat.
Gore-Tex is a leading manufacturer of waterproof membranes and fabrics and many brands use these in their own jacket designs. Other brands have created their alternative waterproof membranes, such as Helly Hansen, Alpkit, Polartec, The North Face's Futurelight fabric, Sympatex, and eVent.
What is a three-layer fabric?
Again, you won't be surprised to discover the a three-layer fabric has three layers. It is similar to the two-layer fabric but includes a bonded third layer on the inside of the membrane.
The three layers comprise an exterior 'face' fabric, a waterproof-breathable membrane in the middle – such as ePTFE or PU – and an inner lining.
The aim of the third inner layer is to protect the membrane and jacket performance from contamination of body skin oils and moisture. Another advantage of a third inner layer, if it's made of a soft material, is the jacket will be "quieter" because it has a softer backing. If you have ever walked or run in a noisy and rustling jacket you will know what we mean about the joys of a quiet jacket fabric.
For example, Gore-Tex uses a C-Knit backer as its third layer and other jackets might include gridded polyester or alternative fabrics that help the membrane to vent water vapour in the form of body sweat.
2.5-layer construction fabric
You might see a fabric described as 2-5-layer, such as the one used in the Montane Spirit Waterproof jacket. The extra 0.5 is normally an ultra-thin laminate or coating painted on to the inside of the shell to improve waterproofing.
The third layer is considered a half layer because it is painted on. The 2.5 layer fabric is usually a bit lighter in weight than the three-layer systems, although breathability is sometimes criticised because the laminate coating doesn't allow sweat vapor to escape so easily from the inside of the jacket.
When to choose two-layer waterproof jacket
Many of the most basic waterproof jackets use the two-layer fabric system, and some might have a detached mesh lining on the inside.
You'll find two-layer fabrics in a wide range of jackets, from everyday raincoats, to three-season hiking jackets and running jackets.
While some of these products might be at the lower end of the price range for waterproof jackets, you might also see two-layer designs used in higher priced jackets, such as products that use Gore-Tex Paclite.
Two layers are usually lighter in weight than three layers and can also be the best option for a balance of waterproofing and breathability when taking part in higher energy activities such as hill running.
When to choose three-layer waterproof jacket
Three-layer fabrics are most often used in products that need to cope with more extreme conditions, such as winter coansitons or for alpine mountaineering, hiking running,
An example of a three-layer fabric is Gore-Tex Pro and eVent. Many reviews reveal that the three-layer fabrics are durable, hight waterproof and windproof yet also breathable.
Let's not forget DWR…
Another ingredient used by many brands on their two-layer and three-layer construction fabrics is DWR, or durable water repellent treatment. This is a chemical application added to the face fabric of many waterproof jackets.
If you see water rolling off your new walking or running jacket, it's because of the DWR. This treatment prevents moisture soaking into the first layer of nylon or polyester. However, DWR does wear over time and you'll then see the rain soaking in to the face layer of the fabric. Find out more about DWR.
All the latest inspiration, tips and guides to help you plan your next Advnture!
Fiona Russell is a widely published adventure journalist and blogger, who is better known as Fiona Outdoors. She is based in Scotland and is an all-round outdoors enthusiast with favourite activities including trail running, mountain walking, mountain biking, road cycling, triathlon and skiing, both downhill and back country. Her target for 2021 is to finish the final nine summits in her first round of all 282 Munros, the Scottish mountains of more than 3,000ft high. Aside from being outdoors, Fiona's biggest aim is to inspire others to enjoy the great outdoors, especially through her writing. She is also rarely seen without a running skort! Find out more at Fiona Outdoors.