What's inside Bear Grylls' pantry – from lentils to bottled lungs
We jumped at the chance to take a peek inside Bear Grylls' pantry to discover what's on his dinner plate (it's not all reindeer blood – but it's close)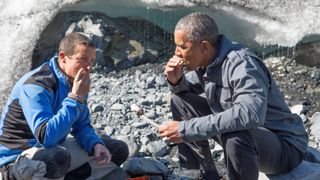 (Image credit: NBC / Contributor)
Have you ever wondered what Bear Grylls eats when he's not chewing on yak eyeballs and slurping down elephant dung? It's a reasonable question. No one can subsist on their own urine for long after all. But not only has the adventurer and former SAS trooper made a career out of flexing his culinary mettle on television, he's faced up to some pretty hardcore hijinks – he summited Mount Everest only 18 months after breaking three vertebrae in a parachuting accident, led an unassisted crossing of the Atlantic, and once circumnavigated the entire UK on jet skis. You probably assume, rightly, that he doesn't fuel these fast-paced shenanigans on raw snakes and running gels alone, so how, now nearing the age of 50, does he retain his stamina and zest for all that parachuting, rock climbing and frigid river-crossing?
The link between diet and athletic performance is one that's occupied researchers and athletes for decades, and as I recently wrote about, science may be getting closer to understanding the connection with the discovery of how the microbiome affects dopamine. No one has yet pinpointed the perfect diet to provide optimum energy for the high demands of endurance adventures, but it's an endlessly interesting topic, so I recently jumped at the chance to take a proverbial peak inside Grylls' pantry to discover what's on his dinner plate, and spoiler alert: it's not all reindeer blood – but it's close. Given his high octane track record, you might not be surprised at all to learn that Grylls' current food of choice is organ meats. After all, who can forget the visual of him chowing down on that moose heart?
"Over the last few years, I've never felt fitter or leaner. I used to always be hungry on a low meat diet, but now since adopting this new way of living, I feel full and energized," Grylls told us, describing his diet as "evolutionarily-consistent and natural" and telling me he has seen a huge increase in vitality, strength and energy as a result.
He's so convinced of the merits of organ meats – for the uninitiated, that's everything from bone broth and bone marrow to liver, lungs, kidneys, heart and even the odd placenta, when the opportunity arises – that he's even launched a line of supplements made from beef organs, in partnership with Ancestral Supplements. The Bear Grylls Survival Pack, which includes one bottle each of beef liver, beef heart and beef lung supplements, promises to help people thrive in stressful and challenging situations. He tells me the supplements deliver the benefits of organ meats without the hassle, helping people who don't really fancy eating straight organ meat as well those who are often on the road chasing adventure, such as himself.
"To be at our best for demanding adventures means making sure we are well prepared physically. The wild can demand we dig deep and often into our reserves, and if we are starting off weak and depleted we can find ourselves in trouble fast," he explains, adding that knowing how to do this has taken him a while and many failures.
But it wasn't always this way. In fact Grylls tells me that not only did he not always lunch on liver and lungs, he was actually vegan for about five years and steered clear red meat for another five. Something he now describes as a "huge error" for his health.
"I had Covid pretty bad right at the beginning a few years back and doubled down on what I thought was good health. Loads of veggies and raw broccoli and celery and all that stuff in smoothies but my kidneys started to get really painful," he recalls.
At the same time, his eldest son, who had been struggling with his energy, skin and stomach received help from a top nutritionist and was weaned back to great health and glowing skin by eating red meat, salted butter, eggs, fruit and honey, and cutting out bread, pasta and veggies.
"I couldn't believe the transformation. I copied him and the same transformation happened to me. And my kidneys and overall health improved super fast. I am angry with myself for not having listened to nature earlier!"
Going from lentils to lungs may seem like a major U-turn, but it's something I'm starting to notice more of in my social feeds these days. As a yoga teacher, lots of my colleagues and acquaintances are ardent vegans, but in the last couple of years, some have switched to stridently championing eating more organ meat, including a former student who recently described blending up her placenta into a smoothie after childbirth.
Now, before all the vegans start @ing me, I'm not here to argue for the virtues of choosing blood over beans, promise. I fall into the low-meat, mostly plant-based category of hikers and trail runners, and if I'm honest I can't stomach liver and kidneys, but that's probably because my parents unwisely tried to force feed them to me when I was four and not because I'm against the idea in principle. But my outdoorsy friends largely seem to fall into two distinct camps: those who eat entirely plant-based, and those who seem to eat nothing but meat, and a lot of them are setting records all the time in their trail running shoes and on belay. So I can't help but wonder if one approach is objectively better, or if it's just a case of different strokes for different folks.
What's the science behind it all anyway? Folks from both camps will say that the evidence supports their active lifestyle choices, and Grylls is no exception here, but I wonder is that actually true?
Based on my findings, there actually aren't a ton of studies out there on the health benefits – or detriments – of eating organ meat. The main one seems to be a 2022 study published in the British Journal of Nutrition that associated eating organ meats with a modestly higher risk of Non Alcoholic Fatty Liver Disease in Chinese adults but concluded that more research needs to be done. The Cleveland Clinic indicates organ meat as high in iron, protein, various vitamins (A, D, E and K primarily) and minerals such as magnesium and zinc. Further, and perhaps explaining why an endurance athlete such as Grylls might find it to be especially beneficial, organ meat contains alpha-lipoic acid, which protects mitochondria and helps transform nutrients into energy. But it's also contraindicated for certain people such as those with gout or who are pregnant and children. It's high in cholesterol and purines, may cause excess levels of vitamin A and iron and, Cleveland reports, studies have linked it to increased risk of bladder cancer, however the only study I can find seems to point to red meat, and not organ meats at all.
So from a research level, it's a mixed bag, but I hasten to add that just because studies haven't been done, doesn't mean that benefits don't exist. And while I'm playing devil's advocate here, vegan diets have been correlated with lower mortality rates overall, but also with nutritional deficiencies that could reasonably impact your energy as an athlete, according to a 2022 review by researchers at the University of Friberg. That said, Novak Djokovic is famously vegan and doesn't seem to struggle with energy or stamina.
Getting back to Grylls, for now, the secret to his dietary success seems to lie in organ meats and organ supplements, plus a few other staples. He says that a typical day for him now predominantly looks like fasting for 16 hours followed by one main meal and another a small one to end the day. These meals consist predominantly of grass fed meat and liver, white rice, eggs and dairy, followed by fruit, yogurt and honey to finish. And no beetles or camel dung.
"Essentially what I've found is what grass-fed natural organs do is help us put back in our bodies what modern living drains from us. Our ancestors were always fuelled by natural foods, sunlight and being outdoors. Evolution made that way of life optimum for us."
All the latest inspiration, tips and guides to help you plan your next Advnture!
Julia Clarke is a staff writer for Advnture.com and the author of the book Restorative Yoga for Beginners. She loves to explore mountains on foot, bike, skis and belay and then recover on the the yoga mat. Julia graduated with a degree in journalism in 2004 and spent eight years working as a radio presenter in Kansas City, Vermont, Boston and New York City before discovering the joys of the Rocky Mountains. She then detoured west to Colorado and enjoyed 11 years teaching yoga in Vail before returning to her hometown of Glasgow, Scotland in 2020 to focus on family and writing.