Big, bold, cold adventures: a case for winter wild swimming
Winter wild swimming is on the up and up – we speak to a new convert about what keeps bringing her back to the frigid water's edge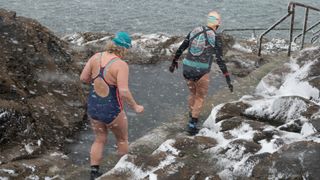 (Image credit: Matt Cardy / Stringer)
It's January 1, 2022 and a stunning bluebird day to ring in the new year. Scotland is still under the threat of another lockdown and it's been years since I had a rager on New Year's Eve anyway, so my boyfriend and I get our hiking boots on and head for the hills just outside of Glasgow. The days in Scotland are really short at this time of year – the sun doesn't rise until almost 9 a.m. and sets before 4 p.m. – and we're feeling low key so we're not looking for a big adventure. We both agree that what we want is a short hike in the sunshine and a quick, refreshing dip somewhere wild.
We jump in the van and not much more than an hour later, arrive at our favorite secluded waterfall to find we have it all to ourselves. It's an unseasonably warm day with an air temperature in the upper 50s (15°C) and we're well-dressed so we're not chilly, but it's still January in Scotland and brisk enough that we need to hurry as we strip off or we're going to lose our nerve. He jumps into the small pool first and goes all the way under, coming up with a shriek a second later and a giant grin. He paddles over to the falls, stands underneath them for a moment, and ten seconds later he's climbing out and grabbing his towel as I go in. I'm wearing my water shoes, which I've learned over the past year lets me get in and out faster and I start wading in. The water is bracing – probably around 6°C or 7°C this time of year – and when it reaches the top of my thighs I begin my usual routine. Big deep inhale, long exhale as I plunge under and immediately come back up laughing and thrilled and chilled.
Moments later I'm toweling off and we're pulling our clothes back on. On the walk down, I savor that amazing tingling sensation all over my skin that I've come to love wild swimming for, and we both agree it's the best part.
Now, in the world of wild swimming, what I've just described is a fairly tame experience. The sun was out, the air temperature was actually quite warm, and yes the water was chilly, but it was just a quick dunk. Admittedly, this winter I've relied mostly on the cold plunge pool at my local health club for my cold water therapy (I blame the lack of sunlight this year), but I've been watching in awe as an old colleague and friend of mine named Jaz has been getting acquainted with the frigid delights of winter wild swimming.
Jaz lives in Northampton, Massachusetts and for the past few months, she's been sharing pictures on social media of regular dips in a local swimming pool with a group of about 10 or 12 people. Now, UK winters aren't the nicest, but New England winters? They're seriously brutal. I spent a couple of years living up there 20 years ago and I can assure you that my winters there were very much spent clad in down jackets, not bathing suits. So I've been quietly tipping my hat to this group of people I've never met for their pluckiness, and I finally asked Jaz what prompted her to try jumping into a near-freezing lake in a state that's known for its cold, snowy winters. She tells me that the impetus came through the same pipeline as most of our invitations come these days – when a local friend posted on Facebook to ask if anyone would be interested.
"I'd seen this great viral video of three older women talking about their daily cold water swimming routine in Iceland or something several years ago, and was intrigued. I'd also heard about how cold water was good for easing anxiety."
Something, she says, that appealed to her, particularly since the pandemic. When she initially heard about the potential health benefits of cold water therapy – which a 2018 study in British Medical Journal indicated for depression – she tried an easier tactic, but found it fell short in terms of delivering the health-bestowing properties she'd read about.
"I'd tried finishing off my morning showers with 30 seconds of cold water, but it wasn't that appealing and there was no real accountability. Like, no one cared if I did it or not."
"I felt invincible!"
So, when her friend suggested a group plunge, Jaz decided this might be a better way to explore cold water therapy, and one day in October of last year, she took her first plunge.
"It was a gorgeous autumn day, the foliage was amazing, the sun was shining, and after going in water, I felt invincible!" she recalls.
The group kept meeting regularly and I've followed along each week as they post pictures from their adventures, all the way through January, when Accuweather reveals that the daytime highs were rarely more than about 37°F, and night time lows well below freezing. That's around 3°C, about the temperature of the inside of your fridge, or nine degrees colder than the Ice Age, if you're wondering. It's insanely cold out there in winter but this group never quits. Can the endorphin rush really be so great, I wonder as to truly merit this madness?
It's part of it, says Jaz, but the other part is the community that's formed and the bond between the participants.
"One of the other reasons I was interested in doing this is because I was interested in finding ways to hang out with friends outside during the winter months, in large part because of COVID considerations."
Jaz herself is still very risk-averse, due to close family members and friends who have health problems, and reveals that the pandemic has strained some of her closest friendships. Something a lot of us can relate to.
"I've been looking for ways to build up new and stronger connections with people. Some of the people in the group I knew as acquaintances, and some of them were old friends I hadn't seen in a while, so that's been wonderful."
The other motivating factor that keeps drawing her back to the water's edge, is simply the aspect of developing, and acting upon, a sense of courageousness, something that I can imagine feels especially therapeutic after several fairly fearful years.
"One of my favorite things about the experience is being brave with and for other people. When someone isn't sure they can get into the water, we buddy up, and go in together. When they aren't sure if they are up for submerging, we hold hands, count to three, and submerge together. I feel like some kind of cold water doula!"
"Do it with other people, and be there for each other."
Because this particular group seems to be so dedicated – and face up to conditions that make me want to crawl inside my warmest sleeping bag and never return – I ask Jaz if she has any advice for people considering winter wild swimming, and the first thing she advises is to find a group, something that's recommended for safety but also enhances your experience.
"Do it with other people, and be there for each other."
Next, though you might be tempted to simply dash into the water screaming and exit as quickly as possible in order to get the unpleasant part over with – something she did in the early days of the group – she suggests a more intentional approach may be more rewarding.
"We've found that if we enter slowly and focus on our breath, it's much easier. I think it makes it more of a meaningful practice, almost a ritual. There's still laughter (and cursing), but it feels much more peaceful and meditative, which definitely helps with my anxiety."
Finally, there's a little gear you can invest in that will go a long way. Her pictures show the group wearing regular bathing suits, and the odd beanie hat, but there are no wetsuits in sight. Though you might want a wetsuit for a long swim, if you're just dipping in, it's probably far too much hassle and expense. But getting wetsuit boots – or neoprene booties – can help you have a much better experience
"Gamechanger! You can keep your hands and your head out of the water, but your feet have to be in the water, and if they're so cold they're painful, that does not make for a transcendent experience!"
We can't promise that you'll have a transcendent experience, but if nature's busy watering holes are any indication these days, a lot of swimmers are having just that.
It goes without saying that there are risks posed by wild swimming and it should not be entered into without some preparation and precautions. Please read more about the risks and safety tips in our article on wild swimming.
All the latest inspiration, tips and guides to help you plan your next Advnture!
Julia Clarke is a staff writer for Advnture.com and the author of the book Restorative Yoga for Beginners. She loves to explore mountains on foot, bike, skis and belay and then recover on the the yoga mat. Julia graduated with a degree in journalism in 2004 and spent eight years working as a radio presenter in Kansas City, Vermont, Boston and New York City before discovering the joys of the Rocky Mountains. She then detoured west to Colorado and enjoyed 11 years teaching yoga in Vail before returning to her hometown of Glasgow, Scotland in 2020 to focus on family and writing.