How to choose a knife for camping: for food prep and other campsite tasks
Knowing how to choose a knife for camping can be a little intimidating if you're unfamiliar with the terminology – here we explain what to look for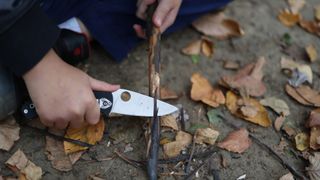 (Image credit: Getty)
A good knife can come in very useful in all sorts of ways when you're camping, but there are so many styles to chose from it can be hard to know where to start. And even if you settle on a particular style of knife for camping, different brands will offer a range of varying features.
As with all outdoor kit, finding the best camping knife for you will depend on a number of factors – not least, when, where and how you intend to use your knife. Here we will focus primarily on the various elements typically featured on a non-locking folding pocketknife with a blade of 3 inches in length or less.
Such compact, non-locking, folding knives are useful but still lightweight, and give you more than enough cutting power to perform simple tasks in camp or on the trail, or even for a spot of whittling. Such knives also have the advantage that they are legal to carry for daily use in countries and states where knife laws are relatively strict, such as the UK. However, you should check the relevant legislation in your country if this is a concern. If you need something with a wider range of functionality, check out our guide to the best multitools.
If your camping adventures involve more demanding bushcraft skills – like building natural shelters, processing wood for campfires, or even gutting fish and game – you might need a heftier fixed-blade knife. In that case, popular and inexpensive choices include the classic Mora Companion or Böker Plus Outdoorsman.
Similarly, if you're bikepacking or going on an extended trip, you might want to consider an everyday carry option (see: What is everyday carry?) a Swiss Army Knife or Leatherman-type multitool instead of, or in addition to a pocket-knife. This adds a host of other useful implements to your camping arsenal, including screwdrivers and hex or allen keys. The main disadvantage of these tools is that they are typically bulker and heavier than a slim, single-bladed knife.
When considering different types of knife for camping, think about the following.
Blade steels
This is arguably the most important element of a knife for camping – or any knife, for that matter. After all, the blade is the business end of a knife, and the quality of the steel used in its composition largely determines the quality of the blade. Steel is a metal alloy – specifically, an alloy consisting of iron, carbon (less than 2%) and 1% manganese plus small amounts of silicon, phosphorus, sulphur and oxygen. Other elements are often added too, which give the steel different specific properties. These can include chromium, molybdenum, vanadium and tungsten. As such, there are thousands of different types of steel. However, in knife terms they are broadly divided into two types:
Carbon steel – that is, steel with relatively carbon content – was traditionally used for knife blades before the advent of stainless steel. It is easy to sharpen, making it ideal for blades. However, the main drawback of carbon steel is that it will rust if it is exposed to moisture and oxygen. This is soon evident, as the steel oxidises on the surface of the blade.
Stainless steel is now widely used for tools, machinery, cutlery and a multitude of other applications. It contains chromium to help delay and prevent rust, though even stainless steel can rust over time.
If you are likely to be using a knife in humid or rainy conditions then consider stainless steel. That's why all marine knives utilise stainless steel. If you need a knife that sharpens easily in the field but has good edge retention, then carbon steel might be a better choice.
In addition, the properties of blade steels are usually defined through five key categories. These are hardness, toughness, edge holding, resistance to wear and resistance to corrosion. No steel scores perfect marks in all categories, so look for a balance of qualities, or prioritise those that are most important to you.
As a rule of thumb, check the blade of a knife for markings, which usually indicate the type of steel that it is made from. Avoid anything that simply reads 'stainless' or 'surgical steel', as this is generally likely to be a poor-quality blade. Instead, go for a knife that is marked with the name of a specific alloy – common examples include 13C26, 440C, CTS-BD1, AUS-8 and 8Cr13MoV. High-end knife steels include S30V, S35VN and S90V.
Parts of the blade on a knife for camping
Point or tip
As a knife blade tapers along its length, it finishes at a point or tip. A long, thin tip is good for piercing or stabbing, but a blunt tip can be more useful when cutting, particularly if you want to ensure you don't accidentally puncture anything (or yourself). Long tips can also be delicate and prone to snapping.
Spine
The blunt, black edge of a knife is called the spine of the blade. A knife may have a straight back or a curved spine. A knife with a thin blade necessarily has a narrow spine, which enables precise cutting. However, a knife with a thicker spine can be suitable for more heavy-duty tasks.
Jimping
In use, you'll often place your thumb on the spine of the blade for better control and precision. To aid this, the spine often has a ridged or raised pattern at its base. This is known as jimping.
Ricasso
The ricasso is the unsharpened portion of a blade, found towards the base of the blade where it meets the handle.
Edge
The edge or cutting edge is the sharpened section (or sections) of a knife blade.
Bevel
The bevel is the angle at which the knife is ground to form a cutting edge. Bevels can be found on both sides of the blade, or just on one side in the case of a chisel grind knife.
Belly
The belly is the area of the blade between the spine and the cutting edge. This is what gives a knife its weight, greatly affecting its cutting characteristics.
Choil
The choil is the indentation between the base of the cutting edge and the ricasso, or in some cases, the handle. A choil makes it much easier to sharpen the full length of the cutting edge. Some knives also have oversized choils or grooves for your index finger, which is a useful safety feature on non-locking folding knives and also makes for improved ergonomics.
Blade shapes
Knife blades come in all manner of shapes, and many are specialised for different tasks. When it comes to pocketknives, however, these are the most common types:
Knife grinds
The grind of a knife dictates how the cutting edge looks and performs. For pocketknives, the most common grinds are:
Folding mechanisms
In this guide we've only reviewed non-locking folding knives, which means they are all either slipjoints or friction folders.
Handles
The handle of the knife plays a key part in its visual appeal, but also largely dictates its ergonomics, i.e. whether it is comfortable to hold and use. Some knives have a one-piece handle, usually made from plastic or wood, where the blade simply folds into a groove or slot within the underside of the handle. However, most folding knives have a handle made from multiple elements – usually comprised of two scales, which sandwich the blade between them when folded. These scales are held together by rivets, screws or pins, and may also have bolsters at one or both ends that effectively cap the knife. In addition, they may have other internal elements like liners, a backspacer and a backspring. The knife may also have an external pocket clip to enable secure carry, or sometimes the scales are drilled with lanyard holes, enabling you to thread the knife onto a loop of cord. Knife handles and scales can be made from many different materials – plastic polymers, wood, bone, antler, carbon fibre or metals like steel and aluminium. Other common materials include:
All the latest inspiration, tips and guides to help you plan your next Advnture!
An outdoors writer and editor, Matt Jones has been testing kit in the field for nearly a decade. Having worked for both the Ramblers and the Scouts, he knows one or two things about walking and camping, and loves all things adventure, particularly long-distance backpacking, wild camping and climbing mountains – especially in Wales. He's based in Snowdonia and last year thru-hiked the Cambrian Way, which runs for 298 miles from Cardiff to Conwy, with a total ascent of 73,700 feet – that's nearly 2½ times the height of Everest. Follow Matt on Instagram and Twitter.