How to choose a water purifier: your options for staying hydrated in the wilderness
How to choose a water purifier: our guide to choosing the best option to keep yourself hydrated on backcountry expeditions and thru-hikes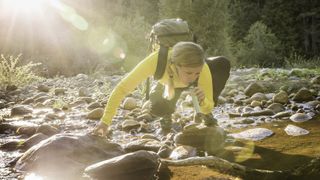 (Image credit: Getty)
Knowing how to choose a water purifier will help you to get the most from your chosen adventure. With various products on the market, from sterilization pens and tablets, to physical filters that can even attach to your hydration pack's water reservoirs, knowing which option to go for can be tricky. It's not something you want to get wrong either. The last thing you want on a backpacking trip of a lifetime is to be hit with a water-borne sickness bug.
All wild campers, bikepackers, packrafters, thru-hikers and expedition members should have a water purification system in their hiking backpack. The realities of any long adventure in the wilderness means that, sooner or later, your best hiking flask or hiking water bottle will run out, and you will need to refill your water stores at a tumbling stream to stay hydrated. The alternative is dehydration, which leads to errors in judgement, confusion and loss of strength and stamina – not a great situation to be in when you're miles from civilisation.
How to choose a water purifier: why is water purification so vital?
While the idea of supping on fresh glacially cold water from a rushing mountain stream may seem quite a romantic notion, the reality is that wild water can carry all kinds of unwanted nasties. If the stream has become contaminated by animal or human feces or if an animal has died upstream, all manner of harmful bacteria and protozoa could be tumbling towards your water bottle. The result of which can be gastrointestinal illness – which entails sickness, vomiting and diarrhoea – and dysentery, which the less said about, the better.
The other danger is from water-borne viruses such as norovirus, rotavirus, enterovirus and Hepatitis A, just to name a few. It is important to note that viruses are not eliminated by physical filters but can be by using UV sterilization pens, boiling the water with a camping stove or with certain purification tablets. So while physical filters are great in the US and the UK, in certain parts of the world where water-borne viruses are prevalent they are simply not an option.
How to choose a water purifier: filtration systems
The main advantage of choosing a physical filtration system is the speed at which they purify water when compared to using a stove or tablets. They comprise a dirty side – to collect the unfiltered water – and a clean side, which you can either drink from directly or use to filter the water into a reservoir or your water bottle.
Sip/squeeze filters (often called straw filters) are an affordable and lightweight option. They're generally quite small and require you to either suck or squeeze the water through the filter's microscopic pores. This is great for having a speedy drink but they are not an efficient means of producing large quantities of clean water.
Pump filters work in much the same way, but instead of sucking or squeezing the water though the filter, you can use the pump. This makes it a better option for processing larger quantities but does require a bit of graft on your part, and they're naturally bulkier than sip/squeeze filters.
Gravity filters allow you to process several liters of water per minute, which is ideal if you want to quickly replenish a whole expedition team's supply quickly. Attach the filter to the mouth of your reservoir and let gravity do the work, as the purified water flows down and collects in the bottom. The main disadvantages are that this is the heaviest option here and, as with all the filtration systems, it doesn't eliminate water-borne viruses.
How to choose a water purifier: use your stove
One of the best methods for purifying water is boiling it, as none of the pathogens usually found in wild water will survive the process. This means, in a fix, you can use your camping stove to give you drinkable water. Of course, there are a number of obvious downsides to this approach. It's not quick or convenient, it consumes fuel you'd otherwise be using for cooking camping meals and you can only process a small amount of water at a time. Nevertheless, if you're wild camping for just one night and you're happy to set out with a good supply of water in the first place, this could be a practical solution. For longer wilderness trips, an alternative approach is needed.
How to choose a water purifier: purification tablets
Chemical purification tablets represent an alternative that is widely used in the outdoor community. Tablets don't take up much space, they're lightweight, easy to use and cheap – sounds perfect for a backpacking expedition, right? However, the purification process is time consuming; you have to wait for at least 30 minutes before drinking. As well as this, they don't filter out mud or silt, the water ends up tasting a bit funny and the iodine they contain can pose a health risk to pregnant women and those with thyroid conditions. However, if expedition speed isn't your main concern, you're happy to wait for the tablets to work their magic and you don't mind the funky taste, tablets are a great option. Store them in a dry bag to keep them out of the worst of the elements.
How to choose a water purifier: UV sterilization pens
Utilizing short wave germicidal ultraviolet light to purify wild water, a UV sterilization pen works by disrupting the DNA within bacteria, viruses and protozoa. This renders the little nasties harmless, as they become unable to reproduce. By stirring your collected water for 1-2 minutes, you'll have clean, ready-to-drink H2O, without the odd taste you get from purification tablets. The disadvantages of UV pens are that they require batteries and are pricier than some options. However, for a compact, lightweight and effective approach to purifying water, UV pens are an excellent choice.
All the latest inspiration, tips and guides to help you plan your next Advnture!
Alex is a freelance adventure writer and mountain leader with an insatiable passion for the mountains. A Cumbrian born and bred, his native English Lake District has a special place in his heart, though he is at least equally happy in North Wales, the Scottish Highlands or the European Alps. Through his hiking, mountaineering, climbing and trail running adventures, Alex aims to inspire others to get outdoors. He is currently President of the London Mountaineering Club, training to become a winter mountain leader, looking to finally finish bagging all the Wainwright fells of the Lake District and hoping to scale more Alpine 4000ers when circumstances allow. Find out more at www.alexfoxfield.com