How should hiking boots fit? Top tips and advice
Follow a guide to ensuring comfort and enjoying when hiking year-round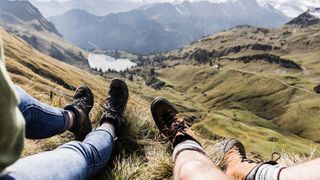 (Image credit: Getty)
How should hiking boots fit? We all know that hiking requires a good quality pair of hiking boots, or hiking shoes, but for maximum enjoyment on the trails, you need to make sure they fit properly.
It's advisable to choose different types of boots to suit a variety of trails, from lower level tracks to hill paths and mountain routes. In addition, the choice of hiking boot will depend on the seasons because summer and winter require different boots to suit the terrain, ground condition and weather.
How should hiking boots fit? Top tips for comfort
The best general tip is this: hiking boots should fit snugly everywhere, be tight nowhere and offer room to wiggle your toes.
Here are some top tips for making sure your hiking boots fit.
Try them on
It is difficult to advise on which are the best hiking boot brands because we all have different sizes and shapes of feet. Each brand has a different shape and size and so it is a good idea to head along to a retailer or order on-line and try the boots around the house to see how they feel.
You will know fairly quickly if the boots will be comfortable or if there will be irritations. You might expect that boots that are stiffer or made of leather may require a bit of breaking in, but you don't want to spend many miles doing so. These days, a modern hiking boot should fit comfortably from the start.
Choose fit over looks
Always choose a hiking boot based on fit, rather than what it looks like. The colours and design might be attractive but if the boots don't fit properly they will sit on a shelf at home looking good but not being useful.
Go for good support
A hiking boot should be comfortable but also supportive. Your foot, ankle and legs will be required to keep you upright on a range of different terrains and so you need a boot that is supportive.
Think about how the boot fits in the midfoot and arch area. Does your foot feel comfortable supported although not pinched too tight? You will know almost immediately how comfortable the boot will be.
A heel cup that hugs
The heel of the hiking shoe should offer a locked-in feeling so that the rear of the foot doesn't lift. However, it shouldn't be so tight and neat that it feels uncomfortable.
When laced up (check out our guide to lacing hiking boots), the boot should keep the heel in place so that you don't have any skin rubs. Make sure there is nothing in the heel and ankle area that rubs or annoys, such as at the ankle bone or Achilles tendon.
Forefoot space and volume
It's a good idea to have a thumb's width of space between the tip of your toes and the front of the hiking boot. The reason for this is that when descending trails and hill paths, the foot will slide forwards in the boot a bit and you do not want to have the toes banging off the front inside of the boot.
The forefoot should also be wide enough to comfortably accommodate your foot and chosen sock. Make sure you try on the boots with the same type of hiking sock that you will wear for walking. See our guide to the best hiking socks for some great options.
On warmer days or during longer hikes, your feet will naturally swell and that means you need volume at the front of the boot to accommodate a slightly larger foot.
Lacing system
The lacing system should be easy to adjust and offer good levels of support all the way from the forefoot to the ankle.
You don't want have to tie the laces so tight that they create a bulge in the fabric at the forefoot of the boot, so this means the boot should be the right width fit for you and the laces are simply adding a level of extra support.
Make sure the laces rise up the ankle to give extra support. Most boots will have one to three eyelets at the ankle and these will offer greater or lesser support. Read about different boots for different seasons below.
In-soles and orthotics
You can choose to use the in-soles that come with the boots, or change to one that gives less or more volume. In addition, in-soles and orthotics can help with issues such as high arches, over-pronation and support your particular gait.
Many people have a favourite brand of insole, or orthotics created by a podiatrist, that they insert into footwear for greater comfort. This can be a really good idea if you suffer with niggles and injuries due to your gait.
What's the season?
A winter hiking boot and a summer hiking boot are very different types of boot. In winter, there could be snow or ice on the ground. It is likely to be colder and wetter, too. Winter hiking boots are usually stiffer to cope with challenging terrain and have more insulation and waterproofing.
A winter boot will feel less comfortable because the sole is stiffer and the ankle will need to be more supported. However, it's important for safety and comfort the you choose the right boot for the season.
In summer, your hiking boot is likely to be lighter and more flexible. Unless you are hiking in tough mountain terrain, a summer boot will suffice. Many summer boots are much more comfortable to wear and some feel more like a trail running shoe than a hiking boot.
Be prepared to change to a more robust and durable hiking boot as the seasons change.
A flexible mindset
You might imagine that you have found a brand of hiking boot that perfectly suits your foot. But sometimes the designs change or you need a boot to suit a different season or terrain. It's a good idea to be flexible in your approach to choosing a hiking boot and the right fit.
The first tip was to try before you buy and this applies even when you are sure you know the right brand of hiking boot for you. Hiking boots should last you many miles and when it comes to renewing them, there may have been changes in the design and manufacture of your favourite brand.
All the latest inspiration, tips and guides to help you plan your next Advnture!
Fiona Russell is a widely published adventure journalist and blogger, who is better known as Fiona Outdoors. She is based in Scotland and is an all-round outdoors enthusiast with favourite activities including trail running, mountain walking, mountain biking, road cycling, triathlon and skiing, both downhill and back country. Her target for 2021 is to finish the final nine summits in her first round of all 282 Munros, the Scottish mountains of more than 3,000ft high. Aside from being outdoors, Fiona's biggest aim is to inspire others to enjoy the great outdoors, especially through her writing. She is also rarely seen without a running skort! Find out more at Fiona Outdoors.