How to get rid of athlete's foot in runners
Amongst the various gross conditions that can affect an athlete's foot, actual athlete's foot is one of the most common – find out how to prevent it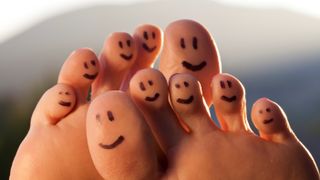 (Image credit: Bill Oxford)
The lean, lithe physique of a runner is one that's coveted by many, but we runners know that if other people could see our feet when those running socks come off, they might not be quite so envious. Amongst the various gross conditions that can affect an athlete's foot, such as bruised toenails and corns, actual athlete's foot is one of the most common. In this article, we take a look at why athlete's foot is so common among runners, and how to prevent it from taking up a new home between your toes.
What is athlete's foot?
Athlete's foot is a fungal infection that usually begins in between your toes and produces an itchy, scaly rash across your foot. According to the folks at the Mayo Clinic, it's common in people whose feet have become very sweaty while confined in shoes, which explains why it can plague runners, although according to 2009 research, it may affect up to a quarter of the population at any one time. Running often while wearing socks and running shoes that aren't very breathable, and not removing those socks and shoes and drying them out between uses, can definitely leave you prone to developing this fungal infection.
Worse, once you have developed athlete's foot, it can spread to other parts of your body, and you can spread it to others via surfaces like the shower floor, towels and even clothing if for some unknown reason you share socks with somebody. So, upon noticing the first signs of athlete's foot, it's important to ask your local pharmacy for an antifungal medication, and visit the doctor if it doesn't clear up quickly. In the meantime, don't share towels and wear flip-flops in the shower.
Is it OK to run with athlete's foot?
Athlete's foot is a little unpleasant, but it's not enough to disrupt your training plan, and running with athlete's foot is ok as long as you are treating the symptoms and following the prevention procedures in the next section which will eliminate the conditions that allow the fungus to thrive.
How to avoid athlete's foot
Whether you've suffered from athlete's foot in the past, have a current outbreak or just want to do what you can to avoid it, these tips will help keep foot fungus out of the fray.
1. Antifungal foot powder
As a preventative measure, sprinkle antifungal foot powder inside your running socks and shoes before you head out.
2. Moisture-wicking running socks
Wear socks made from breathable, moisture-wicking fabric like a wool or bamboo blend that don't let your feet get too clammy.
3. Breathable running shoes
Whether you're shopping for trail running shoes or road running shoes, make sure yours have breathable mesh uppers and consider forgoing the waterproof option if you're prone to athlete's foot
4. Dry out
After you go for a run, remove your socks and shoes immediately and leave them to dry out before using them again. If you want to run again the next day and they're not dry, wear a new pair of socks and consider alternating between two different pairs of running shoes.
5. Scrub up
Hop in the shower following your run and wash your feet with soap, taking care to clean in between your toes. After your shower, dry your feet thoroughly and use antifungal foot powder on your feet.
6. Get some air
When you're not running, if you're prone to athlete's foot it's best to air your feet out as much as possible. Take your socks and shoes off when you're at home and wear hiking sandals instead of closed shoes when you're out and about.
All the latest inspiration, tips and guides to help you plan your next Advnture!
Julia Clarke is a staff writer for Advnture.com and the author of the book Restorative Yoga for Beginners. She loves to explore mountains on foot, bike, skis and belay and then recover on the the yoga mat. Julia graduated with a degree in journalism in 2004 and spent eight years working as a radio presenter in Kansas City, Vermont, Boston and New York City before discovering the joys of the Rocky Mountains. She then detoured west to Colorado and enjoyed 11 years teaching yoga in Vail before returning to her hometown of Glasgow, Scotland in 2020 to focus on family and writing.