What size backpack do I need?
"What size backpack do I need?" is one of the questions we're most frequently asked by newcomers to hiking and backpacking. This post offers guidelines on the ideal backpack size for day hikes, weekend camping trips, and multi-day thru-hikes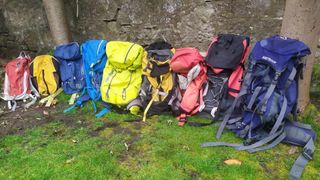 (Image credit: Kieran Cunningham)
Whether you're a gram-counting minimalist or take more of an everything-bar-the-kitchen-sink approach to packing for your hiking and backpacking trips, finding the perfect backpack for your adventures is always a tricky business – especially when it comes to deciding on the ideal capacity.
As with all components of hiking and camping kit, from wearables like the best hiking shoes and best fleece jackets all the way through to the best tents or best sleeping pad, there's no one-size-fits-all approach when it comes to choosing the best hiking backpack or best daypacks for your needs. The answer to the question "what size backpack do I need?" hinges on a number of variables, including the season you're hiking in, whether or not you're camping, your trip duration, and whether you're a persnickety packer or prefer to throw in a bit of everything, pack weight be damned.
What size backpack do I need? Guidelines by trip duration
The following guidelines offer a ballpark estimate of required pack sizes for different trip durations in 2/3-season conditions before accounting for the variables mentioned below.
Trip duration Backpack capacity in liters
Day hike 15 – 25
Overnight (1 night) 25 – 40
Weekend (2 nights) 40 – 50
Multi-day (3-5 nights) 50 – 65
Extended trips (5+ nights) 65+
What size backpack do I need? The variables to take into account
Weather
On summer day hikes, the heaviest item in your pack is likely to be your water bottle, and your total pack probably won't pip the 10-pound mark unless you're carrying technical kit for ascents above the snow line in alpine regions or standing in as the designated Sherpa for you hiking buddies, partner, or child. This, of course, is because summer hiking essentials are generally far lighter than those required for shoulder-season or winter hiking. And it ain't all about the weight…summer hiking gear is also far less bulky than winter gear, meaning you can get away with a much smaller sized pack for fair-weather adventuring.
The same applies, of course, to camping and backpacking – for cold-weather outings, you'll need to carry a few cold-weather-specific pieces of kit such as a beefier sleeping bag and sleeping pad, a bulkier tent, possibly a separate groundsheet, and maybe more fuel for your camping stove, all of which will require additional capacity in your pack.
Entourage
Gauging the ideal backpack capacity for yourself is tricky enough, but matters get a whole lot more complicated when you're doing the hauling for your trail buddy, whether he/she be a pet, child, parent, or anyone else who's happy to lighten their own load by adding to yours(!).
The easiest way to tot up the total capacity required for yourself and your "plus one" is to calculate the capacity of pack needed for each of your kits independently. Do this by gathering all the kit you need for your partner, stuffing it into a smaller "measuring" sack (circa 20 liters) and add the capacity used up in this pack to the capacity you think you'll need for your own kit (more on measuring this below).
Accommodation
Tents and sleeping bags are by far the two bulkiest items in any backpack. This being so, if you plan on hiking hut-to-hut or staying in accommodation where bedding will be provided, you can afford to opt for a pack at the lower end of the scale in the above guidelines.
Edibles
Depending on the size of your appetite and the length of your trip, the food you carry on your hiking or camping adventures could account for a sizable share of your pack space. Whether you plan on doing multi-day backpacking trips or single overnighters, then, be sure to factor in the added space required for your fodder.
MO – minimalist or maximalist?
If you're a fast-packer or thru-hiker, the chances are you've already fine-tuned your packing strategy (see how it's done in how to pack a backpack), trimmed down your kit to essentials only, and won't want to undo your good work on this front by picking a pack that's bigger – and heavier – than you need. If you are apt to carry the odd luxury, teddy bear, six-pack of beer, or other non-essentials, however, or simply don't see the merit in the squeeze, your best bet is to plump for a pack at the larger end of the capacity ranges listed above.
Backpack size: how to measure the backpack capacity you require
When choosing a backpack, the objective should be to find a pack that can accommodate all the kit you'll be carrying but which isn't so big that you're weighing yourself down with extra – and unnecessary – weight. While the above capacity ranges should help you in this respect, customizing your measurements will give you a more accurate estimation of the capacity you'll require. To do this, simply gather all the gear you would ordinarily carry on a hike or backpacking trip (ideally for the longest duration of trip you envision taking). Lay all of your gear out on the floor – this will help to ensure you don't forget anything (as will our camping checklist). Pack all of your gear into an old backpack or – if you don't have one – a duffel or even a trash can liner (as long as you know the capacity in liters), which you can then use as a measuring tool to get a handle on how much space you'll need.
As a final tip, we'd always recommend shooting a few liters higher than you expect to need – buying a second pack will be pricey, cinching down compression straps to consolidate a smaller load costs you nothing.
All the latest inspiration, tips and guides to help you plan your next Advnture!
Former Advnture editor Kieran is a climber, mountaineer, and author who divides his time between the Italian Alps, the US, and his native Scotland.
He has climbed a handful of 6000ers in the Himalayas, 4000ers in the Alps, 14ers in the US, and loves nothing more than a good long-distance wander in the wilderness. He climbs when he should be writing, writes when he should be sleeping, has fun always.
Kieran is the author of 'Climbing the Walls', an exploration of the mental health benefits of climbing, mountaineering, and the great outdoors.