How to wash ski gloves: a complete guide
Our guide to how to wash ski gloves covers all different types of ski glove and makes sure yours stay fresh and performing well, season after season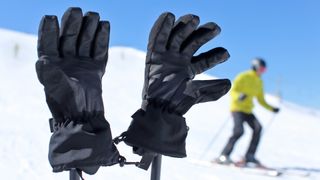 (Image credit: studo58)
Out of all the gear in your winter sports kit, there's no doubt that your best ski gloves take the worst beating on the hill. You handle your gear and wipe runny noses with them, sweat in them, then accidentally stuff them wet in a pocket when you get to the lodge and leave them there for a week. They tend to be pretty grimey by mid season, but know how to wash ski gloves properly and you can keep them working for you year after year.
It's important to note that you don't want to wash ski gloves weekly – once or twice a season will usually do. Here we outline how to wash the four main types of ski gloves that you use for different types of skiing as well as snowshoeing and other winter sports to keep them fresh and performing well. Remember never to turn your gloves inside out for washing, as this can damage the inner stitching.
How to wash ski gloves: waterproof ski gloves
For washing your waterproof ski gloves, you'll want to use a gear cleaner rather than your regular detergent. You can hand wash your gloves in place of the first three steps below, however machine washing them works well and frees you up to do other things like wax your skis.
If your waterproof ski gloves have a liner in them that can be removed, remove it first and wash it using the instructions for glove liners. If they have leather reinforcements on the palms or fingers, wash them using the instructions for leather ski gloves.
Finally, if you have synthetic ski gloves that aren't waterproof, follow these instructions through step five.
Put your waterproof ski gloves in a mesh bag so they don't snag inside the machine and get damaged. Place them in the machine with nothing else inside the compartment.
Pour the appropriate amount of gear cleaner into the detergent compartment, according to the instructions on the bottle.
Wash your gloves on a gentle/delicate cycle, according to the temperature instruction on the label – it should be warm.
When the cycle is complete, gently squeeze the water out of the gloves from the fingertips down to the wrist. Don't wring them as this may damage them.
If the label on your gloves allows for tumble drying, follow those directions, otherwise, lay your gloves flat to dry, or hang them from the line by the fingertips so that the water doesn't gather in the fingers.
Once your gloves are dry, perform a waterproofing test by putting them on and splashing some water on them. If the water doesn't bead nicely, read our article on how to re waterproof your gear – it's easy and saves you from replacing gear so frequently!
How to wash ski gloves: liner gloves
Liner gloves are thin gloves that you might wear underneath your waterproof gloves for more warmth, or on their own for more vigorous activities like cross country skiing where you don't need extra insulation. These are sometimes made of silk and require delicate handling, however they absorb the brunt of your sweat so they need more regular washing too – if you're wearing them several times a week, consider washing them once a month.
Prepare a basin or sink of lukewarm water and add a capful of mild, scent-free soap.
Gently rub the liners to get the worst out of them.
Empty the basin, then fill it again with cold water and a dash of vinegar. Swish the liners around in the mixture to get the soap out.
Rinse the liners again in plain, cold water.
Dry flat (do not tumble dry).
How to wash ski gloves: leather ski gloves
Lots of the best ski gloves are made from leather or come with leather reinforcements on the palm, knuckles and fingers which makes them more durable. If you're not sure if your reinforcements are made from real leather, check the label. Ski gloves containing any leather should never be machine washed or submerged in water, which will damage the leather. Get a special leather cleaner for washing your leather ski gloves and a leather conditioner for restoring them afterwards. These are the most expensive ski gloves out there so it's worth investing to keep them in great shape.
Use a soft, damp cloth to first wipe away any grime on the gloves.
Put one glove on, spray the leather cleaner only onto the leather parts. Wipe it off using a clean cloth. Repeat with the second glove.
Leave the gloves to lie flat and dry at room temperature.
Once they are dry, put on one glove and rub the leather conditioner into the leather areas only. Repeat with the other glove. This stops the leather from drying and cracking.
How to wash ski gloves: down ski gloves
Down ski gloves are great for keeping your hands toasty in subzero conditions, but they can lose some of that insulating quality if you don't care for them correctly. It can be hard to know if your gloves contain natural or synthetic down, so check the label first. This will also tell you whether your gloves can be machine washed, or whether they need to be hand washed.
If your down ski gloves can be machine washed, place them in a mesh bag to keep them from being damaged during the wash cycle, and place them on their own inside the machine.
Add gear cleaner (not detergent) to the detergent compartment and wash your gloves on a gentle/delicate cycle at the temperature specified on the label.
If your down gloves are hand wash only, prepare a basin of warm water and gear wash. Submerge the gloves if they're heavily soiled and rub them to remove dirt, or dip a soft cloth in the water and gently spot clean them on the outside, and inside the palm, but don't turn them completely inside out.
Gently squeeze the gloves from fingertips to wrist without wringing them, then dry them in the tumble dryer on a low heat (according to label instructions) to restore their loft.
All the latest inspiration, tips and guides to help you plan your next Advnture!
Julia Clarke is a staff writer for Advnture.com and the author of the book Restorative Yoga for Beginners. She loves to explore mountains on foot, bike, skis and belay and then recover on the the yoga mat. Julia graduated with a degree in journalism in 2004 and spent eight years working as a radio presenter in Kansas City, Vermont, Boston and New York City before discovering the joys of the Rocky Mountains. She then detoured west to Colorado and enjoyed 11 years teaching yoga in Vail before returning to her hometown of Glasgow, Scotland in 2020 to focus on family and writing.