Airbnb and National Parks encouraging explorers to roam near home
National Parks Foundation partnering with Airbnb in a campaign to reduce congestion and spread the love across all America's national parks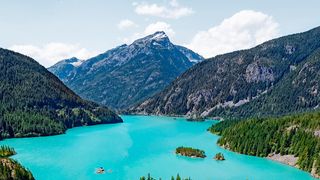 (Image credit: Airbnb)
To celebrate the United State's National Park Service's 104th birthday, the National Park Foundation is partnering with accommodation website Airbnb on an innovative drive to encourage active travelers to explore the quieter corners of the country's national parks.
"It can seem like the world has gotten smaller," says the Airbnb website. "But just a short drive away you can find places that feel like nowhere else on earth. In partnership with the National Park Foundation, we're sharing otherworldly escapes to transport you on your next trip."
The new campaign is being launched in the first week of September, and is aimed at making people aware of some of the lesser-known attributes of national parks, especially those closer to their home location, including the rustic cabins, glamping areas and other amazing accommodations that are available in these special places.
Several objectives underpin this new drive. Some of the most-trafficked parks and the honeypot places within them are experiencing challenges around the COVID19 pandemic, including changes to vacationing behaviour and enforced variations to opening times and access.
Even in more normal times, however, some parks such as Yellowstone (the world's first designated NP) see huge influxes of people while others – which offer stunning wilderness landscapes, sensational trails and extraordinary accommodation options in unique settings – are often overlooked.
Overcrowding impacts the environment and the experience, so spreading visitation is a real benefit – to the parks themselves, the people exploring them and the rural economies around them.
The National Park Service manages 62 protected areas, spread across the contiguous United States from the Everglades in the extreme southeast to Olympic in the far northwest - and in Alaska, Hawaii and the Virgin Islands too. Each year, some 318 million people visit these national parks, but the spread of tourism is very uneven. The National Parks Foundation is the not-for-profit charitable wing of the NPS, which is seeking to address this problem, in partnership with Airbnb.
This campaign will see a new page added to the Airbnb website, which will specifically encourage people to explore their nearest national park, to reduce carbon emissions from vehicles, as well as congestion.
"Travelers are getting in their cars with their families... to safely and responsibly explore their own backyards in the great outdoors — and national parks represent the perfect destination," Airbnb's senior vice president for global public policy and communications, Chris Lehane, said in a statement.
"Many Americans are learning that they live within 100 miles of a national park, just a short drive away… Through our partnership with the National Park Foundation, we are lifting the veil over three specific less-traveled parks, connecting our guests to places they may not have otherwise thought to discover and driving tourism's economic engine into even more communities."
Airbnb say they're committed to encouraging people to explore more local and under-the-radar destinations, and they're working with tourism boards and land-management charities to do this.
And for those who aren't able to get out and physically explore the country's National Parks, Airbnb have also introduced virtual tours, complete with a sensory 'Sounds of the World' digital experience, featuring wildlife sounds and sensory experiences from specific locations, such as California's Mojave Desert, where you can hear flowers bloom and go stargazing with wild donkeys.
And remember, if you sign up for the Advnture newsletter, we'll send you a FREE copy of the World's Greatest National Parks ebook.
All the latest inspiration, tips and guides to help you plan your next Advnture!
Author of Caving, Canyoning, Coasteering…, a recently released book about all kinds of outdoor adventures around Britain, Pat has spent 20 years pursuing stories involving boots, bikes, boats, beers and bruises. En route he's canoed Canada's Yukon River, climbed Mont Blanc and Kilimanjaro, skied and mountain biked through the Norwegian Alps, run an ultra across the roof of Mauritius, and set short-lived records for trail-running Australia's highest peaks and New Zealand's Great Walks. He's authored walking guides to Devon and Dorset, and once wrote a whole book about Toilets for Lonely Planet. Follow Pat's escapades on Strava here and instagram here.