The Marq Adventurer (Gen 2) is a superb adventure watch that's a joy to use and shares DNA with classic style field watches. It packs all Garmin's latest fitness-tracking and smart navigation tech into a tough yet elegant package. However, at twice the price of the similarly specced Epix (Gen 2), it'll be hard for most outdoor enthusiasts to justify.
Pros
+

Super accurate multi-band GPS

+

OLED display is great for navigation

+

Topo maps preinstalled

+

Premium materials and flight case
Cons
-

Twice the price of Garmin Epix (Gen 2) for the same features

-

Unremarkable battery life
Garmin Marq Adventurer (Gen 2): first impressions
The Garmin Marq Adventurer (Gen 2) is a luxury GPS watch that feels like a hybrid of the Garmin Epix (Gen 2) and a more traditional field watch. It takes all the features of Garmin's top-end sports watch and tucks them neatly into a particularly stylish package.
The premium feel is apparent before you even open the packaging. Whereas most Garmin watches come in a smart but lightweight cardboard box, the Marq 2 Adventurer is supplied in a hefty metal flight case that makes it clear this is something special.
Specifications
• List price: $2,100/£1,899.99
• Case size: 46mm
• Weight: 92g with leather band, 84g with silicone rubber band
• Display type: AMOLED
• Water rating: 100m
• Best use: Road running, trail running, hiking, cycling (on and off-road), golf, winter sports
The watch itself is fitted with a brown leather strap as standard, with a layer of rubber on the inner surface to prevent damage and contrasting cream stitching around the edges. There's also a black silicone band included in the case, which is a more practical option for any activity involving water or serious sweat. It's easy to switch between the two using Garmin's QuickFit system, which requires no tools other than your thumbnail.
The leather band looks great, but during testing I ended up using the black rubber one more frequently for practicality. It makes sense to keep the leather for special occasions since it costs $250/$200 to buy separately. That's more than a Garmin Forerunner 55.
The case and bezel are made from grade five titanium with a brushed finish. The bezel is engraved with cardinal directions, adding to the field watch aesthetic. The five physical buttons are made from metal with a textured finish for grip, and feel pleasingly solid when pressed, which you'll appreciate mid-workout. As with most high-end Garmin watches, the start/pause button is protected by a raised metal guard to prevent accidental presses if you're adjusting gloves or cuffs.
Despite that, it's not Garmin's biggest watch. At 46mm diameter and 15mm thick, it's 1mm thinner and 0.5mm thicker than its close cousin, the Epix (Gen 2).
It features an AMOLED display, which is bright and crisp, and the perfect choice for a watch with a heavy focus on maps and navigation. This is topped with a slightly domed sapphire crystal lens, which resists scratches and magnifies the display just a little. This helps compensate for the fact that it's slightly smaller than that of the Epix (Gen 2), and has a resolution of 390 x 390 pixels compared to 416 x 416.
On the back of the case you'll find the optical heart rate monitor and SpO2 sensors, plus an unusual charging connector. Whereas most Garmin watches use a proprietary USB cable that plugs into the back of the case, the Marq Adventurer (Gen 2) has a larger connector with four contact points that attaches to the case back magnetically.
It's a little easier to use and works more like an Apple Watch charging puck, but bear in mind that there's no Qi wireless charging here. At the time of writing, the Vivomove Trend is the only Garmin watch to offer that.
All of this carries a serious price tag, and the Garmin Marq Adventurer (Gen 2) comes in at $2,100/£1,899.99. For comparison the Epix (Gen 2) Sapphire Edition is $999.99/£899.99.
Garmin Marq Adventurer (Gen 2): on the trails
When it comes to fitness tracking, the Marq Adventurer (Gen 2) is almost identical to the Epix (Gen 2). It comes with activity profiles for a huge array of activities, all of which provide stats far beyond just time and heart rate, but it really comes into its own for hiking, running, and cycling.
I found it a joy to use, particularly when it was time to head off the beaten track. You can create your own routes using the Garmin Connect mobile app, or import GPX files created using tools like Strava or Komoot. Once that's done, just select the run activity, hit the menu button, and find it under 'Courses'.
The watch's screen is one of the best around for maps, and the slight magnifying effect of the domed lens is a welcome touch. There's a remarkable amount of detail visible, and the display is large enough that you can see the next turn coming well ahead of time (something that frustrates me with my much smaller Fenix 7S). NextFork tech also lets you know the distance to the next turning, which is a great practical addition.
Like the Epix (Gen 2), the Marq Adventurer also comes with Garmin's new Map Manager installed, making it easy to switch to TopoActive, CourseView, or SkiView options. TopoActive maps are preinstalled, and the watch has 32GB storage, giving you plenty of space to add more.
Garmin and Strava Live Segments are supported for the more competitively minded, or you can choose to race against your own best time. You can also use Garmin's PacePro to help you achieve a goal time, and after a workout the grade-adjusted pace feature will let you see whether you were putting in consistent effort throughout your run or ride, factoring in hills.
On my usual pre-measured 5km route, the Marq Adventurer (Gen 2) was accurate to within 5m, which is the most impressive result of any watch I've tested to date, and the margin of error can be accounted for by the fact that it's on roads rather than a running track.
It's tough to pick fault with the Marq Adventurer (Gen 2) when it comes to workout tracking, and I'm a little sad to be switching back to my regular watch now the testing period is over. The only aspect that I think could use improvement is battery life.
Garmin's official figures state that the watch can last for up to 16 days on a single charge in smartwatch mode, 21 days in battery saver watch mode, up to 40 hours in standard GPS mode, and up to 32 hours with all satellite systems. These are exactly the same as the stats for the Epix (Gen 2).
In my tests, with a tracked activity most days, half of which were GPS-tracked runs, a charge lasted around 10 days. That's quite respectable, but not exceptional. Thankfully a full charge can be completed in well under an hour.
Garmin Marq Adventurer (Gen 2): rest and recovery
Like any Garmin watch, the Marq Adventurer (Gen 2) works best when worn (almost) 24 hours a day, and overnight it will keep tabs on your sleep stages, SpO2, and heart rate variability (HRV). Of these, I found HRV the most useful. After establishing a baseline, it allows you to see how well your body is handling the stresses of everyday life and training, and can sometimes even give you an early indication that you're coming down with a bug.
Recovery time estimates after a workout are interesting, but I found the training readiness score more useful; taking three days to recover from a long run isn't too practical for many training plans. Training readiness takes more factors into account than just acute training load, and will usually give a more optimistic outlook, letting you know what to expect from your body but still encouraging you to stick to your training plan.
The only issue I encountered was that the watch sometimes started tracking sleep before I'd actually settled down for the night, resulting in a large gap of 'restlessness' and an artificially long sleep duration measurement. However, this mostly served as a prompt for me to improve my sleep habits.
When setting up any Garmin watch you are asked to define a sleep window, during which Firstbeat Analytics will look for signs that you've nodded off, and if I sat still too long on the sofa within this period, sleep tracking started prematurely, which could throw off other rest and recovery metrics. Getting to bed or time or being more realistic with the sleep window resolves the issue.
Garmin Marq Adventurer (Gen 2): companion app
Like all Garmin watches, the Marq Adventurer (Gen 2) syncs with the Garmin Connect app, which is the most advanced and feature-packed of its type. It pools data from all your Garmin wearables in one place (including multiple watches, cycle computers, and heart rate monitors), and presents data in charts and graphs that are easy to interpret with extra insights if you choose to drill down.
The app will also occasionally present you with a personalized insight based on trends, letting you know if you're on a streak with your step count for example, or are moving more than on a typical Tuesday.
The course creation tool is a particular highlight, and is the easiest way to plot a new GPX course to follow on your watch. Just choose a distance, pick a bearing, transfer it to your watch and you're ready to hit the road. The app doesn't always pick the most obvious route, so you'll need to keep a close eye out for the next turn, but it can lead to some fun discoveries.
As the name suggests, Garmin Connect also has a social element, letting you link with friends and teammates, and share praise and challenges. You can also work to complete team challenges, which can be very handy for virtual clubs, and earn badges, which can become surprisingly competitive.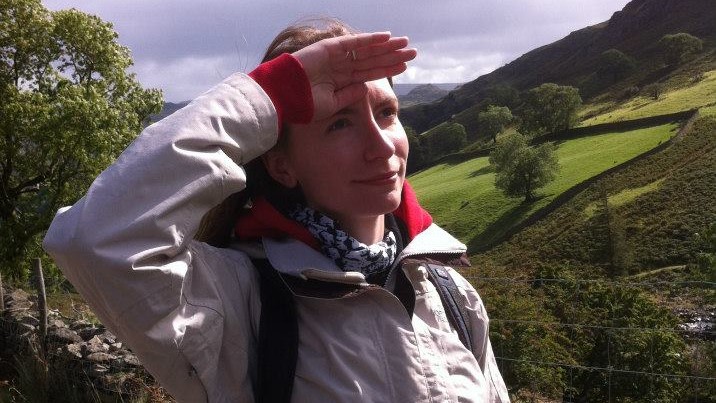 Cat is the editor of Advnture, She's been a journalist for 13 years, and was fitness and wellbeing editor on TechRadar before joining the Advnture team in 2022. She's a UK Athletics qualified run leader, and in her spare time enjoys nothing more than lacing up her shoes and hitting the roads and trails (the muddier, the better).