A freshly designed hybrid running shoe for trails and road, offering durability, comfort and grip. A gap in the market has been met with this thoughtfully designed shoe that shows no evidence of scrimping on high-end details.
Pros
+

Durable outsole

+

Good grip

+

Lightweight

+

Versatile

+

Quick drying
Cons
-

Expensive

-

Synthetic feel

-

Short in the length
inov-8 Parkclaw G 280: first impressions
Image 1 of 4
The Parkclaw has been part of inov-8's range since 2016, but this latest version, the inov-8 Parkclaw G 280, has been redesigned as a trail/road hybrid, with a new outsole, midsole and upper. And if you're wondering, the number in the name refers to the fact that each shoe weighs just 280g.
The inov-8 Parkclaw G 280 features graphene – hailed as the world's strongest material – both in the midsole compound (G-fly foam) and in the rubber outsole. While very strong, graphene is also one of the world's thinnest materials. Inov-8 has pioneered its use in their running footwear. And in the Parkclaw they've created one of the best trail running shoes currently on the market.
By infusing graphene into both the rubber outsole and foam-cushioned midsole, inov-8 say the Parkclaw G 280 delivers longer-lasting performance benefits for the runner in the form of tougher grip and greater bounce.
The G-grip outsole also has 98 rubber cleats per shoe – all 4mm in length – that provide "a claw-like trail grip and a smooth on-road ride" (according to inov-8, anyway). The G-fly foam midsole is said to "propel 25 per cent more energy return for a fast-feel stride enhanced with cushioning and comfort".
There is an 8mm drop, from 18mm at the rear to 10mm at the forefoot – a greater drop than with many inov-8 running shoes. The aim is to create specialist footwear that will help runners transition from traditional road running shoes to trail running shoes, which usually have a lesser drop.
All in all, this sounds very impressive and the sort of shoe that runners, both trail and road, will be likely keen to try.
And there's more. inov-8 have added a light and breathable, yet durably engineered, mesh upper for comfort while a super-springy Boomerang footbed delivers more bounce, thanks to hundreds of expanded TPU beads that compress and spring back for a 40 per cent increased energy return – and greater cushioning – than standard footbeds.
A more open, yet durable, mesh around the forefoot and midfoot allows for greater breathability, while a heel counter helps to deliver a locked-in and supportive feel.
Other features include a strong and flexible toe bumper to protect the front of the foot from rocks and debris.
A slightly wider toe box (4 on a scale of 1 to 5, where 5 is the widest) and a plush, gusseted tongue offer further comfort for runners. inov-8 have also added an external heel loop to make it easier and quicker to pull on each shoe (see also: how should trail running shoes fit?).
Specifications
• RRP: $180 (US) / £160 (UK)
• Weight (per shoe): 280g / 9.8oz
• Drop: 8mm
• Materials: Synthetic mesh upper, G-FLY foam midsole, graphene outsole
• Sizes: Men's 6-14 Women's 3-7.5
• Colors: Men's Black & White / Blue & Grey / Nectar & Navy Women's Navy & Teal / Sangria & Red
• Compatibility: Longer distance trail running
inov-8 Parkclaw G 280: on the trails (and roads)
The inov-8 Parkclaw G 280s look neater and feel lighter than previous models in the Parkclaw collection. In fact, when I put my foot inside (making use of the finger loop at the back of the shoes), I was pleasantly surprised by the narrower fit. I'd become used to wearing unisex inov-8 running shoes and usually this means they are too wide for my UK8.5 female foot. But with the Parkclaws, it feels like I've gone back a decade to when inov-8 made shoes that were a perfect width.
inov-8 state that the forefoot width is 4/5 (where 5 is the widest) but I am going to challenge this. I'd say, in comparison to other models, they are more of a 3/5. Sadly, though the UK8.5 isn't quite long enough. It fits neatly but I like a bit of room at the front for my toes and usually inov-8 provides this in the 8.5 fit.
The heel fit is neat and supportive and the insole has a well-cushioned sensation. The cushioning is neither over-the-top nor too minimal. It's great to have a shoe that offers a good balance of cushioning, yet still allows you to feel the trail under your feet.
The tongue is plump and not too long, so it fits well across the top of the front of the ankle. The laces have a knobbly design, which means they should stay tied even if you don't double knot them. Unfortunately, within minutes of running, the laces loosen. I now tie the in a double knot but it I had been hoping they would be the single-knot-stays-tied sort.
Looking at the soles reveals one of the newest design features introduced by inov-8 to the Parkclaw G 280. The sole is made of grippy and energy-enhancing graphene – a tough, durable but lightweight material – with lots and lots of lugs. To be exact, inov-8 has added 98 individual cleats, each 4mm depth, to each shoe. I counted them and there are 98 of 4mm depth.
The layout of these lugs looks expertly designed. Rather like a mountain bike tire that has lugs where you will need more grip when cornering etc, so there are lugs that are larger, smaller, further apart or closer together to suit where you need grip.
Of course, the proof of whether the grip is in the right place comes when out on the trail. I enjoyed wearing the Parkclaw G 280s on woodland trails and forest tracks. I found them pretty grippy on a range of surfaces from mud, to rocks to tree roots. They are not as aggressively lugged as some of inov-8's hill and mountain running shoes but they are designed for trails and park-style running, and I think they work really well.
There are another few lugs at the front of the toe end, which are not 4mm but maybe 2mm each. Our Scottish version of gloopy and sticky mud does tend to get stuck in between some of the lugs, although this hasn't affected the grip of the soles as far as I can tell.
The shoes are meant to offer runners the versatility of road running, too. So many times when I'm trail running, I end up doing sections of road as well and it is always good to have footwear that can do both.
I confess I am used to wearing my Hoka One One Torrent IIs, which have a lot more sole thickness and cushioning than even these new inov-8s. But comparing the Parkclaws to other trail shoes by the same brand, I'd say these are a lot more cushioned and comfortable on tarmac. I felt like I had good bounce but without it being energy-sapping on the tarmac.
The heel-to-toe drop is 8mm rather than the 6mm I'm more familiar with in an inov-8 trail shoe. The reasoning is that the shoe will be suitable for runners who are moving from road shoes to trail shoes. Road running shoes usually have a greater heel-to-toe drop (10mm in many cases) compared to a more natural and flatter feel of the trail shoe with a 4mm or 6mm heel-to-toe drop.
So, an 8mm drop shoe will allow for a more comfortable transition if you're used to road shoes and moving to trail running shoes. I found the drop comfortable for running on both trails and roads.
The weight of each shoe – at 280g – is excellent. If you're thinking of doing a 5k park run, I think these would be a good choice. They are lightweight but still nicely cushioned and supportive.
The uppers look and feel durable. A criticism I've heard many times in recent years when it comes to inov-8 footwear is that the uppers wear out too quickly. And let's keep in mind that inov-8 shoes with graphene are not cheap, so having to pay out for another new pair because the uppers have worn at the crease points is frustrating and costly.
I can't yet tell you if the Parkclaw G 280 uppers are long lasting, but they do look to be made of good-quality fabric. They also have toe bumper to protect the front of feet – and the upper part of the shoe – from rocks and trail debris. There is a protecting layer at the rear of the shoe, too.
I run on trails where there is a lot of low lying vegetation, such a heather and gorse, so I'd like to see an all-round rand protection but if you're mostly on park-style trails the level of protection is probably fine.
The price makes me wince a bit but running shoes do seem to be increasingly expensive. There's a lot of design and technology in these inov-8 Parkclaw G 280s, so maybe the cost is justified. I just hope the uppers don't start crumbling too quickly.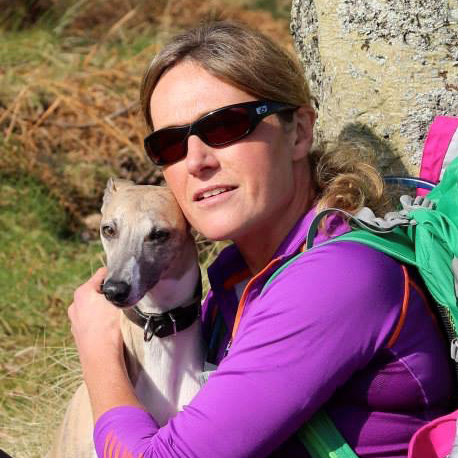 Fiona Russell is a widely published adventure journalist and blogger, better known as Fiona Outdoors. She is based in Scotland and is an all-round outdoors enthusiast with favorite activities including trail running, mountain walking, mountain biking, road cycling, triathlon and skiing (both downhill and backcountry). Aside from her own adventures, Fiona's biggest aim is to inspire others to enjoy getting outside and exploring, especially through her writing. She is also rarely seen without a running skort! Find out more at Fiona Outdoors.