How should trail running shoes fit? Tips and advice for maximum comfort
If you plan to run off-road, make sure your footwear is fit for purpose and gives you enjoyment not pain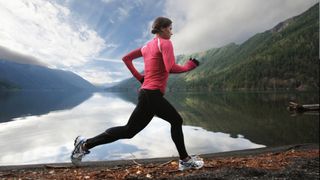 (Image credit: Getty )
Running on trails is different to running on tarmac – and so it is important to ensure that your trail running shoes fit properly. Uneven terrain off-road will cause feet to move around more in running footwear, so the fit needs to be right. If you are running on hills, you'll require more space at the forefoot, too, to protect toes.
How should trail running shoes fit? Top tips
Follow these tips when choosing the best trail running shoes. Take advantage of the fact that many sports shoes shops and retailers will be able to give advice on how trail running shoes should fit – many allow customers to test new footwear indoors before going outside to check that the fit is right.
It is a good idea to take your best trail running socks with you when trying on trail running shoes because different thicknesses of socks will give a different feel and fit.
Comfortable support
A trail running shoe should feel immediately comfortable but not so similar to a slipper that your foot feels sloppy and unsupported.
Think about how the shoe fits in the midfoot and arch area. Trail running footwear should feel supportive and neat fitting but not so that it pinches.
Remember to think about your gait, too. Check these tips to decide what your running gait is.
How does it lace?
The lacing system should be easy to adjust and offer good levels of support. The aim is for comfort in a trail shoe that is supportive but not overly tight.
Heel hug
The heel of the trail shoe should provide a locked-down feeling so that the rear of the foot doesn't lift. When running on uneven ground, the foot will move about in your shoe so it needs to feel secure.
You don't want the heel cup to dig into your ankle, especially the Achilles tendon, but equally you do not want it to be so loose or large that the heel moves about and ends up with rubs or blisters. A "heel hug" is a good way to think about the fit.
Toe "wiggle" space
Ensure you have at least a thumb's width of space between the tip of your toes and the front of the trail shoe. When running hills and trails, it is likely that your feet will move forward in the shoe and so you want to make sure the toes don't bang and rub the front inside of the trail footwear.
Forefoot room
Look for trail footwear with a wider forefoot area than you might choose for a road running shoe. This helps in two ways: firstly, your feet will naturally move about as you run on rough ground and you want to avoid the foot rubbing on fabric because the shoe is too narrow. Secondly, if you plan to run longer distances, or you are running in the warmer months, your feet will swell. Having a bit of extra space at the front of the running shoe will help to avoid foot constriction and blisters.
Cushioning
The amount of cushioning that you choose for your running shoe will depend on how much you want to feel the trail, as well as how much protection and "give" you want under your foot.
Some people prefer low levels of cushioning on the trails because they like to be able to feel the ground with greater precision. The ground will be naturally softer and more forgiving than tarmac, so the argument goes that there is less need for cushioning when running off-road.
However, there is a balance to be had because the trails will have stones and other natural obstacles, such as rocks and tree roots, so it might be a good idea to have some cushioning underfoot if you want to avoid feeling every bump and stone of the trail.
Good grip
The grip, or traction, of the sole of your trail running shoe is important, too, when ensuring the right fit. If you plan to run on mud, rocks, wet ground and hills, you'll want a shoe with a sticky rubber sole, or good studs.
You will quickly work out if your trail running shoe has the right fit when it offers good traction. The feel that you are looking for is comfort and support but with space for the foot to move naturally.
All the latest inspiration, tips and guides to help you plan your next Advnture!
Fiona Russell is a widely published adventure journalist and blogger, who is better known as Fiona Outdoors. She is based in Scotland and is an all-round outdoors enthusiast with favourite activities including trail running, mountain walking, mountain biking, road cycling, triathlon and skiing, both downhill and back country. Her target for 2021 is to finish the final nine summits in her first round of all 282 Munros, the Scottish mountains of more than 3,000ft high. Aside from being outdoors, Fiona's biggest aim is to inspire others to enjoy the great outdoors, especially through her writing. She is also rarely seen without a running skort! Find out more at Fiona Outdoors (opens in new tab).