How to clean a pocketknife: keep your blade shiny and in working order
Knowing how to clean a pocketknife will enable you to keep your blade in top condition, as a dirty knife is unhygienic and potentially unsafe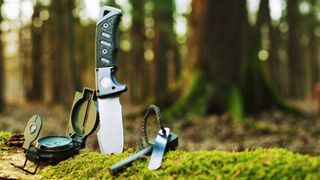 (Image credit: Getty)
When it comes to knowing how to clean a pocketknife, let us guide you on the methods to get your backcountry blade back to its best. Knife envy is not just the preserve of whoever's tagging along with Crocodile Dundee for the day. You too can turn green with jealousy when your camping buddy pulls out a shiny new pocketknife and you realise your once beloved old thing looks like something you've just found in a muddy puddle during a hike.
However, there's no reason that repeated use should render your pocketknife dulled and dirty. Giving it a thorough clean every once in a while will make a world of difference. A grimy pocketknife is not only unhygienic but excessive dirt can clog up the mechanism, meaning that it may not close properly, which is potentially dangerous.
Besides, your best camping knife sees its fair share of varied use. It's your best friend in the kitchen, helping you to cook up a storm come dinnertime; it's a handy tool to have when making tent repairs; and the creatives among you might even use it for a spot of whittling. The point here is that a blade that may have helped to gut a fish, slice through chicken and carve a lovely wooden spoon is going to need a thorough clean once in a while.
So, here with give you our step-by-step guide on how to clean a pocketknife. These tips and tricks work just as well for that versatile cousin of the pocketknife too, the multitool. First, let's gather everything we'll need.
How to clean a pocketknife: what you'll need
Screwdriver
Cloth
General purpose cleaning spray or mild soap
Old toothbrush
Cotton buds
Toothpicks
Compress air can
Lubricant (vegetable oil recommended)
Towel
Paper towels
How to clean a pocketknife: regularly give the exterior a good clean
When you come to wash your camping utensils after a scrumptious meal, it's a good time to give your pocketknife the once over.
Open up the blade and take a toothpick to all the more intricate parts of the knife, such as the pivot point and screwheads. Lever any gunk or lint out of the crevasses. Another trick you can use here to fight off stubborn dirt is using a compressed air can and blowing into the tiny gaps.
Next, apply your cleaning product onto the knife and scrub with an old toothbrush to remove any tough bits of dirt. Finally give it a good wipe down with your cloth, being careful of the blade. This should be enough to keep your knife relatively clean during your camping trips.
For a multitool, you'll want to follow the same principles before pulling each tool out one at a time. Give them a thorough scrub with the toothbrush, before a more general clean with a cloth.
Rinse the soap or cleaning products off your knife and then dry it using a towel.
How to clean a pocketknife: the deep clean
Every now and again, your pocketknife is going to need some additional TLC. This is where the deep clean comes in.
1: Disassemble
First things first, check your manufacturer's warranty, as taking your knife apart can void this. If all is well and good regarding warranty, proceed to take the screws out of your pocketknife. They're only tiny little things, so make sure you store them somewhere safely. If you've never taken your knife apart before, you may be surprised at just how grimy the out-of-sight parts of it are.
2: Clean the individual components
Using your soap or cleaning spray and your toothbrush, go to work on all the individual components of your knife. Use all the tools in your arsenal. Toothpicks are great for getting the gunk out of intricate spaces, while cotton buds can be useful for cleaning out the circular hinge holes and for general polishing. Don't forget it's not just the main parts of your knife that need a good clean, the screws and washers should also be given a quick scrub.
3. Dry and reassemble
The metal in your knife is prone to rust when in contact with water and oxygen, so it's absolutely essential to dry your components thoroughly before reassembling. This is another good time to utilize your compressed air can, which can be used to blow through the little screw holes and hinge points to ensure there's no residual moisture.
When it comes to reassembly, it's usually easier to put the knife back together in the open position.
4. Apply lubricant to the pivot
The final step is to add some lubricant to your knife's pivot and any other moving parts to give you a smooth action when you flip the blade open and closed. The lubricant you choose will depend on how you use your knife. If you regularly use your tool to prepare food for your camping meals, a food-based lubricant is probably best, such as vegetable oil. The rule here is to just use a little, before working it in by flexing the pivot to check the action. Wipe away any excess oil with a paper towel and you're done!
All the latest inspiration, tips and guides to help you plan your next Advnture!
Alex is a freelance adventure writer and mountain leader with an insatiable passion for the mountains. A Cumbrian born and bred, his native English Lake District has a special place in his heart, though he is at least equally happy in North Wales, the Scottish Highlands or the European Alps. Through his hiking, mountaineering, climbing and trail running adventures, Alex aims to inspire others to get outdoors. He is currently President of the London Mountaineering Club, training to become a winter mountain leader, looking to finally finish bagging all the Wainwright fells of the Lake District and hoping to scale more Alpine 4000ers when circumstances allow. Find out more at www.alexfoxfield.com