Parts of a tent: our visual guide to your backcountry shelter
Our visual guide to the many different parts of a tent unzips the jargon, so that next time you're pitching you know exactly what everything is and what it does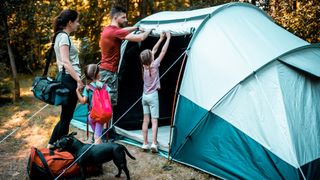 (Image credit: Getty)
If you don't know the parts of a tent, pitching can be a little stressful. "Honey, pass me the long thingy-ma-bob. You know, the what's-it… The long, bendy connecty thing." "Do you mean the tent pole, darling?"
Okay, admittedly most of us know a tent pole when we see one, but there are plenty of other parts of a tent that many people are less familiar with. This is especially true given the complexity and range of tents that are out there these days.
The best camping tents come in many shapes and sizes, from little pop-up shelters to palatial air tents boasting enough room to hide an elephant. For our visual guide, we're featuring the Nemo Dragonfly, an excellent three-person backpacking tent, both with the rain fly on and off so that we can delve inside to the inner tent.
Parts of a tent: our visual guide
1. Rain fly / outer tent
The rain fly is the coat of waterproof fabric that goes over the inner tent, providing protection from the wind and the rain. The important thing when pitching is to peg the outer out fully so that the fabric is taut, giving your maximum protection against the elements.
2. Porch
Usually, by the main entrance to your shelter is a large gap between the outer tent and the inner. This is the porch, an area useful for storing things that you don't want to be bringing into your cozy inner tent, such as muddy boots and wet gear. On a backpacking tent, such as a 2-person tent, the porch is likely to be quite small. In a larger family tent, the porch can be a sizeable area, big enough to stand up in and to take all your camping chairs.
Some tents come with an additional ground sheet for the porch, which often attaches to the pole attachment points. Depending on how much room you've got, the porch can be a good place to cook, as it shields your stove from the elements.
3. Guy lines
Guy lines are pegged out to ensure the structural integrity of your tent in windy or wet conditions. First and foremost, they are additional anchor points, taking some of the strain off the rest of the tent, which is crucial in gusty conditions. By pulling the fabric of the outer taut, they ensure rainwater has nowhere to form in pools and eventually seep into your inner.
It's a common sight to see people tripping over guy lines. Due to this, they are usually made from highly reflective materials these days, lighting up in the glare of flashlights and headlamps.
4. Pole attachment points
This is where you attach the end tips of your poles after threading them through the tent fabric in order for the shelter to take shape. One of the most important parts of your tent in terms of its structure, these are also often pegging points too.
5. Inner tent
The inner tent forms the living and sleeping area of your shelter. It usually clips on to the fabric of the outer tent or the poles, leaving a gap between it and the rain fly.
Unlike the outer, the inner is not waterproof but will instead have many features that make it breathable and allow moisture to escape, such as vents or mesh windows. Depending on the complexity of your tent, the inner will also contain many handy little touches, such as attachment hooks for lanterns, fabric shelves known as gear lofts and other pockets for equipment, like your multitool.
6. Inner door
Fairly self-explanatory this one, a zippered door into the inner tent. Often made of mesh, the door keeps insects out of your sleeping quarters, even when you've got the outer door flung open.
The outer tent also has a zippered door, which can be tied back to make the porch space airier.
7. Groundsheet
The bottom of the inner is an integrated, highly durable and extremely waterproof sheet of fabric known as the groundsheet. In larger tents featuring multiple compartments, it's usual for the bedrooms to feature integrated groundsheets but for the wider living area to feature a separate sheet that has to be clipped into place.
8. Outer door tie backs
When you need full use of your porch when you're sorting your gear or cooking, you can tie back the outer's main door, giving you lots of space.
9. Storm flaps
When the conditions turn nasty, rain will seek any weakness to sneak its way through the outer tent. The teeth of your zippered doors are one such weakness, therefore most tents feature flaps of waterproof fabric that cover them up, often securing into place with Velcro. These are known as storm flaps and they are also a mainstay of waterproof trousers and jackets too.
10. Inside storage pockets
The inner tent will often contain little pockets to keep your camping tech off your groundsheet.
11. Pole hub
Some dome and geodesic tents have a central point where the poles meet and clip in or attach together, though this isn't the case with all such tents.
12. Pole attachment clips
The inner tent relies on the pole configuration for its structure and often attaches to them via a series of pole attachment clips.
13. Vents
While you obviously want to keep water out of your backcountry bolthole, you also need your shelter to allow moisture to escape. This is why tents feature vents. Without them, condensation builds up as you breathe and expel body heat, which can cause just as much of a problem as rainwater seeping in.
14. Attachment hooks
Most tents feature attachment hooks for items like your best camping lantern to hang from, enabling you to enjoy the gentle ambience of diffused light when you're doing a bit of bedtime reading, rather than the focused glare of your headlamp.
Parts of a tent: other features
Smaller tents often feature a fabric gear loft in the ceiling of the inner tent, which allows backpackers to keep items like their best headlamp or phone off the floor while sleeping.
As many campsites offer electrical hook up, large family tents often feature flaps to let electrical cables through both the rainfly and the inner tent. Such tents also feature compartmentalized bedrooms made possible by removable fabric walls. This makes it possible to customize whether you can a few smaller bedrooms or one large bedroom space.
All the latest inspiration, tips and guides to help you plan your next Advnture!
Alex is a freelance adventure writer and mountain leader with an insatiable passion for the mountains. A Cumbrian born and bred, his native English Lake District has a special place in his heart, though he is at least equally happy in North Wales, the Scottish Highlands or the European Alps. Through his hiking, mountaineering, climbing and trail running adventures, Alex aims to inspire others to get outdoors. He is currently President of the London Mountaineering Club, training to become a winter mountain leader, looking to finally finish bagging all the Wainwright fells of the Lake District and hoping to scale more Alpine 4000ers when circumstances allow. Find out more at www.alexfoxfield.com