Best women's hiking sandals 2022: trek and travel in lightweight comfort
Our pick of the best women's hiking sandals are breathable, but tough enough to tackle coast and backcountry trails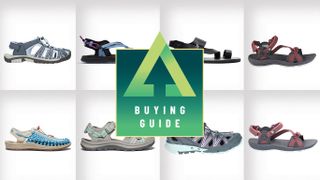 (Image credit: Future)
The best women's walking sandals allow you to hike in comfort when the temperature rises, providing support and protection where its most needed, but allowing air to get to your feet and toes.
You won't be scaling technical mountain peaks in this kind of footwear, but a pair of trail-ready hiking sandals are a very versatile purchase – ideal for travelling, low-level coasteering and beach days, as well as for wearing on some pretty adventurous treks. Even on harder walks and serious backpacking adventures, where more substantial boots are required on the trail, having a good pair of sandals in your pack to put on once you're in camp is a real luxury – your feet will thank you.
We've reviewed the best women's walking sandals on the market to bring you our top pick. You'll find our full guide to what to look for in the right women's walking sandals below, including how to get the perfect fit, when to choose a closed-toe 'shandal' over a sandal and whether leather or fabric straps will suit you best.
Everyone of the best women's walking sandals on our list proved to be comfortable, breathable and hardwearing on test - our top all-rounder walking sandal is the Teva Terra Fi 5 Universal, and we recommend Columbia's Sandal and Keen's Uneek if you're after a sandal that can also be worn in the water. On a budget? Look no further than Mountain Warehouse's Trek shandal.
Best women's hiking sandals
Keen Terradora II Open-Toe Sandal
A solid choice if you're after an open-toe sandal, with super grippy soles
Specifications
Materials:
Water-resistant, recycled PET plastic tubular webbing, KEEN.ALL-TERRAIN rubber outsole, EVA midsole and insole, Quick-dry lining
Colors:
Gray-pink / gray / red
Best for:
Hiking, camping and exploring
Reasons to buy
+
Hiking boot-worthy soles
+
Great strap design
Reasons to avoid
-
Rubber insoles can get sweaty
We always rate Keen's sandals and shandals highly on test, and our pick of their best women's walking sandal is the Terradora II open-toe. If you recognise the name, it's because this sandal is based on Keen's popular Terradora II boot, and the sandal uses the same grippy rubber outsole as its much bigger sibling – the result is excellent sticky grip worthy of a winter boot.
We also liked the Terradora II's straps, which are well placed to offer support around the toes and ankles and are easily adjusted with Velcro for the perfect non-slip fit (all except the front ankle strap – we'd have preferred Velcro here too, instead of a fiddly plastic clip). The rubber footbeds are cushioned and comfortable but can feel rather sweaty when you've been hiking all day in the heat. The Terradora IIs run large, so we'd suggest ordering a half-size down from your usual. In general, this is a decent outdoor sandal for a decent price.
Teva Terra Fi 5 Universal
An excellent hiking sandal offering great grip and great comfort all day long
Specifications
Materials:
Textile and synthetic upper, EVA topsole, Polyurethane midsole, rubber outsole
Colors:
Blue / black / canyon calliste green
Compatibility:
Treks, backpacking, river crossings – pretty much anywhere you roam
Reasons to buy
+
Great soles
+
Snug straps
+
Lasts for years
Teva are best known for their nigh-on iconic Original sandal, which features three simple straps in a C shape. The original design is great for casual use, but for more challenging walking we recommend picking the Terra Fi 5 Universal, the most aggressive and adventurous model in Teva's walking-specific range. The Terra has a big, rugged rubber sole that's nicely moulded to offer good arch support and has deep lugs that grip very well even on slippery surfaces such as wet rock. The wide ankle and toe straps are all easily adjusted with Velcro, and once you've got a snug fit the Universal will stay put on your foot all day. The straps, made from polyester, are quick to dry, and the moulded footbed feels comfy when wet and doesn't make feet sweat when dry. We've been wearing Terras for years for hot weather hiking, camping and even trekking in the Himalayas and they're still going strong – we can give them nothing but top marks, although you might still prefer a closed-toe sandal if you're really getting off the beaten track.
Jack Wolfskin Lakewood Ride
These simple women's hiking sandals are no-fuss and lightweight
Specifications
Materials:
Textile upper and lining, sure-grip rubber outsole, EVA footbed
Colors:
Ocean wave / rose quartz
Best for:
Casual trails on hot summer days
Reasons to buy
+
Lightweight
+
Quick-drying webbing and neoprene
+
Good price
Reasons to avoid
-
Straps are on the thin side
-
Limited colorways
The Lakewood Rides are just 210g/7.3oz, which definitely won't weigh you down during an outing. If you like to feel as light and free as possible when you hike, or if you're often on your feet all day, they'll provide plenty of comfort without any added weight. The webbing straps are comfortable and quick to dry, but are definitely on the thin side and don't seem particularly robust – that said, the straps are easily adjusted and still offer decent support. The two-tone soles are very bouncy and rugged despite the sandals featherlike weight, and good boot-like lugs can deal with going further off the beaten track.
The footbed wicks away sweat reasonably well – this breathability combined with the lack of weight and the slim straps means you'll hardly notice you're wearing the sandals once you've adjusted them. The Lakewood Ride isn't trying to be fancy – it's just a well-made, comfortable lightweight women's hiking sandal, and for the very reasonable price tag, we reckon that's enough.
Columbia Sandal
Hiking sandals with comfy criss-cross straps and a breathable design
Specifications
Materials:
Hydrophobic webbing upper, EVA midsoles, Omni-Grip rubber outsole
Colors:
Petrol blue and zing / great ice and red coral / Black and steel / shark and titanium
Best for:
Hiking, scrambling and adventures by the water
Reasons to buy
+
Snug straps
+
Great grip even in the wet
+
Very breathable
Columbia is so proud of this model, the company just named it the 'sandal' and left it at that. So could this be your new quiver-of-one summer shoe? On test we rated the innovative cross-over webbing straps and the wide, cushioned ankle support, which offers a comfy fit straight out of the box. There are no Velcro straps, but the whole sandal is adjustable from the back of the ankle with a bungee, which works well to create a snug, secure fit (you'll end up with interesting lines on your feet if you wear them all day, mind).
The rubber soles offer great grip even on wet slippery rock – this is a brilliant shoe for summer scrambling – and this hiking sandal is just as happy in water as it is on dry land. During testing we also appreciated the open strap design, which means these sandals will never fill with sweat, dirt or sand. Columbia's sandals fit on the narrow side, so we wouldn't recommend them for wide feet.
Teva Hurricane XLT 2
A lovely all-rounder of a sandal for camping, swimming and casual hiking
Specifications
Materials:
Polyester, nylon and recycled PET webbing; EVA foam midsole; Durabrasion rubber outsole
Colors:
Black / gray / canyon / multi
Best for:
Relaxed walks and hikes
Reasons to buy
+
Comfortable straps
+
Cushioned sole
Reasons to avoid
-
Not enough support for serious trekking
More technical than a casual sandal but less aggressive than the Teva Terra Fi 5 Universal, the Hurricane is Teva's all-rounder of a walking sandal and definitely one of our favourite models on test. Light webbing straps hug your feet and are easily adjustable with Velcro over the toes, ankle and heel. A tough but flexible and very comfortable rubber sole offers decent grip but doesn't weigh you down, and the inner footbed wicks away sweat well, as well as offering good cushioning that makes even long walks on more established paths feel comfortable.
The Hurricanes are also a piece of cake to strap on and off quickly, which we love for camping and swimming. The no-frills black or gray colorways make these sandals versatile enough to wear for travelling and everyday use, although it's a pity they don't come in some of the fun psychedelic prints Teva is well known for.
Vivobarefoot Kuru
Good-looking and feather-light leather hiking sandal, perfect for travelling
Specifications
Materials:
Premium leather production scraps
Best for:
Casual, easy trails in good conditions and international travel
Reasons to buy
+
Great looks
+
Very comfortable
+
Light and packable
Reasons to avoid
-
Lack protection for challenging terrain
-
Slippery when wet
-
Pricey
Meet Vivo Barefoot's deceptively simple Kuru. This sleek sandal is definitely easy on the eye, and has versatile looks that you don't find too often in the sensible-as-anything walking shoe market. Handmade in Portugal using a mix of leftover leather and fabric straps, the Kuru looks great worn with everything and is smart enough to wear in the city – ideal if you only want to pack one pair of sandals when you're travelling light, and the sandals, which weigh just 175g each, also roll up for easy transport and packing.
We don't usually recommend picking pancake-flat soles for walking, but Vivo Barefoot's aim is to let you reconnect with the feeling of being barefoot using barely-there but still springy soles, a technology you'll either love or hate. No, you couldn't take on a challenging hike in the Kurus, but for summer travels and more casual walking they'll do you proud. This design is reasonably planet-friendly, too, constructed using waste leather dyed with vegetable dyes.
Land's End Everyday Sandal
An easy choice for casual daily walking and ideal for anyone with problem feet
Specifications
Materials:
Polyester and webbing upper, foam-cushioned footbed, rubber sole
Colors:
Light grey and blue / desert beige / radiant navy blue
Compatibility:
Casual walking and swimming
Reasons to buy
+
Great comfort for wider feet
+
Cushioned footbed
+
Decent grip
Reasons to avoid
-
Thick, heavy soles
-
A bit bulky
-
Not suitable for challenging trails
The clue is in the name. This is the perfect sandal to wear for relaxed everyday walking and strolling – well, every nice sunny day at least. Wide Velcro straps make the Everyday easy to adjust, and we love that the sandals offer more coverage around the sides of the feet than your average model, helping to stop any slipping and sliding about. The Everyday was one of the most comfortable designs we tested – anyone with foot problems, swollen feet or bunions, or who is recovering from injury, should find these sandals a bit of a lifesaver as they're forgiving to wear and wide around the toes but still supportive and adjustable.
There's a good cushioned footbed but the sole is on the thick and heavy side, which gives decent stability and grip but definitely doesn't feel barely-there – or let you forget you're wearing them, so these sandals aren't ideal for long days of walking. We might not wear them for big treks, but for casual walking, camping and daily use the Everyday is a great choice.
Best women's hiking shandals
Merrell Choprock Sieve
A sandal/shoe hybrid that offers great protection on the trail
Specifications
Materials:
Synthetic mesh and webbing upper, TPU heel, EVA midsole, Vibram sole
Best for:
Challenging hiking and trekking trips
Reasons to buy
+
Tough Vibram soles
+
Robust built
+
Watersports capable
The very definition of a 'shandal', these half-shoe-half-sandal hybrids offer a lot more protection than your average sandal. A trainer-like design with an enclosed rubber toe box and ankle make the Choprock Sieves ideal for tackling more challenging terrain without worrying about stubbing your toe – in good conditions, you could hike pretty much anywhere in these supportive shoes, which come complete with Vibram rubber soles. As the name attests, multiple vents give a sieve-like look to the Chopsock Sieve, and do allow sweat and heat to evaporate effectively, although they're not as breathable as an open-toed walking sandal.
Despite using more material than most, the Choprocks are very quick to dry – this factor combined with protective toe boxes make them ideal for swimming and for river crossings. A bungee cord makes it easy to adjust the Choprock for a great fit, and they pull on and off relatively easily. They're definitely not as light or as packable as the other sandals we tested out, but if hiking is your main aim, they're a good investment.
Mountain Warehouse Trek Shandal
A breathable and affordable closed-toe sandal to put a spring in your step
Specifications
Materials:
Neoprene upper and lining, EVA midsole, rubber outsole
Best for:
Trail walking and wild swimming
Reasons to buy
+
Quick-drying neoprene
+
Great price point
+
Good protection
Get the extra protection of a shandal without sacrificing breathability with Mountain Warehouse's Trek, which combines a sturdy closed rubber toe with an airy open heel. We like that the Treks have the sensible look and comfortable feel of traditional walking sandal but are made with a neoprene lining, meaning they also work brilliantly as aquatic sandals, and are comfortable to wear when wet and quick to dry when back on land – perfect for fans of swimming and water sports.
A foam cushioned midsole makes these walking sandals comfy and springy to wear, even on all-day walks. A Velcro heel strap and an adjustable bungee cord means it's quick to adjust the Treks for a great fit, and to pull them on and off on the go. It's a pity the only available colorways are baby pink and pastel blue. The fit of these sandals is on the generous side, which is great for those with wider feet but may not suit those who need a narrow shoe.
Keen Uneek
Comfortable and water-friendly, with a look you'll love or hate
Specifications
Materials:
Polyester braided cord upper, lightweight PU midsole, rubber outsole
Colors:
Tie-dye / silver drizzle / drab safari / gold birch / chestnut safari / back / whitecap and cornstalk / white / khaki / turquoise
Compatibility:
Ideal for walking on paths and non-technical trails, and great for water sports
Reasons to buy
+
Great for swimming
+
Very comfortable
Reasons to avoid
-
Can lead to some interesting tan lines
-
Surprisingly heavy
Like your footwear to be a little bit different? Take a walk on the wild side in Keen's Uneek women's hiking sandal, which has become a bit of a cult favourite. Just two bungee cords cinched tightly around the foot, plus a sole, make up this unusual walking sandal. The adjustable fit and breathable design is very comfortable on hot days but still provides plenty of support and structure thanks to a cushioned ankle strap and a more traditional moulded rubber sole, which offers good arch support.
We didn't think the bottom of the sole had deep enough lugs to offer the best grip on test, and wouldn't take these on wet trails. The Uneeks aren't as light as they look, either, weighing 320g per sandal. These sandals come into their own when you're swimming – they dry super-fast and stay put brilliantly in water, making them ideal for fast-paced water sports. Just don't tug the adjustable bungee cords too tight, or you'll end up with the ghosts of your stripy sandals imprinted on your feet. Oh, and expect people to stop you to ask you about your unusual footwear.
How to choose the best women's hiking sandals
There's an excellent selection of sandals out there these days, with supportive uppers and robust outer soles – very capable of taking you along most trails in the warmer months, with the breeze keeping feet and toes nice and cool. To make sure you purchase the best women's walking sandals for your feet, we recommend taking the following factors into consideration.
Material
Hiking sandals come in leather, fabric, rubber – and even neoprene. Before you buy a new pair, have a think about where you'll wear them. Leather straps tend to be long-lasting, good-looking and mould nicely to your feet, but they are slower to dry, and will need some care to avoid cracking or splitting over time. Fabric straps are light, breathable and reasonably rugged – great for hiking and camping. If you'd like to go rock pooling or even swim in your sandals, look for a quick-drying aquatic pair designed using webbing or neoprene materials. While chunky granny sandals may be having a bit of a fashion moment, it's still worth picking a pair of the best women's walking sandals are smart enough to wear off the trails as well as on, in order to get a good amount of wear out of your purchase all year long. If you want a versatile, wear-anywhere sandal, look for leather finishes and neutral hues that'll work in the city as well as in the country.
Sandal or shandal?
A shandal, as the name suggests, is a hybrid of a sandal and a walking shoe – they have enclosed toes and heels for extra protection but plenty of vents in the sides to keep your feet cool. If you're hiking on more challenging paths or over loose rock, you should definitely pick a shandal to keep your toes protected. They're also great for wild swimming. For more casual walking you can usually get away with a cooler (both in the temperature and the style sense of the word) open-toed walking sandal – these tend to be easier to slip on and off, lighter and easier to pack for your travels.
Soles
We reckon good soles are what sets the best women's walking sandals apart from more casual flip-flop-style models that are only suitable for the beach. Look for the same features you would in a hiking boot – bouncy but rugged rubber soles with deep 'lugs' (the indentations on the bottom of your boot's soles) to give your sandals good grip. Even if the rest of your walking sandal construction feels light and unencumbered you still need tough, grippy soles that are happy to hike over long distances.
Fit
Your sandals may not feel as restrictive as your hiking boots, but they still need to fit perfectly where it matters, so it's always a good idea to try on the best women's walking sandals in person. Whatever pair of hiking sandals you go for, make sure they have wide, supportive straps around the ankle and the front of the foot. Check there's no tightness or pinching anywhere when the straps are done up, and that they stay put as you walk. Your heels shouldn't hang over the back of the sole, or your foot spill over the sides, and the soles should feel bouncy, not stiff, under your feet as you move. Some sandals have adjustable Velcro straps – we prefer these as they make it easy to get the perfect fit without any slipping.
An award-winning travel and outdoors journalist, presenter and blogger, Sian regularly writes for The Independent, Evening Standard, BBC Countryfile, Coast, Outdoor Enthusiast and Sunday Times Travel. Life as a hiking, camping, wild-swimming adventure-writer has taken her around the world, exploring Bolivian jungles, kayaking in Greenland, diving with turtles in Australia, climbing mountains in Africa and, in Thailand, learning the hard way that peeing on a jellyfish sting doesn't help. Her blog, thegirloutdoors.co.uk, champions accessible adventures.
All the latest inspiration, tips and guides to help you plan your next Advnture!
Thank you for signing up to Advnture. You will receive a verification email shortly.
There was a problem. Please refresh the page and try again.