The best women's waterproof jackets: for hiking, backpacking and all forms of outdoor adventure
By Berne Broudy
We've tested the best women's waterproof jackets in a range of activities to help you find the ideal one for your needs, budget and adventure type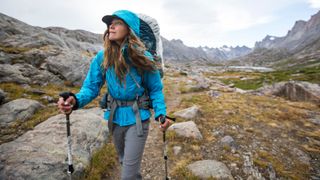 (Image credit: Jordan Siemens (Getty))
A good waterproof jacket is a staple of every adventurer's outdoor gear closet – these garments are the tool of choice for remaining comfortable when the sky opens and drenches everything below it. If you end up with a jacket that is not reliable, everything beneath it will get soaked, and that can lead to a serious safety situation developing.
The best women's waterproof jacket should be both highly functional and comfortable to wear, no matter what the conditions are like. It can be a versatile piece of kit too – depending on which product you choose, it can be a four-season shell, and a three-season windbreaker too.
If those aforementioned soakings and serious safety situations aren't something on your bucket list, read on to find the best women's waterproof jacket for your upcoming adventures!
The best women's waterproof jackets you can buy today
Best women's waterproof jacket for fast and light alpine adventures
Price: $315 (US)/ £250 (UK) / €290 (EU) | Sizes: XS–XL | Weight: 155g /5.5oz | Waterproofing Technology: Toray Dermizax DT | Colors: Blue Lake, Green Isar, Blush
Ultra-light
Compact
Highly packable
Well featured
Pricey
We loved this jacket for its compact protection. Offering the same level of waterproofing as a hardshell, in a package that feels a lot more like a windbreaker, Ortovox's Civetta has a micro bead structure on the inside to protect the membrane and to keep the jacket from feeling sticky against your skin. Beads so small you can't see them help the jacket's fabric absorb moisture and move it away from your body so that the garment feels dry on the inside. Cleverly, the Civetta stuffs into its own chest pocket, which has a hang loop so this jacket can be attached to a harness. Elastic wrists and waist seal out weather without adding weight, and the self-regulating hood has an elastic band and a reinforced peak so that it stays on and blocks weather in wind and rain. Very neat, and very clever.
Excellent value for one of the best women's waterproof jackets on the market
Price: $100 (US)/ £110 (UK) / €120 (EU) | Sizes: XS–XL | Weight: 291g / 9.2oz | Waterproofing Technology: Marmot NanoPro | Colors: Black / Blue / Green / Pink / Red / White
Superb value
Recycled materials used
Great colors
Hand pockets are on the small side
A two-layer jacket so popular that it's been in Marmot's line for 20 years, the always affordable Precip is 100% seam taped, so it's fully waterproof. The attached hood is adjustable and rolls into the jacket collar for storage to keep it from flapping around. Pit zips add unrestricted venting. It's cut for freedom of movement with Velcro cuffs and an elastic drawcord waist to seal out weather. For 2021, Precip is now also lower impact: the PFC-free Nylon face fabric is recycled and longer-lasting than ever thanks to a new microporous coating. We also really loved the tailored cut of this garment. An excellent jacket for the price tag - probably the best women's waterproof jacket out there for buyers on a budget.
The best women's waterproof jacket for climbing and cragging
Price: $375 (US)/ £350 (UK) | Sizes: XS–XL | Weight: 180g / 6.3oz | Waterproofing Technology: Gore-Tex | Colors: Dark Immersion / Dynasty
Eco friendly
Super-tough fabric
Easy to get on
Warm
Easy to move in
Only one pocket
Expensive
A superlight GORE-TEX shell made with ultra-durable face fabric, this climbing- and alpine- focused anorak also has a great eco story. By adding pigment at the polymer level instead of dyeing the final garment, Arc'teryx saves water, reduces C02 emissions, and increases the jacket's colorfastness. The SL Anorak's gridded, hardened face fabric is engineered with a liquid crystal polymer ripstop for waterproof, windproof, breathable protection in an ultralight package. Arc'teryx says that the fabric delivers abrasion resistance rivaling fabrics twice its weight. The jacket's hood is helmet-compatible, and it adjusts with a back toggle for superior peripheral vision. The single chest pocket and the deep front zip are both water-repelling. The warmth, plus the ease of getting into and out of this anorak, and the freedom of movement it allows, all added up to make it an instant favorite.
The best women's waterproof jacket for wearing on a variety of adventures
Price: $299 (US)/ £320 (UK) | Sizes: XXS–XL | Weight: 210g / 7.4oz | Waterproofing Technology: H2No | Colors: Chartreuse / Smolder blue / Stellar blue
Made from recycled materials
Lightweight
Roomy
No soft chin patch
Expensive
This ultralight, three-layer rain jacket is the most-gentle on the planet that you can buy. Made from 100% recycled nylon ripstop face fabric with a soft-on-the-skin tricot backer, the jacket is fair trade certified sewn. The alpine-helmet-compatible hood adjusts with a pull-to-tighten drawcord, and the hood has slightly elasticized sides to help it stay on without being overly tight. The coated, waterproof front zipper is reinforced with an internal storm flap and a zipper garage The jacket's three pockets, a left-chest pocket, and two front pockets, have coated, watertight zippers welded in. The jacket self-stuffs into the left-chest pocket. A hidden Recco reflector helps rescuers find you if you're lost or injured. This jacket is cut for movement; it's not too loose, not too tight, not so technical that we couldn't wear it any day, and it had plenty of room to layer underneath when it was both rainy and cold.
Best women's waterproof jacket for low terrain walking, field sports and fishing
Price: $195 (US)/ £225 (UK) | Sizes: XS–XXL | Weight: 369g/13oz | Waterproofing Technology: Nylon ripstop with printed membrane | Colors: Field olive / Dark denim / Blaze orange / Tan
Brimmed hood deflects water
Loose fitting
Not as packable as other jackets
A rain jacket made to resist abrasion and hard use, the 2.5-layer nylon Swiftwater has a mesh pattern printed on the inside to protect the membrane, as well as water-resistant zippers and Velcro-close cuffs. The hood adjusts in two directions with a drawcord. A drawcord also adjusts the hem. And the jacket packs into its own pocket. You never feel like you have to protect the Swiftwater from tearing or snagging. It's made for fishing, but you can hike and bushwhack in it too, squeezing through branches and scrambling up rocky outcrops that would rip other rain shells. The two-way adjustable hood has a stiffened fabric brim that keeps rain off your face, and oversize hand pockets hold snacks, a phone, a sandwich, gloves and more. The jacket has a great cut for fishing and general field sports, but it's not so loose it flaps in the wind. Filson claim the jacket packs into its own pocket, but we found it awkward to get it in.
Best women's waterproof jacket for high-output activities
Price: $199 (US)/ £199 (UK) | Sizes: XS–XL | Weight: 272g/9.6oz | Waterproofing Technology: electrospun Ascent Shell | Colors: Atoll / Black / Burgundy
Fantastic weight for a three-layer jacket
Good price
Cut tight in the chest
The lightest, most streamlined AscentShell Outdoor Research Makes, the 3L Motive is stretchy, extremely breathable, and no-frills. Outdoor Research used cinched binding on the cuffs and hood to seal out wind and rain. The chest logo and a stripe on the back are both reflective to enhance visibility on low-light days. The jacket packs into its pocket for storage. Between the polyester layers, the electrospun AscentShell membrane, "breathes faster, weighs less, stretches more, and far surpasses the comfort of traditional waterproof membranes," according to the company. That's because the electrospun membrane is air-permeable. Under a microscope, it looks like a web, with space for sweat to escape without rain coming in. An imperceptible amount of air flows through the jacket to aggressively move moisture quickly from the inside out before you feel like you're overheating or sweaty. Traditional waterproof jackets require body heat to push out moisture. Air-permeable membranes start transferring moisture before you start sweating. So, electrospun membrane jackets are most comfortable for high-output activities. If you want a stretchy, waterproof jacket that is extremely comfortable to wear running, hiking, or during high-exertion activities, the Motive Ascent Shell is a great choice. If you'll be hanging out at your campsite or another activity that's more sedentary, choose another shell.
Best women's waterproof jacket for casual use
Price: $189 (US) / £190 (UK) | Sizes: XS–XL | Weight: 397g / 14oz | Waterproofing Technology: PeakProof | Colors: Mountain shadow / Moondust / Trout time
Mid-thigh cut (no waterproof pants required)
Lots of practical features
Clammy on bare skin
Not built for mountain adventures
Stio's Rollick trench has technical features appropriate to its intended use. Made for dog walks, meanders in the woods, and urban exploring, the fully seam-sealed waterproof/breathable, matte-finish jacket seals out rain, sleet, and drizzle. The fixed, adjustable hood stows in the collar to keep the jacket's lines clean. It's cut mid-thigh, so no rain pants are required. In addition to two handwarmer pockets, this jacket has a right hip pocket big enough to hold a phone. And snaps at the top and bottom of the zipper keep it from creeping open when you want it closed. We especially appreciated the two-way zip that provides full-stride mobility (for example you can unzip it from the bottom to make walking easier). This jacket doesn't have a waterproof zipper, but it doesn't need one. A zipper storm flap kept the rain out, and a grosgrain ribbon along the zipper gives it structure for easy operation.
The best women's waterproof jacket for running
Price: $250 (US)/ £250 (UK) | Sizes: XS–XL | Weight: 164g/5.8oz | Waterproofing Technology: Gore Shakedry | Colors: Black
Running specific
Well featured for intended use
Excellent chest zips
Reflective logos
Black only
No pockets
Expensive
Designed for ultra-runners and approved for use at the Mt Blanc races, Hoka One One's Shakedry Run Jacket is designed to wear over an 8L running vest with full hydration flasks. Covered waterproof zippers from shoulder to rib open to give runners pack access, including access to hydration without exposing yourself to weather. Reflective logos on all sides make runners more visible in low-light conditions. We loved the extra space of the relaxed fit, and the massive chest zips that let us vent as much or as little as we wanted. Gore Shakedry is a membrane that's been treated for toughness, not a membrane sandwiched between layers of fabric, which made this one of the most breathable waterproof jackets we've worn, even without the chest zips. Bonded elastic, half-cinch openings at the sleeve and hem were easy to get in and out of and they kept the jacket in place. A hood cinch tucks under a nape of the neck flap letting us adjust the hood so it wouldn't block our vision. It's worth noting that this pack doesn't have pockets, because it's designed to wear over a pack.
The best women's waterproof jack for cycling
Price: $349 (US)/ £282 (UK) | Sizes: XXS–XL | Weight: 83g/3oz | Waterproofing Technology: eVent | Colors: Celeste / Coral / Navy
Cut long in the back
Extremely bike-specific cut
Pricey
With 3D shaping, articulated sleeves, and a shoulder and back cut to fit a cyclist's forward-leaning position on the bike, Velocio's Ultralight Rain Jacket has minimal bulk and an ultra-clean aesthetic. The all-season Ultralight jacket is made from eVent fabric, a direct vent membrane that doesn't require heat and moisture to build up inside for it to start working. It's air permeable, with fully taped seams, and made for high-output cycling. An internal bonded zip pocket has a media port to keep the tunes cranking. Low-profile elastic cuffs keep the weather out. So does the caped back vent that's also a port to your jersey pockets. Reflective detailing throughout makes cyclists safer. The jacket packs small enough to roll and stash in a jersey pocket. And the locking zipper is a big win – letting you adjust your venting instead of having to choose between an open and a closed zipper. Warning, though: Size up – this jacket has a very trim fit. Size up again if you want to wear layers underneath.
The best women's waterproof jacket for year-round use
Price: $229 (US)/ £190 (UK) | Sizes: XS–XXL | Weight: 372g/13.1oz | Waterproofing Technology: Mammut dry technology pro | Colors: Sunset / Freesia / Sapphire / Black
Perfect weight for year-round use
Fair-wear certified
The membrane is stickier on the skin than many other jackets
A jacket capable in all four seasons, the Kento HS has a more generous cut than many of Mammut's very Euro-styled jackets, and this was the most robust mountain-focused jacket we tested. Mammut's stretchy Kento HS has the heft to protect from extreme weather, including wind, rain, sleet, and more. The hood is compatible with alpine ski and climbing helmets and all of the jacket's zippers are waterproof, including its pit zips. Load up the Kento's chest pockets – they're accessible with a harness on. The hood and hem adjust with drawcords, and the cuffs adjust with Velcro straps. Oversized hand pockets are big enough to hold backcountry ski-climbing skins, and the medium-cut is perfect with softshell pants or rain pants. The Polyamide face, polyurethane membrane jacket is Bluesign-certified and uses a durable water repellent that is PFC-free. Fair Wear certification means that Mammut is working towards systematically improving working conditions throughout its supply chain. If you're looking for one jacket for year-round use, this one is a great choice.
Choosing the best women's waterproof jacket
The best women's waterproof jackets: features and functions to look for when buying
It's important to scope out the best women's waterproof jackets for you based on how and where you'll be wearing yours. For high output activities, consider a jacket that's ultralight and air permeable. If you'll likely get hammered by deluges day after day, opt for a tougher jacket, and one that provides a little warmth too. If you're buying a waterproof jacket for a specific sport, like cycling or running, pick one that has the features to make your days out the best the most comfortable they can be.
Deciding what to wear hiking is never easy, but the bottom line is this: opt for gear that provides a little more protection than you're likely to need in the worst conditions you might encounter.
Price
Remember, the most expensive jackets may or may not be what's best women's waterproof jackets for your needs. Balance budget and features, and rest assured that even a jacket with a membrane you've never heard of will likely still be great if it has the features you need. Gore-Tex remains the category leader, but it's not the only choice.
Vermont-based writer, photographer and adventurer, Berne reports on hiking, biking, skiing, overlanding, travel, climbing and kayaking for category-leading publications in the U.S., Europe and beyond. In the field, she's been asked to deliver a herd of llamas to a Bolivian mountaintop corral, had first fat-biking descents in Alaska, helped establish East Greenland's first sport climbing and biked the length of Jordan. She's worked to help brands clean up their materials and manufacturing, and has had guns pulled on her in at least three continents.
All the latest inspiration, tips and guides to help you plan your next Advnture!
Thank you for signing up to Advnture. You will receive a verification email shortly.
There was a problem. Please refresh the page and try again.