I wore barefoot shoes every day for 6 weeks – here's what I learned
Do barefoot shoes really make your feet stronger? There's only one way to find out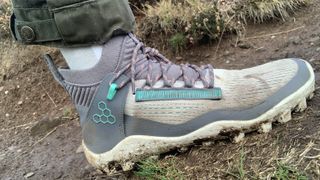 (Image credit: Future)
I'm not into fads. I never tried the Atkins diet, I didn't twerk and I don't wear barefoot shoes. Until now, that is.
I had always heard people extolling the benefits of barefoot shoes – lightweight shoes with no support, zero drop, as little as 3 mm under foot and a wide toe box – such as stronger feet and improved gait, but since I don't really have any obvious problems wearing regular shoes, I paid them no heed. The thought of running across a rough trail with just a few millimeters between me and the rocks just sounded painful, never mind the lack of arch support.
Earlier this summer, however, I attended a lecture with Olivier Garcin, a podiatrist who heads up the podiatry staff for the UTMB when I was in Chamonix covering the race. Garcin lives in Chamonix and, naturally, his kids are avid skiers. Thanks to his professional expertise, he noticed that over the winter, when their feet are largely stuffed into ski boots, they lose a lot of foot strength, something that can be common among hikers and runners too. He started having them wear barefoot shoes – which he likens to putting regular tires on a Ferrari for running but thinks can be great for walking – to counter this imbalance and has found it really helps.
As a hiker, stronger feet is something I can get behind. I'm a yoga teacher and during my years in Vail, Colorado, I saw a lot of gnarly, weak feet in the skiing, hiking and running community. Personally, I spend a lot of time barefoot and balancing, which I think keeps my feet pretty strong – during a foot strength test, Garcin confirmed this for me. My feet aren't narrow or wide, but they do have a high arch and I tend to seek shoes with arch support. In the past couple of years however, since I've taken up more trail running, I've noticed that I've lost some ability to spread my toes, while I often have pain in my right big toe joint. Could walking in barefoot shoes be what I need?
Just as I was percolating on this very question, I was offered a pair of Vivobarefoot Magna Lite SG hiking boots to test for Advnture, and I decided the time was right to join the herd. They arrived in July and when I first pulled them out of the box, they looked so ridiculous I just hid them in my closet and pretended they didn't exist for a few weeks.
But then I started thinking about what Garcin had to say on the matter, and remembered that as a journalist, it's my job to do things I might not always want to do. So six weeks ago, I made a commitment to wear my Magna Lites every day. To be clear, per Garcin's instructions, I don't wear them when I'm out running – then I either wear my Merrell Agility Peak 5s for trail running or my Saucony Kinvara Pros on the road – but for walking around town, picking up the kids and hiking, I've been wearing them exclusively. Here's what I've learned so far:
1. They're surprisingly comfortable
If, like me, you're concerned that barefoot shoes won't be comfortable, don't make up your mind yet about how they're going to feel. Though they definitely have a bit of a flappy, neoprene feeling about them, once you get over that (and your children heckling you), they actually feel wonderfully light and spacious.
This took me a while to wrap my head around. I've spent a lot of years as a waitress where I would come home at the end of the night with feet throbbing, and my instinct has always been to find shoes with a good amount of cushion. I also tend to get a sore back when I'm standing around. If you'd asked me six weeks ago, I'd have speculated that I'd get sore feet hiking on rocky trails in these shoes, and a sore back from standing, but neither of these assumptions is true.
Though the sole is super thin and flexible, it's as comfortable walking around the uneven city streets as it is climbing rocky mountains, and my feet, legs and back never feel any pain. Furthermore, they're so light that even after a long cross country walk, my ankles and shins never feel tired the way they do when lugging heavy boots.
2. Trail feel matters
Barefoot runners definitely rattle on about "trail feel" and it's hard not to give them a bit of side eye when they do, but now that I've finally experienced it, I get it. Trail feel – being able to feel the variances of the trail under your feet, definitely improves my sense of connection to the ground I'm walking on.
Physically, this helps me with balance, response, stability and even grip on steep slopes, and mentally I feel more connected to what I'm doing. I can't prove this, so you'll have to take my word for it and try it for yourself, but I feel like I'm getting more benefit from hiking than I used to, because I'm less in my head and more in tune with the earth.
3. I don't need ankle support
Since my barefoot shoes are for hiking, I was a bit concerned about ankle support. I probably go over on my ankle at least once per hike, but between my rugged Hanwag Makra Trek hiking boots and my trekking poles to hold me up, I don't usually suffer. These lightweight shoes, on the other hand, don't provide any ankle support.
What was a total revelation for me here is that when I don't have a chunky sole underfoot, I'm much less likely to turn my ankle in the first place. In fact, hiking with thick soles, or worse, rocker soles, can actually be quite unstable on rocky ground, a bit like hiking in platforms. With these shoes, because my foot molds to the ground underneath, I'm much more likely to be much more surefooted, which basically dispels the need for ankle support.
4. My foot pain has diminished
According to Garcin, you need six weeks to really see the benefits of barefoot shoes, so I've barely skimmed the surface really, and because I wasn't dealing with major foot issues to begin with, I assume I'll notice less dramatic change.
However, one thing I have already noticed is that the pain I've had at my right big toe joint for the last few years has cleared up – and only returns briefly after I've gone for a run in regular shoes. Whether that's down to the activity or the shoe, I honestly don't know, but I'm definitely pleased by the reduction in pain.
I'm also finding I'm able to spread my toes out better these days, thanks to them being able to splay inside my shoes rather than being clumped together, which definitely gives me the impression of having stronger feet already.
Barefoot shoes: the verdict
This is one fad I'm finally ready to embrace. I'm not throwing away all my other shoes, and I still don't want to go running in barefoot shoes, but I can really see the benefit of wearing them in everyday life, and for hiking (though they don't keep your feet warm in winter). I think of wearing these shoes as like cross training for my feet muscles, so when I pull on regular running or hiking shoes and hit the trail, I'll have more strength and stability.
All the latest inspiration, tips and guides to help you plan your next Advnture!
Julia Clarke is a staff writer for Advnture.com and the author of the book Restorative Yoga for Beginners. She loves to explore mountains on foot, bike, skis and belay and then recover on the the yoga mat. Julia graduated with a degree in journalism in 2004 and spent eight years working as a radio presenter in Kansas City, Vermont, Boston and New York City before discovering the joys of the Rocky Mountains. She then detoured west to Colorado and enjoyed 11 years teaching yoga in Vail before returning to her hometown of Glasgow, Scotland in 2020 to focus on family and writing.