Are rockers soles good for running and hiking?
Are rockers soles on running and hiking shoes all they're cracked up to be, or should you stick with flat-soled shoes for your adventures?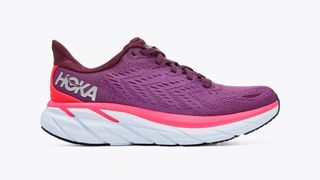 (Image credit: Hoka One One)
I don't know who invented rocker sole shoes or when, but I first became aware of them in 2007 when I was living in New York City and my friend Julie, a runner, suffered from a bout of drop foot. Her physiotherapist recommended a rocker sole and before I knew it, she was marching around the Upper East Side in a pair of the chunkiest trainers I'd ever seen, extolling the benefits of their curved soles. Back then, they were a more specialty product geared towards people with injuries, but fast forward 16 years and rocker soles are everywhere, common in running shoes like the Scarpa Golden Gate ATR and even in some hiking shoes, such as the Columbia Facet 60s.
Shoes with a true rocker sole are definitely eye-catching, and proponents claim that they can help with foot, ankle, knee and even back pain by reducing pressure on your toe joints and assisting forward momentum. Some even claim that they will make your leg muscles work harder and help you burn calories. But is this all true or a lot of hype?
What is a rocker sole?
A rocker sole is a thick sole that curves slightly upwards at the heel and the toe, kind of like the bottom of a rocking chair. Shoes with rocker soles are also known as rocker bottom shoes, round bottom shoes and toning shoes. Rocker sole shoes were popularized beginning in the late 1990s by Swiss company Masai Barefoot Technology (MBT), and many sports shoe companies like New Balance, Reebok and Hoka have since jumped on the rocker wagon.
What is the purpose of a rocker bottom shoe?
It depends who you ask. A lot of claims have been made about rocker soles, and they all generally stem from the idea that the shape of the soles puts less pressure on your ankle as you plant your heel, and requires less bending at the first toe joints and you bring your weight forward and then push off. They're also inherently unstable compared to flat shoes, which some people say teaches you to use your balance muscles more effectively, kind of like running on sand.
As a result, advocates for rocker soles have claimed this has a multitude of benefits, including:
They increase your calorie expenditure.
They help to strengthen your leg and core muscles.
They reduce pressure on the plantar joints.
They help with pain associated with arthritis in the feet and ankles.
They reduce low back pain, achilles tendon pain and knee pain.
But is any of this true? Well, most of the studies performed have been on people dealing with illness and injuries, owing to the fact that the soles claim to reduce pain, so if you're not dealing with injury but just looking for a high tech running or hiking shoe, the research may not be super helpful, but we'll do our best.
A 2016 randomized controlled trial published in the journal Arthritis Care and Research looked at 102 participants with arthritis in the first toe joint and concluded that the soles did slow down their gait and reduce the amount of time they spent in the stance phase, therefore reducing pressure under all five toes in walking. So if you're seeking shoes that relieve pain in that area, these could be a good choice for you.
That said, a 2020 study published in Disability and Rehabilitation found that rocker soles actually increased toe pressure amongst obese participants while standing, and increased pressure in the midfoot and heel while walking, so it certainly changes the way your weight is distributed, but your unique gait will determine whether or not that's actually desirable. If you're looking into rocker soles for running, such as the The North Face Summit Vectiv Sky Trail Running Shoes, you might want to be sure that you're not already a heel or midfoot striker before you buy as that could place too much pressure on your heel and midfoot.
When it comes to Achilles pain, a 2014 study in the Journal of Science and Medicine in Sport was positive, finding that the rocker soles do reduce plantar flexion, which is indicated in reducing pain associated with Achilles tendinopathy.
Finally, 2016 research in the British Medical Journal which hoped to show that the inherent instability of a rocker shoe would encourage sufferers of chronic low back pain (who tend to exhibit poor stability) would serve as good training for stability, but their study found that the soles made no difference to people's postural stability.
So the science is a bit mixed when it comes to dealing with pain, and a 2010 study on rocker soles by the American Council on Exercise refuted all claims that the shoes increased calorie expenditure or make you use your muscles more. It wasn't exactly a devastating blow to the rocker sole shoe if we're being honest, since they seem to be getting more popular every day, but if you're hoping to burn more calories, you'll do better to look at your training schedule.
Are rocker shoes good for running?
As you might know, what shoes are good for running is a very personal question. If you love running in Hoka shoes like the Bondi 8s then you probably already love running in rocker shoes. Some runners feel that they assist in the action of rolling through the back of their heel to their toes and pushing off, which improves running economy. Other runners find all that bulk under the midfoot troublesome. It really depends on your running gait.
Then you've just got runners who want more trail sensation and less precarious height and feel like running in rockers is akin to running in platform shoes. The best way to know if they're right for you is to try them, but know that they usually make better road running shoes than trail running shoes, and if you're a fan of minimalist running shoes they might not be for you.
Are rocker shoes good for hiking?
Hiking shoes have been slower to catch on to the rocker movement, primarily because the heel-ball-toe action of running doesn't apply when you're climbing up steep slopes. If hiking for you really means long walks on gentle terrain, then it's possible that you might prefer rocker style trainers for a faster stride over heavy hiking boots, but one thing to keep in mind is that rocker shoes are less stable than a flat sole, which really isn't helpful if you're walking over rough terrain. You don't want to end up with a sprained ankle.
Are there any disadvantages to rocker bottom shoes?
The main thing to keep in mind is that a seriously chunky rocker sole won't be as stable underfoot as a flat shoe, so for the same reason that elderly and injured people are advised to wear heels, it's not really advised to wear rockers if you're already dealing with mobility or stability issues. Further, as we've already mentioned, if you're planning on moving fast over rough ground, a rocker sole may not be the most suitable choice, although we have found a good compromise in the Dynafit Alpine Running shoe which has a rocker sole but is more minimalist than some.
All the latest inspiration, tips and guides to help you plan your next Advnture!
Julia Clarke is a staff writer for Advnture.com and the author of the book Restorative Yoga for Beginners. She loves to explore mountains on foot, bike, skis and belay and then recover on the the yoga mat. Julia graduated with a degree in journalism in 2004 and spent eight years working as a radio presenter in Kansas City, Vermont, Boston and New York City before discovering the joys of the Rocky Mountains. She then detoured west to Colorado and enjoyed 11 years teaching yoga in Vail before returning to her hometown of Glasgow, Scotland in 2020 to focus on family and writing.