Your complete guide to trail running in the Alps
Trail running in the Alps is a magical experience, but it requires some special preparation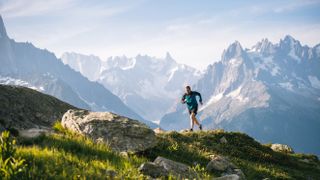 (Image credit: AscentXmedia)
Early one morning in Chamonix, I pull on my trail running shoes and set off in search of an alpine trail to explore. I've lived in ski resorts for long enough that I know a safe bet is to run towards the closest ski lift and look for a trail that starts at the bottom, and as usual, this method doesn't fail me.
Within five minutes of leaving my hotel, I spy a promising-looking footpath snaking off into the forest to the north signposted to "La Floria" that I suspect will traverse along the hillside in the trees, providing much-needed shade on what's already threatening to be a hot July day.
I pick up the trail, pleased to find that its a rocky single track. I head steeply uphill on the winding path which has me slowing to an on/off hike quickly before breaking out onto a wide gravel service road where I can pick up the pace. Up ahead, an extremely fit looking local who could be roughly my age is walking her dog and I expect to pass her soon, but for remainder of my run, she remains ahead of me, her easy stride belying impressive speed. Soon, I leave the respite of the road and find myself climbing on a narrow path once again, my lungs burning as I resist the urge to take one of several downhill paths linking away from mine and keep following the signs for whatever La Floria is.
After less than two miles and nearly a thousand feet of elevation gain, I round a bend, panting hard, and La Floria reveals itself as the most welcome and, for me anyway, unlikely site. An old stone house sits tucked into the forest with a paved terrace adorned with blooming flowers and tables with brightly colored umbrellas. Here, you can sit in solitude with sweeping views of the valley and sip on a coffee, glass of wine or soft drink. Not something you'd typically find on a trail run in the Rockies or the Scottish Highlands, I think.
I submit to the temptation to sit and have a cafe au lait, taking in the views for a few minutes instead before returning the way I came via what I know will be a flying descent. When I get back to the village, my GPS watch confirms that my pace on my descent was half of my climbing pace and it's no surprise to me given the terrain. It's been my first taste of trail running in the Alps, having only ever done so in Colorado and in Scotland, and already I'm hooked.
I'm here for the Arc'teryx Alpine Academy and the night before at dinner, another journalist and runner was detailing her experience that morning at one of the event's trail running clinics. Listening to her account, the experience sounded brutal, with a grueling eight-mile run. She's an experienced runner, but mostly in the lowlands of southwest England, and her reflections made me a little nervous about how I would cope with alpine trails. I trail run regularly, but at a languid pace and these days mostly across rolling Scottish terrain. Just looking out at the steep hillsides here, I could tell that it was going to be a different story altogether for me.
Here in Chamonix and elsewhere in the Alps, trail running is a serious pursuit. It's hard to even take a stroll through town or step into a boulangerie without overhearing someone mention running the UTMB. The 106-mile trail circumnavigates Mont Blanc, is widely regarded as the world's first ultra marathon, and according to locals at least, seems to be no big deal. I'm certainly not going to tackle the UTMB in this lifetime, but I was keen to see what the trails have to offer and they didn't disappoint. If you're heading to the Alps for your first trail running experience, read on some tips to get you ready.
1. It's seriously steep
If you've only ever run on flat or rolling trails, say in Kansas City, you're going to be in for a big surprise when you start trail running in the Alps. And if you've only ever run in the Rockies? You're probably still going to be in for a big surprise.
I spent over a decade living, hiking and running in the Colorado Rockies, and I was caught out by the sheer intensity of the incline on my hikes and runs during my visit to Chamonix. The valley walls in much of the Alps are so steep they practically appear vertical. Get some training in on an incline before you go and plan on learning a whole new way of running when you arrive.
2. You walk a lot
Leading on from the previous point, in case it's not obvious you're probably going to spend a fair amount of time on your run hiking. If you do a lot of mountain running, you'll be prepared for this, but for my colleague who wasn't expecting it, it was a little dispiriting. Don't be discouraged! Trail running in the Alps involves lots of hiking, even for the fittest. Read my tips on how to walk the uphills and enjoy the time to catch your breath and enjoy the splendid views.
3. You're high
Let's say you're heading into the Colorado Rockies. Even if you fly into Denver, the mile-high city, from there you're looking at a couple of hours' drive up into the mountains, where you'll be at least 8,000 feet above sea level on the valley floor, but the long journey gives you time to process your ascent, and understand that you're going to have a lot less oxygen at your disposal.
Somehow, much of the Alps are so accessible that altitude sort of sneaks up on you here. Geneva is only 1,230 feet above sea level then it's a quick hour long drive to Chamonix where you might not realize you've already gained over two thousand feet without noticing it. For a true mountain run, you may hop on a gondola or chairlift which will whisk you up another two or even four thousand feet. So when your feet finally hit the ground, you might notice the effects of altitude quickly with breathlessness, increased heart rate, lightheadedness and swollen fingers. Take some time to acclimate to high altitude and forget about trying to maintain your usual pace.
This can also mean you'll encounter a lot of snow up high, even in July. I was surprised to see more snow surrounding Chamonix than I've ever seen in Vail in the summer. Do you research and go prepared for running on snow or stick to lower valley trails for safety.
4. The trails are pristine
Running in the Rockies can be pretty rugged and in the Highlands there really might not be a trail to speak of, but alpine trails make up for their brutality by being beautifully maintained. In many places, you can expect clear paths with lots of signage telling you where you're heading, and of course, the views from the top are sublime. This isn't to say that you should ever forgo navigation tools like a topo map of the area and a compass, but for a lot of trails you can expect to be well-guided.
5. The downhills are express
Those steep slopes don't just mean slogging the uphills; you're going to fly on the descent. If you're not used to running hills, this could invite a whole different type of pain from your uphill runs and your knees and ankles might be extremely grumpy tomorrow. Read up on how to run downhill and refine your technique to give your joints a break.
6. The weather can be dramatic
In total, the Alps cover about 80,000 square miles, so it's a bit pointless to generalize about the weather, but one main takeaway is that at altitude, things can change fast. If you're in the southern French Alps, you can almost bet on glorious sunny conditions, but head further north and you might experience more frequent precipitation, which can feel like rainforest conditions if you're stick closer to the valley, or turn into dangerous weather patterns of lightning, wind, hail and snow at high altitude. Check the weather using a reliable weather app before you go and plan on bringing a waterproof running jacket.
7. There are surprises around every corner
Alpine trails frequently produce surprises, and for once we don't mean bears. While mountain running in places like the Rockies usually means you're pretty distant from civilization, one of the most magical aspects of alpine running and hiking is the sheer number of delightful little mountain hideaways where you can stop for an espresso to fuel your adventure.
Between chalets such as La Floria and mountain refuges like Rifugio de Torino high up on the Mont Blanc Massif, you can barely have an alpine adventure without the option of world-class coffee and fine alpine fare, if you want it. It might feel a little odd at first if you're used to the solitude of running in the Rockies, but I highly recommend embracing it as part of the experience and planning to end your run at an enchanting terrace where you can stop, sip and rest your legs.
What do you need for trail running in the Alps?
For trail running in the Alps, you'll need all the usual trail running gear for valley runs, and the same safety gear recommended for backcountry running in Colorado if you're heading up high. One difference is that there's likely to be an abundance of fresh water on your run compared to some high alpine areas in the US, so you may be able to carry less water in your hydration pack and rely on a filter like the Lifestraw, which saves you on weight and sloshing.
As for what type of trail running shoes you need, the answer depends a bit on your preferences. I was pretty happy wearing my Merrell MTL Long Sky 2s, but whatever you choose, some key things to look for are:
Grip: You'll often be running on steep, rocky terrain, and some of the trails I visited required scrambling, so get shoes with deep lugs.
Stability: With such rocky terrain under foot, it's a good idea to skip the rocker soles and get shoes with a stiff midsole.
Protection: You're going to need protection from the rocks under foot as well as potential toe-stubbing, so seek shoes with a carbon plate in the sole and a well-reinforced toe box.
Space: Those steep downhills mean your toes will be bashing against the end of the toe box if you don't give yourself a little space. Make sure you go up by at least a half size, which also gives your feet room to swell.
All the latest inspiration, tips and guides to help you plan your next Advnture!
Julia Clarke is a staff writer for Advnture.com and the author of the book Restorative Yoga for Beginners. She loves to explore mountains on foot, bike, skis and belay and then recover on the the yoga mat. Julia graduated with a degree in journalism in 2004 and spent eight years working as a radio presenter in Kansas City, Vermont, Boston and New York City before discovering the joys of the Rocky Mountains. She then detoured west to Colorado and enjoyed 11 years teaching yoga in Vail before returning to her hometown of Glasgow, Scotland in 2020 to focus on family and writing.