Are scorpions dangerous? And what to do if you see one on a hike
Are scorpions dangerous? We take a look at this venomous arachnid to help you understand the risks associated and avoid any desert misadventures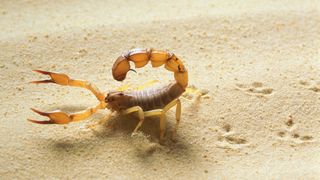 (Image credit: Peter Finch)
If you're planning on spending time hiking or camping in the desert, you probably have scorpions on your list of potential hazards, along with heat stroke and flash floods, but are scorpions dangerous? We know that scorpions are venomous and unfortunately, people do die of scorpion stings, but people also die of mosquito bites and falling out of bed, so how much of a risk do they really pose? We take a closer look at this poisonous arachnid to determine how much of a worry it really is for hikers and campers, and tell you what to do if you come across one.
Scorpions are hardy little invertebrates closely related to spiders and ticks, however they more resemble a little lobster, with a curved tail and two pincers. The tail has a venomous tip that scorpions use for self-defense when needed, and primarily to immobilize their prey for dinner. These nocturnal creatures can range from 2.5 inches to over eight inches in length, and are usually light brown but some species can be dark colored.
Scorpions are burrowing animals that need soil to survive and have adapted to many diverse habitats, whether that be in the deserts of the southwestern United States and Africa, the Himalayas, Canada, North Carolina or the Brazilian rainforest. They are so hardy they can withstand freezing, though they prefer a balmier climate and most scorpions are found in tropical and subtropical climates.
Could a scorpion kill a human?
Depending on your source, there are between 1,500 and 2,000 species of scorpions in the world, and only about 30-40 of those have strong enough venom to kill a person. Very young children and very old adults are most at risk of dying from a scorpion sting, and death usually occurs several hours after being stung.
According to Medscape, there are an estimated 3,250 deaths from scorpion stings across the world each year, which is only about 0.27% of the 1.2 million stings that occur. Scorpion stings remain a significant public health concern in many underdeveloped countries where access to medical care is lacking, with Mexico averaging 1,000 deaths each year. In the United States, however, that number is significantly lower, with only 4 deaths recorded between 2010 and 2011.
In the US, the majority of scorpions are found in the desert regions of the southwest, in Arizona, New Mexico and California, so you are at some small risk if you live or recreate in these areas. However, the only scorpion in the US that has venom capable of producing severe symptoms is the Arizona Bark Scorpion, which is relatively small – only about three inches long – and light brown in color.
What will happen if a scorpion stings you?
If you're hiking in the desert and sit down on the ground for lunch or go digging around trying to secure your tent and accidentally disturb a sleeping scorpion, you could get stung and the chances are, not very much will happen. According to the Mayo Clinic, you may have the following local symptoms at the site of a scorpion sting:
Pain, which may be intense
Warmth
Numbness and tingling
Swelling
In other words, it may be a lot like a bee sting. A more serious reaction could occur however, and it's most likely to affect young children. Signs and symptoms of systemic venom can include:
Difficulty breathing
Muscle twitching
Unusual head, neck and eye movements
Drooling
Sweating
Nausea and vomiting high blood pressure
Accelerated heart rate
Restlessness or excitability, or inconsolable crying in children
If you're unlucky enough to have been stung by a scorpion for the second time, an allergic reaction may occur similar to that with bee stings which can lead to anaphylaxis, resulting in difficulty breathing, nausea and vomiting.
What to do if you see a scorpion?
If you're exploring in the desert and a scorpion crosses the trail in front of you, you don't really need to do anything except admire it from afar and leave it alone. Scorpions won't attack you and they'll only use their stingers if they feel threatened. If it's getting a little too close for comfort, move it away using something like your hiking poles or some camping utensils so you don't pick it up with your bare hands.
What's most likely is that you'll encounter a scorpion by accident. Remember, they're burrowers, so you might uncover one if you're pulling wood from a pile for the campfire or accidentally sit on one in the sand. They also might be curious to explore the inside of your best sleeping bag or hiking boots, so the best measure you can take if you're hiking and camping in scorpion country is to shake out any clothing, backpacks, footwear and sleepwear before using it or wearing it. It's a good idea to cover up with long sleeves and your best hiking pants, and not to wander around barefoot in the desert too.
Finally, some scorpions such as the Arizona Bark Scorpion glow (fluoresce) under an ultraviolet light, so for extra precaution, you could bring an ultraviolet light to inspect your tent and surrounding area at night. Once you've done all that, make sure you zip up your tent properly.
What to do if you get stung by a scorpion
If you are unlucky enough to be stung by a scorpion, the chances are it will be nothing more than painful and uncomfortable. You should treat it using simple first aid procedures:
Clean the affected area with soap and water
Use a soothing ointment to reduce swelling
Apply a cool compress
You may also take a pain reliever to help with pain and swelling
If you have a severe reaction you should quickly seek medical advice. Also contact local poison control to advise them of a scorpion sting. For more desert misadventures, make sure to read up on what to do if you see a snake too.
All the latest inspiration, tips and guides to help you plan your next Advnture!
Julia Clarke is a staff writer for Advnture.com and the author of the book Restorative Yoga for Beginners. She loves to explore mountains on foot, bike, skis and belay and then recover on the the yoga mat. Julia graduated with a degree in journalism in 2004 and spent eight years working as a radio presenter in Kansas City, Vermont, Boston and New York City before discovering the joys of the Rocky Mountains. She then detoured west to Colorado and enjoyed 11 years teaching yoga in Vail before returning to her hometown of Glasgow, Scotland in 2020 to focus on family and writing.