Should you mix caffeine and running?
We speak to a dietician about the benefits and side effects of mixing caffeine and running, plus how to get the most out of your morning pick-me-up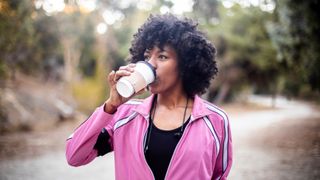 (Image credit: adamkaz)
As a runner, you might not be able to fathom the idea of hitting the road or trail without a jolt of java. In fact, you may have trouble even lacing up your trail running shoes properly without it to clear your mind. For a lot of runners, caffeine definitely seems to boost performance, whether it's a pre-run cup of coffee or carrying running gels with added caffeine for longer runs. However, there can be a downside to using caffeine too, which you'll know if you've ever fallen foul to the shakes, racing heart, or dreaded runner's diarrhea on race day. So does caffeine improve your running, really? Or should runners avoid caffeine and lean on training alone to hit those performance markers? We sat down with endurance coach and athlete Susan Kitchen of Race Smart, a Sports Certified Registered Dietitian to get some answers, and find out how best to use caffeine to help your running.
Does caffeine improve your running?
It's probably true that a lot of people across the world think they can't function well without their morning coffee and would probably be just fine without it, but when it comes to running, studies in fact have shown that caffeine can produce "small but significant" gains in performance.
According to Kitchen, caffeine can benefit you during aerobic endurance exercise, like running, because it can improve your muscular endurance and strength, movement velocity and sprinting performance. Though this might all seem like it's down to good old adrenaline pushing you along the trail, interestingly the reason it produces these results seems to be largely down to its effect of your Perceived Rate of Exertion.
"The main benefit of caffeine as a performance enhancer is its effect on blocking the action of adenosine, reducing fatigue, and dulling pain sensation," explains Kitchen, who notes that the magnitude of caffeine's effects differs among individuals.
Then there's another more obvious benefit, which you've probably noticed yourself and most associate with caffeine: it wakes you up.
"Caffeine stimulates the central nervous system, improving alertness and delaying fatigue in endurance events," says Kitchen, adding that it can be particularly advantageous when running in hot weather and for running at altitude. The benefit of this for competitive runners is immeasurable – if you're in the last mile of a race and you become aware of another competitor over your shoulder who's closing the distance between you, you'll be more able to clock their acceleration and adjust your own speed to keep your advantage, even when moving fast over rough ground.
Should runners avoid caffeine?
All these benefits of caffeine for running are certainly persuasive, unless you're one of the unlucky ones that's experienced heart palpitations after fuelling up on espresso before a half marathon. In that case, you might quite rationally wonder whether it's something you should avoid altogether. But is there a way to get the benefits of caffeine without the side effects?
According to Kitchen, whether or not you have an adverse reaction to caffeine may well come down to frequency of use, and dosage.
"Athletes who do not frequently consume caffeine or take a very high dose risk experiencing negative side effects. These include GI distress, nausea, vomiting, anxiety, elevated heart rate, tachycardia, fatigue, dizziness, and shaking."
Kitchen explains that the recommended dosage of caffeine (not coffee) is 3-6 mg per kilogram of body weight, and she thinks that staying on the lower end of that dosage may be the best choice if you're seeking performance enhancement. Very high doses of caffeine (think: 9 mg/kg) are associated with a high incidence of side effects, and of course will lead to dehydration, plus they're ultimately unnecessary to elicit a performance-enhancing effect.
To figure out what that all means for you and your coffee habit, you can plug your body weight into this handy caffeine calculator tool from the Caffeine Informer to get an idea of what your total daily allowance should be. Next, if you're using running gels with caffeine, it will tell you right on the packet how many milligrams of caffeine they contain, so that's easy.
If you're drinking coffee, however, caffeine content varies widely between types of coffee and brewing processes, but as a rough guess, the Caffeine Informer goes on to explain that 400mg of caffeine equates roughly to 5.2 shots of espresso or one Starbucks Venti brewed coffee, so if you're a 65 kilo (143lb) running, that should be your caffeine max for the day. Remember to ensure that you're including all of your possible caffeine intake throughout the day – tea, coffee, supplements and sodas. It's important to note here that just because that's the maximum amount you can get away with, doesn't mean you have to drink all of that – ultimately, you'll need to figure out your own sensitivity to caffeine to determine whether you should avoid it, and how much you can get away with.
In conclusion, you don't have to avoid caffeine necessarily as a runner, but more is definitely not better.
How long before a run should I drink caffeine?
Once we had ascertained that there are, indeed, some great benefits to using caffeine for runners, we breathed a sigh of relief, and had one more question for Kitchen: when is the best time to imbibe?
"The most commonly used timing of caffeine supplementation is 60 min pre-exercise," says Kitchen, who explains that the optimal timing of caffeine ingestion likely depends on the source of caffeine.
"For example, compared to caffeine capsules, chewing gum containing caffeine may require a shorter waiting time from consumption to the start of exercise."
So in short, an hour before your run is the most common tactic, though with gum you may need less time, but ultimately, remember the golden rule: always train with the plan that you intend to use on race day in race-like conditions so there's nothing new on race day. Make sure to figure all of this out before your next big run, and if you're traveling for a race, check out our guide to the best camping coffee makers, so you can have your favorite cup of cold press or espresso on the road.
All the latest inspiration, tips and guides to help you plan your next Advnture!
Julia Clarke is a staff writer for Advnture.com and the author of the book Restorative Yoga for Beginners. She loves to explore mountains on foot, bike, skis and belay and then recover on the the yoga mat. Julia graduated with a degree in journalism in 2004 and spent eight years working as a radio presenter in Kansas City, Vermont, Boston and New York City before discovering the joys of the Rocky Mountains. She then detoured west to Colorado and enjoyed 11 years teaching yoga in Vail before returning to her hometown of Glasgow, Scotland in 2020 to focus on family and writing.