Cork vs EVA foam grip for trekking poles
We walk you through a comparison of cork vs EVA foam grip for trekking poles to help you decide which is best for you when it comes to time on the trails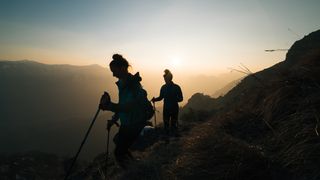 (Image credit: Milo Zanecchia/ Ascent Xmedia)
On all but the gentlest of walks, my trusty trekking poles come with me. On steep ascents, they give me more power and efficiency as I can use my arms as well as my legs to climb, while on the descent they give my knees a break from taking all my weight. When I don't need them, they fold up and pack away neatly in my backpack. In short, trekking poles can be an excellent – though optional – addition to your hiking travels, but there are many different types to choose from.
When you're choosing trekking poles, one big consideration that can affect how much you like your trekking poles is what the handle, or grip, is made from. Hiking pole grips will be fashioned out of one of two different materials: cork, or EVA foam. The two materials have different advantages and drawbacks, so here we walk you through a comparison of cork vs EVA foam grip for trekking poles to help you decide which is best for you when it comes to time on the trails.
Cork vs EVA foam grip: comfort
The biggest consideration when it comes to deciding between the two is comfort. Since you might be walking while holding your poles for entire days at a time, the last thing you want is rubbing and blisters on your hands.
There are several factors that play into the comfort for your trekking pole grip, including abrasiveness, shock absorption and moisture-wicking, and both types of grip provide comfort in different ways.
Cork handles mold to your grip over time, which means that the more you use them, the more comfortable they'll be. The material is smooth to begin with, so it shouldn't rub too much, though it's not as smooth as foam, and cork naturally wicks sweat from your hands, which you might find lends some comfort value.
EVA foam handles will also be nice and smooth to the touch, though they won't wick moisture which may leave your hands feeling clammy. They are known for being better at absorbing shock, so there's no annoying vibrating in your hands and wrists each time you plant your pole.
Ultimately, we think this one really comes down to personal preference, and it's a good idea to test out both before you decide.
Cork vs EVA foam grip: durability
This category is probably more of a technicality than a real consideration, but it's worth mentioning if you're seeking poles that you want to last you decades.
Because cork is a natural, biodegradable material, it will eventually break down and start to crumble. This shouldn't happen any time soon, and if it does you should seek to return your poles, but it will happen one day.
Being made from synthetic materials, however, EVA foam will be more durable. When it's used as cushioning in the midsole of your road running shoes, it's weight-bearing so it gets compressed over time, but in the form of a trekking poles handle, it should last a lifetime, and then some.
Cork vs EVA foam grip: sustainability
Leading on from the previous point, cork is biodegradable so those handles will break down if they end up in the landfill. Its production can be very sustainable, since it is harvested without cutting down trees, and it can be recycled, making it a very planet-friendly material, so it should be your first choice if you're looking to lower your carbon footprint.
EVA foam, on the other hand, is a thermoplastic, so it's not biodegradable. It's technically recyclable, but it's highly unlikely you'll find anyone who can recycle it. The CDC hasn't found it to be carcinogenic, but notes that it can be absorbed through the skin. Basically, if you're opting for foam handles, the best thing you can do for the planet is to take good care of them and make sure you never need to replace them.
Cork vs EVA foam grip: weight
This one is easy – kind of. Cork is always heavier than EVA foam, so they'll add weight to your poles, but just because trekking poles have cork handles doesn't automatically mean they'll be heavier. So how does that work?
Well, the weight of your poles will be the culmination of all of the components, not just the handles. If the shaft of your poles are made from aluminum, they'll probably end up heavier than carbon poles regardless of the grip material, but even that's not a hard-and-fast rule. The Leki Cross Trail Lite Carbon have cork handles and are nice and light. Of course, weight probably matters more if you're shopping for running poles or thru-hiking, and if you really want to cork handles but weight is an important factor for you, make sure you shop by total weight.
Cork vs EVA foam grip: price
EVA foam may be easier to produce than cork, but from the trekking poles we've tested, these savings aren't necessarily passed on to the consumer in the finished product. This is because, kind of like weight, the total tends to be the sum of the components involved. We've seen both cork and foam handles at budget and premium pricing.
Swipe to scroll horizontally
Cork vs EVA foam grip for trekking poles

| Header Cell - Column 0 | Cork | EVA foam |
| --- | --- | --- |
| Comfort | Mold to your hand over time and wick sweat | Smooth and shock-absorbing |
| Durability | Break down over time | Never break down |
| Sustainability | Sustainably harvested, biodegradable and recylable | Not sustainable |
| Weight | Heavier | Lighter |
| Price | Budget to premium | Budget to premium |
Cork vs EVA foam grip: the verdict
When it comes to performance and taking into account factors like weight as well as comfort, which is largely subjective, we can't make any great case for one type of handle over the other, although EVA foam is definitely more durable though we're not sure that will matter in the lifetime of a pair of poles.
When it comes to sustainability, there's a clear case to be made from cork handles of course, so if you're looking to reduce your impact, that's the obvious choice.
However, if you're going to be putting in a lot of miles, it's important that you find a product you're happy with, so we recommend testing out both to see which is most comfortable for you.
All the latest inspiration, tips and guides to help you plan your next Advnture!
Julia Clarke is a staff writer for Advnture.com and the author of the book Restorative Yoga for Beginners. She loves to explore mountains on foot, bike, skis and belay and then recover on the the yoga mat. Julia graduated with a degree in journalism in 2004 and spent eight years working as a radio presenter in Kansas City, Vermont, Boston and New York City before discovering the joys of the Rocky Mountains. She then detoured west to Colorado and enjoyed 11 years teaching yoga in Vail before returning to her hometown of Glasgow, Scotland in 2020 to focus on family and writing.