Do you really need to wear socks for running?
Do you really need to wear socks for running? A look at the arguments for and against running without socks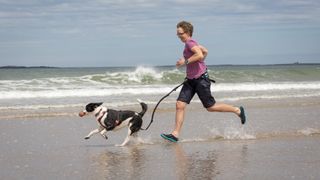 (Image credit: Getty)
Do you really need to wear socks for running? Some people really struggle with wearing socks, and even if you've spent countless hours researching and choosing the best running socks that contour to your feet, wick away sweat and have padding in all the right places, you still might just hate running in socks. But is it a good idea to forgo socks altogether?
In this article, we take a look at some of the arguments for running without socks, why socks can help you on your fast-moving adventures and how to run without socks if you simply can't find a way to make them work for you.
Why do runners run without socks?
Some runners really may just prefer to run without socks and not be able to tell you why, but there are a few common reasons why you might choose to hit the road or trail sock-free.
First, if your feet tend to get uncomfortably hot and sweaty when you're running, you might find that ditching the socks and wearing shoes with light mesh uppers is simply more comfortable and helps keep your feet cool. Of course, it's possible that you just haven't found the right running socks yet, so if you've been running in cotton socks you really might want to check out some lightweight synthetic or even bamboo socks like the BAM Bamboo Technical Trainer socks that wick moisture and help to keep your feet dryer and cooler.
Second, if you've embraced the trend of barefoot running shoes and are looking for the best trail feel then you might just feel like adding a layer of fabric defeats the purpose. Such shoes have a snugger fit and may cause your socks to bunch up inside. Of course, if you've gone for shoes with individual toe pouches such as Vibram Fivefingers V-Trail 2.0, then you won't comfortably be able to wear socks, even if they're toe socks.
Finally, one scenario where some runners lose the socks is during triathlons, since it saves a little time in the transition between bike and running shoes. To be honest, this isn't a huge argument since it only takes a matter of seconds to pull on socks, even when your feet are wet, but it's worth mentioning.
Why should you wear socks for running?
While the reasons for not wearing socks, including just being averse to them, are totally valid, there are some quite good arguments for wearing running socks, too.
1. To prevent rubbing
Wearing the right pair of running socks can help you to cut down on uncomfortable rubbing, chafing and blisters for two reasons.
First, your feet are going to get sweaty when you run no matter what, but socks made from a moisture-wicking and quick drying fabric in conjunction with a breathable shoe will help that moisture to escape. Running without socks can mean your feet stay really damp inside your shoes, which can feel gross and increase friction. Keeping your feet a little dryer will help cut down on rubbing.
Further, since a regular pair of trail running shoes or road running shoes won't necessarily be engineered to be worn in direct contact with your skin, there may be areas that will rub without the protection of a sock.
2. Added cushioning
A good pair of running socks don't just add a layer of fabric between your foot and your shoe, they might have extra padding in the areas where your foot sees the most contact with your shoe, such as under the heel and ball. This can also reduce rubbing and blisters, and can provide relief from pain when you're on a long run, so check out models like the Inov-8 speed sock high for more comfort.
3. Odor control
Wearing socks also cuts down on the amount of odor-causing bacteria that ends up in the insole and upper of your shoe. When you wear socks, the majority of that bacteria gets absorbed into the sock which you then chuck in the washing machine, keeping your feet and shoes relatively non-stinky which your housemates and coworkers will thank you for if you tend to leave your shoes lying around in shared spaces.
Smelly shoes might not seem like the end of the world, but shoes worn without socks could become a breeding ground for fungal conditions like athlete's foot. You also might end up having to wash your shoes more often, which leads to them needing to be replaced more frequently, costing you more money.
4. Warmth
Finally, running without socks in the summer may feel great, but come the colder months when you're splashing through icy puddles, running socks made using merino wool like the Darn Tough No Show Tab Ultra-Lightweight Running Socks can help provide a much-needed layer of insulation.
Tips for running without socks
If, after reading all of the benefits of running socks, you still just don't want to wear them, that's fair enough, but there are a few measures you can take to avoid uncomfortable situations.
1. Ease in
First, if you've previously run with socks, it's a good idea to ease into sock-free running by only doing it for shorter bouts. If you're planning on doing it for a triathlon, for example, don't let that be your first attempt.
2. Prevent friction
To help prevent rubbing, either apply talcum powder or vaseline to your feet before putting your shoes on. Talcum powder, or even antibacterial foot powder, helps to keep your feet dry while vaseline can reduce friction by creating a slick surface. You will usually only have to apply vaseline to high contact areas around your heel and toes. You may need to try both of these options to figure out which one works for you.
3. Reconsider your shoes
You might also need to consider different running shoes such as barefoot running shoes, since these may be better designed to be worn without socks. They're certainly not for everybody, but they can provide a more comfortable, natural experience. You can also look into more minimalist shoes that have light mesh uppers and a sock-like fit rather than really aggressive trail running shoes.
Furthermore, if you typically go up a half size in shoes to allow your feet to swell, you may find your usual size is too loose and you may want to size back down.
4. Wash your shoes (and feet)
Next up, you should probably wash your running shoes frequently to avoid bacterial and fungal build up, which can mean that your shoes will be out of commission for a couple of days and may need to be replaced more often. Your feet will be smellier too, so make sure to wash them with soap after each run.
5. Rotate your shoes
It can help to have two or three pairs of shoes in rotation, which means it will take longer for each pair to get smelly. As an added bonus, this technique has also been shown to reduce repetitive stress injuries.
All the latest inspiration, tips and guides to help you plan your next Advnture!
Julia Clarke is a staff writer for Advnture.com and the author of the book Restorative Yoga for Beginners. She loves to explore mountains on foot, bike, skis and belay and then recover on the the yoga mat. Julia graduated with a degree in journalism in 2004 and spent eight years working as a radio presenter in Kansas City, Vermont, Boston and New York City before discovering the joys of the Rocky Mountains. She then detoured west to Colorado and enjoyed 11 years teaching yoga in Vail before returning to her hometown of Glasgow, Scotland in 2020 to focus on family and writing.