Garmin Forerunner 965: pictures, specs, and everything we know so far
Garmin's next-gen triathlon watch might be about to launch, and we've collected together all the latest leaks and rumors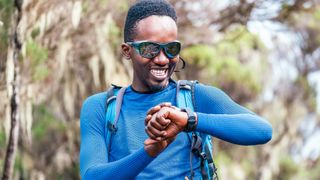 (Image credit: Getty)
Rumors and leaks surrounding the Garmin Forerunner 965 have been swirling for months, and following a spate of leaks from various retailers, including specs and high-resolution images, it looks like the premium triathlon watch might be launched imminently.
If you've been a Garmin fan for a while, this might be somewhat surprising. After all, the Garmin Forerunner 955 only launched on June 1 2022, making it just eight months old at the time of writing. Garmin usually leaves at least two years between Forerunner launches, so this would be a real break from tradition.
Nevertheless, it seems that the Forerunner 965 (and its entry-level counterpart the Garmin Forerunner 265) might find its way onto our wrists much sooner than we'd expected.
The news so far
Back in September 2022, the anonymous author of the5krunner shared photos that appeared to depict a prototype Garmin Forerunner 265. The design looks very similar to the 255, but with an OLED display rather than memory-in-pixel. I was skeptical at the time, but running the images through error level analysis software (commonly used to detect signs of tampering) failed to reveal anything suspicious. The only areas highlighted were the spaces where the5krunner had blocked out the watch's serial numbers to protect their source.
Thing then went quiet for a while, but in January 2023, reliable leaker fttest_en shared screengrabs from a European retailer showing listings for both the Forerunner 265 and 965.
Did I mention that the Garmin Forerunner 965 has surfaced as well? It likely will have a price tag of €649.99.#garmin #forerunner #leak #sports #running #watch #wearable pic.twitter.com/kYWa3nX0xGJanuary 22, 2023
Later in the month, another online store prematurely published pages including details of the two devices. Screenshots from Dutch site RunningDirect.nl show skeleton listings for the Forerunner 965 and Forerunner 265S Music, priced at €649.99 and €499.99 respectively.
The Forerunner 955 has a list price of €549.99, while the Forerunner 255S Music is €399.99, meaning each of the newer watches is €100 more expensive than its predecessor. In the US, the price difference might be between $75 and $100.
RunningDirect is the third online retailer to list the incoming Forerunner 265 and Forerunner 965 and the first to confirm projected prices of €499.99 and €649.99.#garmin #forerunner #running #sports #wearables pic.twitter.com/kDvGbhEOqVJanuary 26, 2023
In early February, yet another store posted a premature listing page for the Forerunner 965, this time with a handful of small images giving our first hint at what the watch might look like. The page, published by 5 Under Golf, was removed quite swiftly, but not before it was cached by Google.
This page suggests that the watch will come in three colorways: black and powder gray, whitestone and powder gray, and amp yellow and black (an unusually zingy choice for a high-end Garmin). The page includes a low-resolution preview image, which shows the three options side-by-side.
As the5krunner notes, the copy underneath the images is littered with typos, so it's worth taking with a hefty grain of salt. The page also includes a QR code that points to a YouTube channel designed to help retailers better understand the different features of Garmin devices so they can guide customers in the right direction. It doesn't contain anything confidential, but it definitely shouldn't be there.
One interesting thing is the listed battery life. According to 5 Under Golf, the Forerunner 965 may be able to run for up to 23 days in smartwatch mode, which would be a huge upgrade from 15 days for the Forerunner 955.
That would be quite unusual since AMOLED screens use more power then their MiP counterparts, so we're not going to hold our breath, but it's certainly intriguing.
Garmin's leak
On February 8, one of Garmin's own websites accidentally published a snippet of information about the Forerunner 965, giving us our first confirmation that the watch is indeed coming – and probably soon.
The author of the5krunner published a table revealing some of the similarities and differences between watches in the Forerunner series, including the 965 and 265. This reveals that the Forerunner 965 will indeed have an AMOLED display, and that it will be slightly larger than that of the Forerunner 955, increasing from 1.3in to 1.4in.
The Forerunner 965 will only come in one size, and won't have solar charging, which is unsurprising considering the challenges of integrating photovoltaic material into an AMOLED panel. Garmin has registered a patent describing a way to place lines of photovoltaic cells between subpixels, but this tech likely isn't ready for production yet,
The Forerunner 965 will have a metal bezel, though we don't know whether this will be titanium or stainless steel. If stainless steel then it's possible that the watch may have the necessary hardware for Garmin's new ECG app, but this hasn't been mentioned in any other documentation so far, so I wouldn't hold my breath.
Images
In early February we got our first glimpse of the Forerunner 965 in a low-resolution thumbnail image, but on the 21st things got a lot clearer when Vietnamese retailer Happy Run jumped the gun and published its whole product listing ahead of the watch's release date.
The page has now been removed (we expect Garmin had some strong words with the store), but it gave us our first clear view of the watch in its three colorways (white, black, and amp yellow).
Two days later, another store (this time dedicated to swimming) posted even more pictures on an incomplete product page, showing the upcoming watch from different angles and giving us a peek of what maps will look like on its display.
We already knew that navigation would be easier on the new watch's AMOLED screen than the MiP display of the Forerunner 955, but the difference is striking. The map itself looks more detailed, and you can see that the turn-by-turn directions take up less space, giving more room for the map itself.
What we're expecting
What we're expecting
So far, it seems the biggest difference between the Forerunner 955 and 956 will be the upgrade from a memory-in-pixel (MiP) screen to a bright, crisp AMOLED display. This should make a particular difference to maps and navigation, allowing you to see the route ahead in more detail and in tricky lighting conditions. It may have an impact on battery life (AMOLED displays are a little more power-hungry than their MiP counterparts) but hopefully this will be minimal.
Another possible change is the addition of an ECG sensor, which would make the Forerunner 965 compatible with the ECG app that's now available for the Garmin Venu 2. The images of the Forerunner 965 posted by 5 Under Golf appear to show a watch with a metal bezel, but ECG isn't one of the features mentioned in the copy.
Would all that be enough to justify a $75-$100 price hike? Well, maybe. After all, the Garmin Epix (Gen 2) is essentially a Garmin Fenix 7 with an AMOLED display and $200 added to the price tag.
We'll keep our ears to the ground for more details and bring you further information as soon as we have it.
All the latest inspiration, tips and guides to help you plan your next Advnture!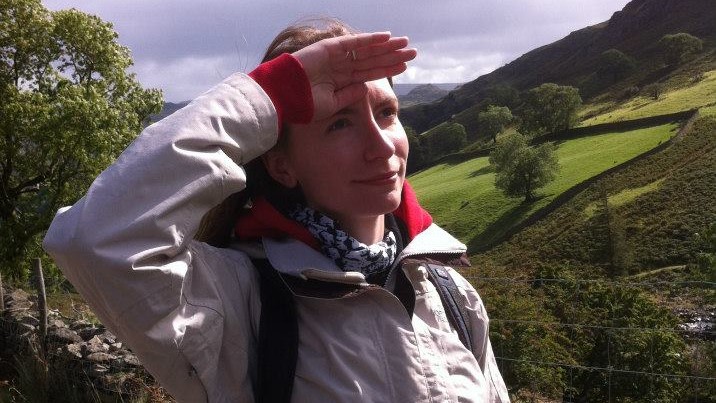 Cat is the editor of Advnture, She's been a journalist for 13 years, and was fitness and wellbeing editor on TechRadar before joining the Advnture team in 2022. She's a UK Athletics qualified run leader, and in her spare time enjoys nothing more than lacing up her shoes and hitting the roads and trails (the muddier, the better).