What to wear hiking: shorts or pants?
Hiking shorts or pants? Our guide will help you decide on the best option for your adventures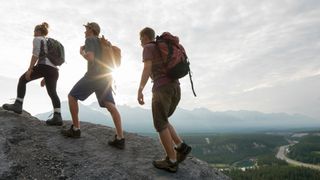 (Image credit: Getty)
The hiking shorts or pants question is one that's nearly as old as the hills and mountains themselves. While many sartorial savants will stress the importance of full-leg coverage to protect ourselves from the various aggressors (rocks, vegetation, ticks, mosquitos et al) our pins might encounter on a hike, others insist that comfort trumps all and, thus, shorts are the way to go.
Although there's no definitive answer to this question, there are several considerations that will make either a pair of the best hiking shorts or best hiking pants more suitable to the type of trails and conditions in which you plan on hiking – something we'll delve into in more detail below.
Pants or shorts for hiking? The bottom line…
Before we get down to outlining the cases in favor of hiking shorts and pants, it's worth reiterating the most important take-home from any comparison of the two: the best option for you will ultimately come down to when and where you're hiking and a number of other variables, including the terrain you're hiking in, the presence (or absence) of biting insects, the amount and type of vegetation on the trail, and, of course, personal preference. This being so, before heading out on any hike it's well worth doing a little homework to get "the lay of the land" and assess weather conditions (see our best weather apps for hiking) before choosing your outfit for the day.
Hiking shorts or pants? The case for pants
Full-pin protection
The main advantage of wearing hiking pants instead of shorts is for added protection against the myriad things that might do your legs harm when getting your wander on. The most notable of these are:
Insulation
It goes without saying that a pair of hiking pants are better equipped to keep you warm than a pair of shorts. While warmth isn't something you'd typically look for when hiking in summer, many hikers are apt to forget that the temperature difference between where they start their day and the high point of their trail could be vast – vast enough to make having an extra bit of insulation on the pins greatly appreciated. As a general rule, you can expect temperatures to drop by around 3.5 degrees Fahrenheit for every 1000 feet of elevation gained, so – unless you're doing a low-level walk with very little ascent – this is well worth factoring into your decision.
It's also worth bearing in mind that many hiking pants have thigh vents and ankle zippers that let you boost airflow when need be, thus bringing you (almost) the best of both worlds. For more on this, check out How to choose hiking pants.
Storage
There are plenty of shorts out there with large cargo pockets, granted, but anyone who has ever tried stowing anything in these while hiking will know that doing so often results in that "anything" banging against your knees and thighs for the duration of your hike, which can be very annoying. With pants, on the other hand, there's less mobility in the fabric around the thighs, meaning your pockets' contents should be less prone to bopping around as you walk.
Hiking short or pants? The case for shorts
All about comfort
On hot and/or humid days, hikers need every ounce of airflow going to prevent overheating. No matter how well ventilated a pair of pants may be, the full-leg coverage they provide means that the best hiking shorts are streaks ahead in the ventilation stakes – something that can make your hikes a lot more comfortable when temps are high. Shorts also, of course, provide for a freer range of movement, which means the fabric won't be inhibiting your stride when you're stomping up steeper stretches of trail.
Protection from other sources
While a pair of shorts will leave your legs more exposed to whatever you encounter on the trail, the risk of doing yourself any harm can be mitigated by using alternative sources of protection. Below, we've added an overview of the protective measures you can take to lessen the risk of all the factors identified above:
• Rocks – tread carefully/wear crew-cut or knee-high socks
• Roots and vegetation – wear crew-cut or knee-high socks
• The sun – lather on the sunscreen (see Hiking injuries and ailments: how to prevent and treat them)
• Ticks – wear knee-high socks (pull them up when walking in vegetated areas, pull them down on open ground – more on this in our buying guide to the best hiking socks and explainer What kind of socks are best for hiking?)
• Mosquitos – wear a suitable insect repellent
• Midges – as above
• Poison ivy, poison oak, and poison sumac – tread carefully
• Snakes – as above
• Snow – again, knee-high socks will do the trick
Silence is golden
It may be a minor quibble for most, but for more noise-sensitive hikers, the constant swishing sound made by pants when on the move is enough to make shorts preferable.
Heat comes from the core
There's no denying that pants are a warmer option than shorts. However, the benefit of full-leg coverage might not be as significant as you think. This is mainly because most of our body heat is generated by our core – if we keep this warm then the rest of us should stay warm too.
Still undecided? If so, the best bet might be to invest in a pair of convertible pants that give you the option of switching from pant-mode to short-mode in as long as it takes you to fasten/undo the zipper. For more on these, check out How to choose hiking pants.
All the latest inspiration, tips and guides to help you plan your next Advnture!
Former Advnture editor Kieran is a climber, mountaineer, and author who divides his time between the Italian Alps, the US, and his native Scotland.
He has climbed a handful of 6000ers in the Himalayas, 4000ers in the Alps, 14ers in the US, and loves nothing more than a good long-distance wander in the wilderness. He climbs when he should be writing, writes when he should be sleeping, has fun always.
Kieran is the author of 'Climbing the Walls', an exploration of the mental health benefits of climbing, mountaineering, and the great outdoors.