How to camp smarter and lighter with multi-use gear
A guide to the most versatile and multi-use outdoor and camping gear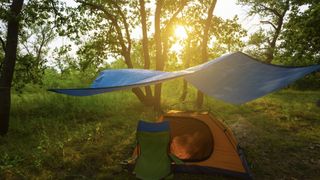 (Image credit: Getty)
If you are heading off for a multi-day camping, backpacking or bikepacking trip, the chances are you will be looking at ways to reduced the weight and size of the pack, or packs, that you carry. There is much less joy to be had in an adventure where your hiking rucksack or bikepacking bags weigh you down uncomfortably. Here we bring you a guide to choosing pieces of outdoor and camping gear that do more than just one job.
A camping blanket is a great example. There are many uses of a camping blanket, which means you need to pack fewer items when going backpacking or bikepacking.
9 multi-use items for camping, hiking and bikepacking
Insulated jacket
Most camping and adventure trips require a good quality down or synthetic insulated jacket. Choose the right weight for the weather conditions and stuff it in a rucksack pocket or a small space in your rucksack or bikepacking bags.
You'll find this a useful piece of gear for cool mornings and evenings or when you stop to have a break or for food.
A puffer jacket is also a great way to adda layer of warmth to your sleeping set up. You could choose to pack a lighter and less bulky sleeping bag and you make use of an insulated jacket at night-time, too.
Dry bag
It's a good idea to pack a lot of your outdoor gear in dry bags just in case you end up in wet weather. Another use for a dry bag is as a pillow for a good night's sleep. Simply stuff spare clothes inside the bag and roll up the top to provide a comfortable place to rest your head.
I choose to take softer fabric dry bags rather than the thicker PVC style because they are softer on the face and head when used as a pillow.
Bandana
Most people own several fabric bandanas. They are also called neck gaiters and head tubes, or buffs. These tubes of soft and lightweight fabric can be very useful.
First off, they are a great way to keep the chill and wind off your neck, head, face and ears. The fabric tube is also a useful way to protect the head against sunburn. There are multiple uses for your neck gaiter.
I also use my fabric tube as an alternative makeshift pillow when I am camping. Simply tie a knot in one end, stuff with spare clothing, tie the other end and pop under your head.
The fabric of the tube can be a useful way to filter fresh water of bits of debris. This isn't a way to eliminate bacteria but it can help when collecting fresh water that has a bit of sand or silt mixed in.
A bandanna also makes a useful mini towel, washing up cloth, tea towel, handkerchief and as makeshift gaiters.
Hydration bladder
As well as being a useful water carrier, you could double a hydration bladder as a pillow if you inflate it with air.
Tarp
A tarp makes a great extra protection against the weather when using a bivvy bag and sleeping bag for camping nights.
A tarp is a great wind barrier when you stop for a break while walking or bikepacking, too.
If you end up in an emergency situation, a tarp could also be essential for keeping wind, rain and cold off an injured person.
Walking or trekking pole
Many hikers using walking poles to ease the fatigue of walking up and down slopes. Trekking poles, matched with a tarp or any piece of tarpaulin, can also provide a shelter.
Bicycle
A bike is obviously great as a mode of transport but it can also provide a good to create a makeshift shelter from a tarp.
Camping cup
If you have a camping cup, you won't also need a plate. Another tip is to simply eat from the pot that you have cooked in, rather than taking a plate as well as a cooking pot.
It might not seem like you are making much of a weight saving but when you are carrying all your own kit, every gram of saving is helpful.
Smart phone
Last but by no means least is your smart phone. These gadgets are one of the most multi-use items you can take on a camping trip.
As well as being you way to call people a smart phone has multiple uses. Use it as a camera, for route planning and GPS navigation, as a torch, to listen to music or audio books, to watch downloaded films, as a recording device and for making notes.
It could be your lifeline to emergency help, too.
As you can see there are plenty of items that can be used in two or more ways to help you save weight and bulk when carrying all your own kit.
All the latest inspiration, tips and guides to help you plan your next Advnture!
Fiona Russell is a widely published adventure journalist and blogger, who is better known as Fiona Outdoors. She is based in Scotland and is an all-round outdoors enthusiast with favourite activities including trail running, mountain walking, mountain biking, road cycling, triathlon and skiing, both downhill and back country. Her target for 2021 is to finish the final nine summits in her first round of all 282 Munros, the Scottish mountains of more than 3,000ft high. Aside from being outdoors, Fiona's biggest aim is to inspire others to enjoy the great outdoors, especially through her writing. She is also rarely seen without a running skort! Find out more at Fiona Outdoors.