Patagonia vs Columbia: which mega brand comes out on top?
It's Patagonia vs Columbia, as we put the two American clothing giants up against each other, looking at their origins, products and what they stand for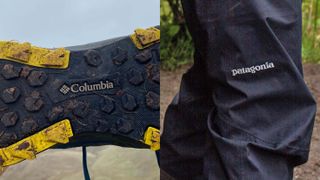 (Image credit: Alex Foxfield / Jessie Leong)
Two of America's most popular and globally recognised outdoor clothing brands are Patagonia and Columbia. One was the brainchild of a Yosemite climber who first found success selling climbing hardware, while the founders of the other fled Nazi Germany and found sanctuary and prosperity selling hats in the Pacific Northwest.
Today, the two brands have many similarities, as well as differences as diverse as their origin stories. Here, we take a deep dive into both brands, looking at where they came from, what they stand for and the quality and value of their products.
Patagonia's origins and reputation
Patagonia was founded by Yvon Chouinard who, aged 14, learned to climb as a member of the Southern California Falconry Club. He was taught, along with the other boys, how to rappel down cliffs to access the falcon aeries. After this initial tuition, he began to climb with young members from the Sierra Club, graduating to climb on the big walls of Yosemite.
In 1957, he taught himself how to blacksmith, creating climbing pitons for himself and his friends. He also started selling them to other climbers, marking the beginnings of his entrepreneurial streak. In 1965, he partnered with Tom Frost to launch Chouinard Equipment with a vision to redesign and improve almost every kind of climbing tool.
Their success meant that by the 1970s, they were the biggest supplier of climbing hardware in America, though their gear was doing damage to the environment it was being used in. Chouinard and Frost took a step back, minimizing the piton business and pivoting to aluminium chocks instead. This was the first true environmental step taken by the business.
Meanwhile, Yvon had taken to wearing rubgy shirts on a winter climbing trip to Scotland due to the protection they gave. This was an awakening in terms of the potential for a clothing business and soon he was using synthetic fibers to create high performing outdoor wear.
So, Patagonia as we know it was born in Ventura, California in 1973 and soon developed a penchant for colorful clothing that made them stand out above the humdrum and growth became rapid. What happened to the mountain hardware business? Well, Chouinard Equipment was sold off and reborn as another brand you may have heard of – Black Diamond.
Today, Patagonia have a reputation for high quality outdoor wear that is sensitive to the needs of the planet. They are also renowned for the way in which they care for their workforce and the people in their supply chain, which has led to them being Fair Trade Certified. They are also a B-Corp, which means employees, communities and the environment rank alongside shareholders in the decision-making processes.
Columbia's origins and reputation
Columbia was founded as the Columbia Hat Company in the Pacific Northwest in 1938 by Paul Lamfrom and Marie Lamfrom. The couple had fled Nazi Germany in 1937 and almost immediately set to work on their business. From small hats, great empires grow, so it seems.
The business passed to their daughter Gert Boyle who, along with her son and current CEO Tim Boyle, steered Columbia through challenging times before their fortunes improved during the 1970s. It was the Bugaboo parka of 1986 that propelled the brand to huge success and by the end of the century it had become a public company with eye-watering revenues.
Today, Columbia have a reputation for good quality, mid-range outdoor gear that makes use of a range of proprietary technologies, such as OutDry waterproofing and Omni-Heat thermally reflective fabrics. The wider Columbia Sportswear umbrella also includes the brands Mountain Hardwear, Sorel, Prana and Montrail.
Patagonia vs Columbia: environmental credentials
Patagonia are renowned for their focus on the environmental impact of everything they do, which all started back in 1970s when Yvon Chouinard recognised the negative impact his highly successful pitons were having. Throughout their history, Patagonia have campaigned for all kinds of environmental issues.
There's plenty of environmental accreditation visible on their products, many of which are made from recycled materials, while over half of the fabrics used are certified bluesign. All Patagonia's cotton is certified by the Global Organic Textile Standard.
Patagonia champion that fact that we should be 'buying used, buying less and buying only what we need'. Their Worn Wear scheme enables customers to trade in their used products so that they can be resold as second-hand. The customer gets Patagonia credit and clothing stays out of landfill. A sure win-win.
Ethical consumer watchdog Good On You gives Patagonia a 'good' rating and the brand receive a sustainability mark of 4/5 for their planet, people and animals metrics. Read the full report here.
On the other hand, Columbia's Good On You rating is 'not good enough', receiving a sustainability mark of 2/5 for the planet, people and animals metrics. It says that while they use 'some eco-friendly materials including recycled materials' there is no evidence that they reduce their carbon and other greenhouse gas emissions in most of their supply chain, nor is there any evidence that they minimize textile waste when manufacturing their products. Read the full report here.
Indeed, where Patagonia's website screams sustainability, it's initially difficult to find a mention of it on Columbia's, suggesting it is not a priority of the brand, or at least not one that's public facing.
However, the Corporate Responsibility section of Columbia's website details their partnership with the Planet Water Foundation – a non-profit that helps combat the global water crisis – and about how their down products are sourced responsibly.
Patagonia vs Columbia: products
Both offer a similar range of products, with jackets, shirts, base layers, pants, underwear for adults and kids, as well as backpacks and duffel bags. They both have a range of products to cater for hiking, snow sports, fly fishing and trail running.
Columbia's offer more varieties of each kind of product, as well as selling a wide range of footwear, including hiking shoes and boots, sneakers, trail runners, fishing shoes and sandals.
By contrast, Patagonia do not make everyday footwear, though they do sell work boots, wading boots and surf booties. Columbia also sell apparel for golfers, hunting gear and sell a range of camping equipment too, including tents, sleeping bags and even cool boxes.
Patagonia sell several varieties of sleeping bag but their camping equipment offering beyond this is limited to only a few products. One market they operate in that Columbia don't is surfing, with a range of wetsuits and board shorts. Away from clothing and equipment, Patagonia also publish books, while their Patagonia Provisions business sells responsibly sourced food and various kitchen utensils.
In terms of performance, Patagonia's products tend to have the better reputation among outdoor professionals and enthusiasts. Their apparel generally scores higher in reviews, frequently appearing in 'best of' lists and the like, making them one of the most sought-after brands for performance in the backcountry. You are much more likely to see Columbia-owned Mountain Hardwear products vying with Patagonia's in tests than branded Columbia gear.
Patagonia vs Columbia: price
There's no doubt that, price wise, Patagonia are a more premium brand than Columbia, who moved away from top line products in the early 2010s. However, it's worth bearing in mind that Mountain Hardwear, who craft high performance gear at a similar price point to Patagonia, is owned by Columbia. However, for the purposes of this feature, we are focussing solely on Columbia vs Patagonia.
As an example, a typical Columbia down jacket or puffer costs between $100 and $240 dollars, whereas you can expect a Patagonia jacket to set you back between $180 and $500. Their most expensive down jackets are Columbia's Barrett Spur at $600 and Patagonia's Frozen Range 3-in-1 Parka at $850.
A quick glance at their waterproof jackets confirms the trend, with a Columbia rain jacket typically costing between $50 and $200, whereas a Patagonia hard shell has a price tag of between $180 and $400.
It's your choice
At the end of the day, which brand you choose will be an entirely personal choice. For more budget friendly gear, Columbia may well be the go-to, though the environmentally conscious won't think twice about spending a little more on Patagonia, a brand clearly further along on the journey towards sustainability.
All the latest inspiration, tips and guides to help you plan your next Advnture!
Alex is a freelance adventure writer and mountain leader with an insatiable passion for the mountains. A Cumbrian born and bred, his native English Lake District has a special place in his heart, though he is at least equally happy in North Wales, the Scottish Highlands or the European Alps. Through his hiking, mountaineering, climbing and trail running adventures, Alex aims to inspire others to get outdoors. He is currently President of the London Mountaineering Club, training to become a winter mountain leader, looking to finally finish bagging all the Wainwright fells of the Lake District and hoping to scale more Alpine 4000ers when circumstances allow. Find out more at www.alexfoxfield.com