How to tackle technical trail running
Technical trail running is a lot of fun and a great way to push yourself, but it means some tweaks to your technique and gear to keep you safe and injury-free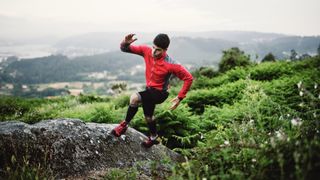 (Image credit: Getty)
Whether you've been perusing the best trail running shoes looking for a new pair, considering trying a new trail running route or even signing up for a race, you might have seen mention of technical trails. But what is technical trail running, anyway, and are you up for the challenge?
Put simply, technical trail running is a lot of fun and a great way to push yourself outdoors, but it requires some tweaks to your technique and gear to make sure you stay safe and injury-free. In this article, we explain what technical trail running actually means and provide you with some tips for altering your technique and getting the right gear to get the most out of your experience.
What are technical terrains?
Technical trail running is any trail running that takes place on technical terrain. Up until now, your trail running may have taken place on flat or rolling country dirt roads that are softer and more uneven than asphalt, but don't pose any major challenge to your balance or focus. Technical trails pose significantly more challenging terrain and obstacles and can include any or all of the following features:
Muddy terrain
Rocky terrain and/or scree
Steep inclines
Steep descents
Tree roots
Bodies of water
High altitude
How do you run on technical terrain?
As you can see, technical trail running might require you to simply slow down and pay more attention, but it could also involve scrambling or even wading through water with a river crossing. How you run on technical terrain depends on the terrain itself, but here are some good general tips to help you prepare for your first technical trail run:
1. Train on non-technical trails first
If you're new to trail running, it's important to start out on non-technical terrain before you attempt anything technical. Get used to running on flatter trails to learn how it changes your gait and running form. If you can find a trail that's mostly rolling terrain but has short areas of technical difficulty, use it for training on so your first technical run doesn't come as too much of a shock.
2. Slow down
Perhaps this goes without saying, but when obstacles are coming up hard and fast, you'll want to slow your running pace way down from how you run on tarmac to give yourself time to anticipate roots and rocks, and respond to them without falling, slipping or twisting an ankle. Different runners take different approaches to running over rocks and roots, some choosing to step directly on them while others go over and in between them, so you'll want to figure out your method. Once you get more used to technical trail running, you'll no doubt pick up the pace, but do expect your technical runs to take up more of your day.
3. Shorten your stride
When running through obstacles, on a steep slope or over slick ground, use short, quick steps rather than the big long strides you use on rolling hills and flat runs. This will feel strange at first, but allows you to keep moving forward, keep your weight over your feet and negotiate the ground under foot.
4. Cross train
Keeping yourself moving over technical terrain requires a lot more leg strength than running on tarmac or even a flat trail, where you'll receive more rebound of energy with each step. Technical trail running on its own will definitely strengthen your legs, but if you're serious about it, it's a good idea to add in some weight training for your lower body, too. Cross training can also be helpful to increase your agility in different movement planes, rather than just relying on your previous running experience which mostly involves repetitive movements within a single plane and limited range of motion.
5. Stay alert
Finally, technical trail running requires your undivided attention or you could end up injured. Take your running headphones out and keep your eyes on the trail at all times. Work on your balance (you can do this off the trail as well with practices like yoga) and pay attention to your posture too – it's easy to end up hunched over to try to brace yourself against falling, but this isn't great for your back so try to keep your posture upright and your shoulders back.
For more details and tips on specific types of technical trails, check out our articles on running in mud, scree running, running at high altitude and how to run downhill.
What do you need for technical trail running?
Different types of technical terrain will require different gear in your trail running kit, but for all technical trail running, you'll first and foremost want to choose the right shoes. The best trail running shoes for technical terrain will always feature a low profile (think a 6mm drop or less) so that you can feel the trail, deep lugs and grippy rubber outsoles, reinforced toe guards and gaiter attachments.
For specific types of technical terrain, you'll also want to consider the following:
All the latest inspiration, tips and guides to help you plan your next Advnture!
Julia Clarke is a staff writer for Advnture.com and the author of the book Restorative Yoga for Beginners. She loves to explore mountains on foot, bike, skis and belay and then recover on the the yoga mat. Julia graduated with a degree in journalism in 2004 and spent eight years working as a radio presenter in Kansas City, Vermont, Boston and New York City before discovering the joys of the Rocky Mountains. She then detoured west to Colorado and enjoyed 11 years teaching yoga in Vail before returning to her hometown of Glasgow, Scotland in 2020 to focus on family and writing.