What is ripstop nylon, and why is it a big deal in outdoor gear?
We take a closer look at ripstop nylon, so you gear junkies understand what the term means, how it's made and the benefits you can expect from gear made using it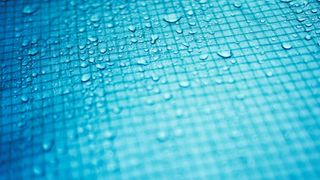 (Image credit: Donald Iain Smith)
Grab any piece of outdoor gear off the rack and the tag is going to list mysterious terms that hint at superior performance. A pair of burly ski gloves boast Primaloft, a cozy fleece jacket brags about Polartec, a lightweight running top crows about those flatlock seams and a two-person tent swaggers around bleating about its ripstop nylon. Unless you're a total gear nerd, you probably don't have the foggiest what all of these words mean, but you can assume that they're considered to be a good thing or the manufacturers wouldn't put them on the tag. However, knowing what these terms mean doesn't just tell you that the item is "better," it helps you understand what particular uses and conditions a garment or piece of gear might excel in.
For example, those Primaloft gloves will be water-resistant, so they're great for the heavy, wet snow you'll find skiing on the east coast and in the UK but perhaps not necessary in Colorado. Polartec is the name of a company which invented the fleece fabric, but didn't patent the manufacturing process, so a cheaper, non-Polartec fleece might have all the same qualities for half the price. Flatlock seams don't rub, so if you're training for a marathon, there's definitely a benefit to that top. And that ripstop nylon tent should be extra tough and resistant to inclement weather.
In this edition of our guides to outdoor fabrics, we take a closer look at ripstop nylon, so you gear junkies understand what the term means, how it's made and the benefits you can expect from gear made using it.
What is ripstop nylon?
Ripstop nylon is part of a family of fabrics called ripstop fabrics which employ a special weaving technique to make them stronger. The technique entails tightly weaving stronger yarns, which are often thicker, in a cross hatch pattern – if you look closely, you can usually see the grid pattern in a ripstop fabric. These yarns will be woven in regular intervals, usually between 5 and 10 millimeters apart. You can also weave several thinner yarns together at smaller intervals to obtain the same result. Ripstop fabrics can also be made using other synthetic materials like polyester and polypropylene, as well as natural fibers like cotton and silk.
You'll often see a number accompanied by a D next to ripstop in a product description, such as 10D, 20D, 30D or 40D. The D stands for "denier" which is a unit of density based on the weight or length of the yarns in a fabric. The higher the number, the thicker the yarn, so a 40D ripstop nylon will have yarns twice as thick as a 20D ripstop nylon, making it stronger, but also heavier.
What is nylon ripstop fabric used for?
Ripstop nylon is used in all kinds of products, from parachutes to yacht sails and you'll see it in all kinds of outdoor gear including:
What is the difference between nylon and ripstop nylon?
The key to understanding the difference is in the name. Ripstop nylon is nylon, it's just woven in a special way so as to make it extra tough. That means that you get all the usual amazing properties of nylon – resilient, elastic, somewhat water-resistant and quick-drying – but when it's woven with stronger yarns in that crosshatch pattern, it's less prone to ripping than regular nylon. Hence, ripstop!
What are the benefits of ripstop nylon?
Clearly, the resistance to tearing is a huge benefit of ripstop nylon, especially when it's being used in outdoor gear which gets bashed around a lot. The less prone your gear is to ripping, the safer and more comfortable you'll be outdoors. Tears in tent walls, sleeping bags and down jackets can leave you vulnerable to cold, wet weather. A hole in your sleeping pad means a cold, uncomfortable night sleeping on rough ground and tears in your backpack can reduce its structural integrity and mean you arrive at your campsite with wet gear. So generally speaking, you can assume that gear made using ripstop nylon is going to be tougher, whether it's in the uppers of your Reebok Floatride energy 4 shoes while you're bounding down rocky trails or creeping around the campsite late at night in your Helly Hansen Verglas Glacier Down Jacket and not wanting to tear your puffer on a sharp branch. And of course, tougher fabric means longer lasting which means it doesn't need replaced as frequently and you save money in the long run.
In addition, ripstop nylon is great for resisting wind and water, so even though a hiking backpack such as the Osprey Levity 45 probably won't be completely waterproof, it will keep your gear dry against the odd sprinkle meaning you won't need to stop every time it clouds up to pull out the rain cover. For gear like a tent, you want to make sure that the ripstop nylon is augmented with a waterproof treatment, such as the MSY Hubba Hubba NX two-person tent, made with 20D ripstop nylon and a waterproof treatment. Over the years, the treatment may wear off and eventually you'll need to re-waterproof it, but the fabric underneath will do a good job of fending off the wind and some moisture.
Basically, any time you see ripstop nylon used in outdoor gear, you can assume it's going to have extra reinforcements against harsh weather conditions, unforgiving rocks and even sharp edges inside your backpack. Now, it's not bulletproof, so you should still take good care of your gear and know how to mend a sleeping pad in an emergency, but it's a good place to start when you're planning tough treks.
When shopping for outdoor gear made using ripstop nylon, remember that the higher the number the heavier the material. This will obviously matter more in a larger item, such as a tarp versus a pair of running shoes, because density plus volume equals a very heavy backpack.
Does ripstop shrink in the wash?
The sturdy construction of ripstop and tight weave don't just make it resistant to sharp sticks, cold and moisture – it's also pretty shrink proof too, so your gear stays protected when you're cleaning it. Not that you'll be bunging your sleeping bag or rain fly in the washing machine on a hot cycle (we hope) but it does mean you can machine wash gear like waterproof jackets without fear of them coming out perfect for your elementary school-aged child.
All the latest inspiration, tips and guides to help you plan your next Advnture!
Julia Clarke is a staff writer for Advnture.com and the author of the book Restorative Yoga for Beginners. She loves to explore mountains on foot, bike, skis and belay and then recover on the the yoga mat. Julia graduated with a degree in journalism in 2004 and spent eight years working as a radio presenter in Kansas City, Vermont, Boston and New York City before discovering the joys of the Rocky Mountains. She then detoured west to Colorado and enjoyed 11 years teaching yoga in Vail before returning to her hometown of Glasgow, Scotland in 2020 to focus on family and writing.