Snow boots vs hiking boots: which do you need?
By Julia Clarke
We take the work out of the decision-making process for you by weighing the pros and cons of snow boots vs hiking boots to help you choose the best footwear for you this winter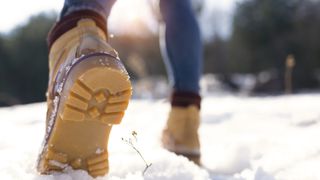 (Image credit: Westend61)
If you're starting to think about your outdoor kit for the cold months ahead, you might be considering the advantages of snow boots vs hiking boots. If you're planning on hitting the trail in snowy conditions, you'll definitely want some quality footwear to keep you on your feet as well as staying comfortable and dry in nasty conditions.
So, do you go with the classic all-terrain, year-round hiking boot or a more specialized snow boot designed for those alpine conditions? We take the work out of the decision-making process for you by weighing the pros and cons of snow boots vs hiking boots to help you choose the best footwear for you this winter.
If you're planning on trekking on slick, icy terrain, make sure to read our article on Yaktrax vs Microspikes.
Traction
If you're planning on walking in the snow, naturally the first thing you want is footwear that provides great traction to keep you from slipping and falling.
All snow boots are designed to keep you upright in the snow, so you can definitely depend on them to have great traction, while hiking boots come in varying degrees of quality and are built for different types of trekking and terrain. As long as you make sure you get a decent pair of hiking boots that are intended for winter weather, you should have ample traction, but across the board, snow boots win this round.
Weight
While you shouldn't expect the featherweight experience you get from trail running shoes, weight is still a factor to consider when choosing any type of hiking footwear. The heaver the boot, the slower your gait.
Hiking boots come in different weights, but will generally be lighter than snow boots, which are all designed to be heavy. So, we'll give this round to hiking boots.
Waterproof
There's nothing worse than getting wet feet on a winter hike, whether it's from falling precipitation or postholing in deep snow.
Because they're designed for the white stuff, snow boots will definitely be waterproof and also extend further up your leg and feature a snug cuff, so they'll keep falling snow and rain out and protect you from getting a wet foot if you sink in in deep snow.
Hiking boots can come waterproofed if they're made from Gore-Tex, which should do a great job of keeping moisture out, however they don't come up as high on your calf as snow boots, and they won't have a tight cuff so you may need to wear gaiters with them for added protection.
Another point for snow boots.
Breathability
One downside to the dependability of waterproofing on snow boots is that they're not very breathable, meaning if you are on a strenuous hike and you get sweaty feet, you'll end up with unwanted moisture inside your boots. Naturally, a good moisture-wicking hiking sock will help, but you may prefer a more breathable hiking boot instead.
Insulation
Naturally, when you're hiking in snowy conditions, warm feet are going to be at the forefront of your mind. Once again, the level of insulation of hiking boots depends on the style you buy, but plenty of hiking boots offer all the warmth you need in a snowstorm, whereas all snow boots will be well-insulated and provide plenty of warmth, giving them a slight edge here.
Comfort
If you're planning on long distances in winter weather, comfort is a very real concern. Once broken in, lightweight, breathable hiking boots have really come a long way in the comfort department, giving them a good edge over snow boots which are heavy, bulky and not very breathable.
Ankle support
Terrain gets trickier come winter and if you're seeking good ankle support, you'll definitely get it from a pair of snow boots since they come up high on the calf. Hiking boots come in varying heights so you'll need to make sure you get a higher-fitting pair.
Versatility
Good gear doesn't come cheap and a good pair of hiking boots can be used on all different types of terrain, year-round, so you'll get more for your money. Snow boots, on the other hand, are designed for one thing only and will spend the rest of the year in storage while you use other footwear. If you're only looking to make one purchase, hiking boots probably make the most economical sense.
Snow boots vs hiking boots

| | Snow boots | Hiking boots |
| --- | --- | --- |
| Traction | Very good traction in snow | Traction depends on style but can be very good |
| Weight | Heavy | Lighter |
| Waterproof | Yes, plus tight cuffs to keep falling snow out | Gore-Tex boots are waterproof but these boots don't come up as high or feature tight cuffs |
| Breathability | No | Usually breathable |
| Insulation | Well insulated and warm | Insulated styles are available |
| Comfort | Heavy, bulky and sweaty, less comfortable | Breathable, lightweight and comfortable |
| Ankle support | Yes, these boots come higher up the calf | Not always, varying heights |
| Versatility | Only for walking in snow | Usable year-round |
Snow boots vs hiking boots: the verdict
Based on the criteria we've deemed most important, hiking boots come out with a slight edge over snow boots owing to their lighter weight, breathability, comfort and versatility. By seeking out the right pair, and possibly teaming them up with gaiters, you can wear one pair of hiking boots year-round. That said, if you're planning on doing lots of hiking in deep snow and other wet conditions, snow boots will certainly have you covered and if you don't use your hiking boots in winter, they'll last longer, so there's really benefits to both.
Julia Clarke is a staff writer for Adventure.com. She is an author, mountain enthusiast and yoga teacher who loves heading uphill on foot, ski, bike and belay. She recently returned to her hometown of Glasgow, Scotland after 20 years living in the USA, 11 of which were spent in the rocky mountains of Vail, Colorado where she owned a boutique yoga studio and explored the west's famous peaks and rivers. She is a champion for enjoying the outdoors sustainably as well as maintaining balance through rest and meditation, which she explores in her book Restorative Yoga for Beginners, a beginner's path to healing with deep relaxation. She enjoys writing about the outdoors, yoga, wellness and travel. In her previous lives, she has also been a radio presenter, music promoter, university teacher and winemaker.
All the latest inspiration, tips and guides to help you plan your next Advnture!
Thank you for signing up to Advnture. You will receive a verification email shortly.
There was a problem. Please refresh the page and try again.