Snowshoeing vs cross country skiing: which winter sport is for you?
Do you prefer gliding across the snow or hearing it crunch under foot? We run the rule over snowshoeing vs cross country skiing to help you decide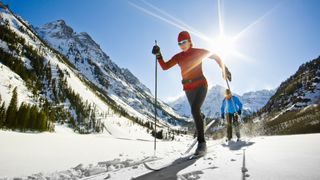 (Image credit: Tyler Stableford)
If you're considering keeping your momentum going this winter and staying outdoors rather than moving to the gym, you might be curious about the benefits of snowshoeing vs cross country skiing. Which is best for you? Do you prefer gliding across the snow or hearing it crunch under foot? We decided to compare the two winter sports to help you make up your mind about which one is better for you.
The truth is, snowshoeing and cross country skiing are both outstanding winter sports. They are both low impact activities that offer an incredible workout, and get you outside in winter's splendor, breathing the invigorating cold air with endorphins pumping through your system. But though they often take place in the same locations, the two are quite distinct and require different levels of expertise and gear. Let's take a look at some of the main distinguishing factors of snowshoeing vs cross country skiing to help you make up your mind.
Snowshoeing vs cross country skiing: speed
If you feel the need for speed, cross country skiing is going to be the better choice for you. Although cross country skiing isn't typically as fast as downhill skiing, you can still move at speeds of 7-10mph, faster if you're skate skiing, whereas in snowshoes you'll move slower than your regular hiking space, accounting for the snowshoes and deep snow underfoot. This means you'll get to cover more ground and see more when you're cross country skiing, too.
Snowshoeing vs cross country skiing: physical challenge
Now both snowshoeing and cross country skiing will give you a great workout, but cross country skiing definitely has the edge here in terms of how vigorous it is. In fact, cross country skiing has been described as the best cardiovascular exercise known, according to the book Essentials of Strength Training and Conditioning (by G Gregory Haff and N Travis Triplett), which found it to come in ahead of activities like long distance running, snowshoeing, cycling and rowing.
The physical demands of snowshoeing will be akin to those of hiking, with a little added weight on your feet, and is nothing to scoff at however. If it's calories burned that you're interested in, this chart from Harvard Health actually suggests that snowshoeing will burn more, and that's probably because you're able to breathe more easily doing it, making a low intensity workout. Cross country skiing is decidedly high intensity.
Snowshoeing vs cross country skiing: skill required
If you're looking for something you can jump right into, snowshoeing wins, but if you enjoy the challenge of picking up a new skill, you may be bored.
Learning to use the gear, balance, turn, stop and move well on cross country skiing does require some time and patience, and there are several different techniques to employ depending on terrain, whereas snowshoeing literally just involves strapping on snowshoes and walking.
Snowshoeing vs cross country skiing: injuries
It should come as no surprise that cross country skiing is a little more high risk, injury-wise, than snowshoeing, although you're not moving as quickly as in other types of skiing. A report for the British Medical Journal found that less than 5% of 1200 cross country skiers sustained injuries, and 38% of those injuries were musculoskeletal such as dislocated shoulders, knee ligament injuries, tibial plateau fractures and ankle sprains.
Though there isn't such a study on snowshoeing injuries that we could find, snowshoeing is not free from the possibility of falls, and some snowshoers do experience knee pain with their activity.
Snowshoeing vs cross country skiing: terrain
Lots of snowshoeing and cross country skiing happens on the same terrain, however you are more limited on skis than you are on snowshoes. On skis, it's easiest to move along groomed snow – and not all terrain is open to skiers – although you can certainly break trail, however obstacles like fallen branches are harder to navigate on skis, as is especially steep terrain. You can go virtually anywhere there's snow in a pair of snowshoes, so if you like to get off piste, that's the best choice for you.
Snowshoeing vs cross country skiing: cost
Your snowshoeing kit basically just involves choosing a pair of snowshoes and dressing in winter layers that you probably already own. Cross country skiing is definitely going to be a bit more demanding on your wallet – after all your cross country skiing kit includes skis, boots, poles and might want some specialized clothing and a belt for carrying your gear. You might end up paying anywhere from $350 to $1000 just to get started, depending on the type of gear you want. More gear also means more hassle storing it at home and transporting it when you want to get out.
Swipe to scroll horizontally
Snowshoeing vs cross country skiing

| Header Cell - Column 0 | Snowshoeing | Cross country skiing |
| --- | --- | --- |
| Speed | Slower than you're normal hiking speed | 7-10mph on average |
| Physical challenge | Low intensity means you burn more calories | High intensity means a great cardiovascular workout |
| Skill required | No skill or expertise needed | Harder to learn, more skill needed |
| Injuries | Uncommon, though some people report knee pain | Less than 5% of skiers report injuries such as musculoskeletal injuries |
| Terrain | You can snowshoe anywhere there's deep snow | More limited when it comes to deep snow, steep terrain and obstacles like fallen branches |
| Cost | Relatively low, all that's needed is a pair of snowshoes and poles | Expect $350-$1000 to get started |
Snowshoeing vs cross country skiing: the verdict
Clearly, it's impossible to choose a winner between two excellent sports and the answer lies in what floats your boat. If you like high intensity sports that require some expertise and you don't mind parting with a bit of cash, cross country skiing is a truly terrific way to pass the winter months. If you're a bit more low key and like to roam without much restriction on your movement, or looking for a budget friendly winter sport, strap on your snowshoes. Either way, you're bound to have a great winter.
All the latest inspiration, tips and guides to help you plan your next Advnture!
Julia Clarke is a staff writer for Advnture.com and the author of the book Restorative Yoga for Beginners. She loves to explore mountains on foot, bike, skis and belay and then recover on the the yoga mat. Julia graduated with a degree in journalism in 2004 and spent eight years working as a radio presenter in Kansas City, Vermont, Boston and New York City before discovering the joys of the Rocky Mountains. She then detoured west to Colorado and enjoyed 11 years teaching yoga in Vail before returning to her hometown of Glasgow, Scotland in 2020 to focus on family and writing.