Why 'start slow, finish fast' is excellent advice for runners
4 reasons why a slower start to a race or training run is likely to yield greater returns at the end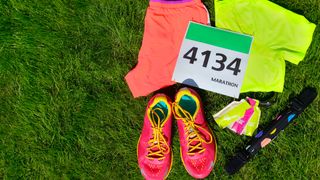 (Image credit: JaySi)
Six weeks ago, I traveled to Chamonix to cover the UTMB, trail running's most notorious ultra marathon. The event is actually a week-long series of multiple races of different lengths, culminating in the grand finale, a 106-mile circuit of the Mont Blanc Massif that takes runners through three countries and 32,940 feet in elevation gain. It's a protracted and punishing experience for only the most dogged of runners.
That's why, when I watched the 2,700 hopefuls taking off via live feed from my position about 10k up the course, I was startled to see how fast they were going right out of the gate. Surely they'd want to save some steam, given that they'd probably be spending the next day, or two, on foot?
A few weeks later, I traveled back to Mont Blanc for a hut hiking trip and found myself chatting with a fellow outdoors journalist, Gerald, who ran the race back in 2004. He explained to me that it's nearly impossible not to start fast once the starting gun goes off.
"There are just so many runners packed into such a small space that everyone has to move quickly to try to thin out the herd. Otherwise, you're going to get trampled. Also, it's impossible not to get caught up in the excitement."
Basically, no matter how much training and preparation you've done – and there's a lot for a race such as this – there's a decent chance that once you've laced up your trail running shoes and pulled on your bib, you're going to get carried away. And that could cost you your race.
Too much, too soon
Start slow, finish fast is time-tested advice for race day, while doing too much, too soon is a tale as old as time itself. At this year's UTMB, almost immediately things took a surprise turn when a relatively unknown French runner named Duncan Perrillat took the lead on the way out of Chamonix. He looked like he was enjoying his five minutes of fame, but by the time they started the first climb, he'd been caught by the group and he ultimately withdrew from the race after 31 just miles. Enthusiasm, it seems, trumped endurance.
When I watched the runners at this year's race surge past me from my vantage point about an hour into the race, things had slowed down significantly and most participants were hiking uphill. Still, there were more than a handful towards the back that looked like they might not last the first climb, never mind reach the finish line. Without their running poles to hold them up, I feared they'd collapse in front of my eyes and no amount of cowbell was going to change things.
Why 'start slow, finish fast' is great advice for runners
You might not think that sprinting out of the gate on a long race is such a big deal. After all, it gets you ahead of the pack, you can shake off some of those race day nerves, and you can always slow down after the first mile.
But if this year's UTMB winner, Jim Walmsley, is anything to go by, starting slow is generally the best approach, and that counts for long training runs as well as races. He wasn't in the front group when the runners passed me the first night, and he didn't take the lead until 16 hours into his race. From that point, his pace picked up significantly, so much so that we had to change our plans and speed back to Chamonix on the bus in order not to miss his finish at 19 hours and 37 minutes.
Spending the first half of your race at a slightly slower pace than your second half, known as a negative split, can have some real advantages, whether you just want to finish or actually want to compete. Here's why it's a good idea to start slow.
1. You'll preserve carbs
If you gallop out of the gates and keep up a fast pace for the first few miles, you'll use up your precious glycogen reserves more quickly, as explained in this 2018 research article. Even though you'll be carrying running gels and other snacks, you're going to want those carbs in your muscles for later in the race, and without them you could run out of energy and be unable to fuel enough to replace it.
2. You'll save your body from early damage
Setting aside sprained ankles and other impact injuries, running over a long distance is definitely going to put stress on your body. Running faster, especially when you're not particularly warmed up, can lead to tiny muscular tears early on. Then you've got to run another 50 or 100 miles on top of those tears, increasing the likelihood of them getting worse and possibly sidelining your efforts altogether. If you start slow, those microtears might not rear their head till much later in the race, where you can still run through them to the end.
3. Your gains will be nominal
In a game of multiple miles, a faster pace for a couple of miles isn't likely to make much, or any difference to your overall time. Even if you shave off a minute per mile on your competitors for the first two miles, then slow down to your usual pace, they might have another 98 miles to slowly get that advantage back, which really only takes just over a second per mile. Don't be fooled into thinking you can keep that lead for a sustained period of time. If anything, you'll do better by going a little slower than your regular pace for the first two miles, then you can make gains as your over-excited competitors wilt.
4. It's harder to return to your regular pace
When you go too hard, too fast just to create a little distance at the start of the race, you might be thinking that soon you can just return to your regular pace and maintain it, but you may not be able to ever get back to normal. This 2016 study of endurance athletes found that after an intense, 5-minute bout of fast running, their running economy significantly deteriorated, even with time to recover – which you won't have in a race.
All the latest inspiration, tips and guides to help you plan your next Advnture!
Julia Clarke is a staff writer for Advnture.com and the author of the book Restorative Yoga for Beginners. She loves to explore mountains on foot, bike, skis and belay and then recover on the the yoga mat. Julia graduated with a degree in journalism in 2004 and spent eight years working as a radio presenter in Kansas City, Vermont, Boston and New York City before discovering the joys of the Rocky Mountains. She then detoured west to Colorado and enjoyed 11 years teaching yoga in Vail before returning to her hometown of Glasgow, Scotland in 2020 to focus on family and writing.