How cold is too cold to run? We look at the science
How cold is too cold to run? We examine the research on how extreme cold impacts performance, whether it has health implications and what you can do to protect yourself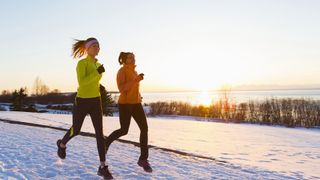 (Image credit: Michael DeYoung)
How cold is too cold to run? If you're a trail runner, you probably ask yourself this question at least once a winter when the temperatures plummet below freezing for a few days or even weeks at time, throwing a wrench in your running regimen. It's difficult to take a day off from lacing up your best trail running shoes and getting out there, but many people argue that vigorous exercise in extreme cold can be detrimental to your respiratory health.
However, the research on this hypothesis has long been spotty at best, so we were pleased to see a new literature review on practicing sport in cold environments published in the Journal for Environmental Research and Public Health that presents a comprehensive look at how extreme cold weather impacts performance, whether it has long term health implications and the effectiveness of common recommendations.
We cast an eye over the review and pulled out some of the most interesting conclusions, below, that might help you make up your mind about cold weather running, and how to prepare for it.
1. Extreme cold affects performance
While it may or may not be dangerous, extreme cold temperatures of less than 5°F/-15°C do affect muscle performance and speed. The optimal air temperature range for endurance performance seems to be between 50-55°F/10-13°C. If you're not competing, this conclusion won't matter all that much, but it is helpful to know that you might not feel as strong on the trail, and that you might want to take some of the recommended measures that follow to improve your performance.
2. Protective clothing is key
The key suggestion across the board is to wear more protective clothing when running in extreme cold. In fact, with adequate clothing, perceived exertion in running isn't different between 5°F and 32°F, or 0° and -15°C. Athletes tend to choose breathable clothing over insulated, finding that the absence of moisture is more helpful than the addition of insulation. Instead of your usual shorts and t-shirt, get kitted out with a good running jacket and wear leggings.
3. Merino wool is best
Merino wool has the best insulating properties when worn in endurance sports for an hour or more at 46°F/8°C and is recommended over synthetic fabrics. It is suggested to wear merino wool base layers on your top and bottom when running in the cold and if you're competing, you might want to change your base layer between your warm up and competition. If you need a wool alternative, take a look at our article on the most breathable fabrics.
4. Metabolic heat helps
Though protective clothing is recommended, metabolic heat – the heat that your own body produces – reduces the need to wear as much protective clothing. The initial warm up is likely to be unpleasant, but as you progress, you'll become more comfortable, so getting started may be half the battle. If you're compensating for the cold by wearing too much clothing, you may find that you become too warm and sweaty for comfort, and ultimately, clammy and cold.
5. Cover your face and neck
More than any other body part, wind exposure on your face and neck seems to have an accelerating effect on physiological responses to extreme cold. When possible, cover areas such as your forehead and ears with a running headband and neck with a gaiter. You can wear a face covering like a ski mask, however this has been found to impair running performance.
6. Habitual exposure to cold helps
Habitual exposure to extreme cold results in increased metabolic heat, meaning those who live in colder climates and are used to exercising in colder temperatures tend to fair better than those who don't. If you're unused to running in extreme cold, it helps to take the time to habituate before you go on a long trail run. Start with our article on how to love winter running for tips. Cold water immersion might be helpful to accelerate your habituation, so you might consider some wild swimming too.
7. Women run colder
Females seem to express a colder skin temperature than males (by about two degrees) when they're running, so you might feel colder than your male counterparts, however it's not clear that this actually affects performance so once again, protective clothing may be the answer.
8. Short term effects
The most common effect of running in extreme cold is a loss of moisture in the respiratory system resulting in constriction of the airways. This can produce symptoms such as wheezing and coughing and can be induced with as little as eight minutes of vigorous activity in the cold, and worsens as temperatures fall. However, these symptoms tend to resolve in under 30 minutes. These can be lessened by doing a proper warm up and humidifying the air by wearing a mask.
9. Long term effects
Regular physical activity like running performed in a cold environment too frequently and for too long (ranging from months to years) can induce long term detrimental effects to respiratory health, such as damage to your airways. This effect, however, seems to be most common in cross country skiers, which is almost uniquely vigorous and always takes place in cold temperatures, as opposed to running which can take place in a variety of weather conditions.
How cold is too cold to run?
As you can see, there is still no conclusive evidence that certain temperatures are explicitly dangerous for running or other land-based endurance sports. That said, there may be long term detrimental effects to frequent, vigorous trail running in extreme cold conditions, so it may be best to keep it to somewhat of a minimum, particularly if you have existing health issues.
It's probably fair to say that it's fine to go running in extreme cold temperatures occasionally, and it is always a good idea to take preventative measures such as covering up your skin as much as possible, dressing in sweat wicking breathable fabrics and doing a proper warm up before you really pick up the pace.
All the latest inspiration, tips and guides to help you plan your next Advnture!
Julia Clarke is a staff writer for Advnture.com and the author of the book Restorative Yoga for Beginners. She loves to explore mountains on foot, bike, skis and belay and then recover on the the yoga mat. Julia graduated with a degree in journalism in 2004 and spent eight years working as a radio presenter in Kansas City, Vermont, Boston and New York City before discovering the joys of the Rocky Mountains. She then detoured west to Colorado and enjoyed 11 years teaching yoga in Vail before returning to her hometown of Glasgow, Scotland in 2020 to focus on family and writing.